15 Unique Halloween Trick or Treat Buckets
Looking for some a little different this year than the standard orange pumpkin bucket? We got you covered with 15 Unique Halloween Trick or Treat Buckets. These are sure to add a little zing to Halloween!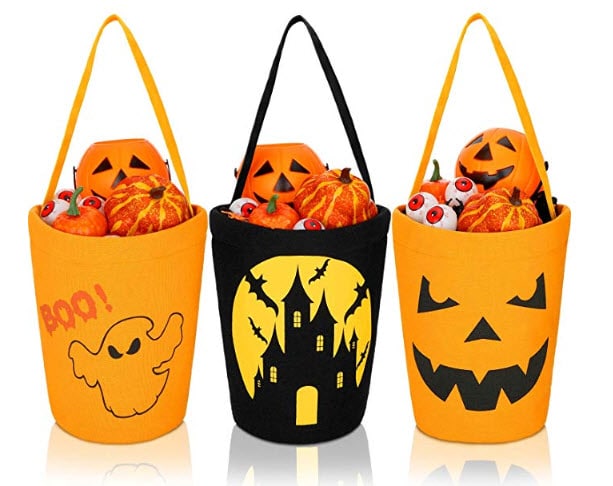 If you have multiple kids, this fun trio of pails is perfect. Everyone will get their own design!
These friendly polka dot treat pails are perfect for kids who don't want anything scary. They can double as a storage basket for toys after trick or treat has ended!
Halloween Trick or Treat Bags Candy Bucket
This treat bucket makes trick or treating an even cuter affair. This candy printed canvas basket is durable and perfect for little ones.
If your child has a food allergy, this teal pumpkin helps to let people know and looks really cute, year after year!
Glow in The Dark Halloween Candy Bucket
This creepy candy bucket also glows in the dark to help keep them safe this Halloween!
What could be brewing inside this cauldron? If your child is lucky, loads of sweets is what will be brewing!
Toy Story 4 Bucket
Let Buzz, Woody and the gang come along for some tricks and treats this year!
Plush Jack-O-Lantern Basket
This plush basket is ideal for toddlers at Halloween. It is soft, festive and easy to carry!

Jurassic World Trick-or-Treat Pail
Trick or treat becomes a roaring good time with this durable and amply sized treat bucket!
Marvel Spiderman! – Character Bucket
Your little one will adore this fun Spiderman character bucket!
Disney Pixar's Toy Story Woody – Character Bucket
This hard basket maintains its shape and is perfect for storing toys, treats, and accessories in your child's bedroom or play area. Great for trick or treating or presenting other holiday treats!
Disney Princess Totes for Halloween
This princess tote is perfect for gathering loads of goodies at trick or treat!
Minnie Mouse Basket
If you have a Minnie fan, she will be super proud to tote this bucket around on Halloween night!
This cloth bucket is cute and durable and ready to guard all of the candy collected during trick or treat!