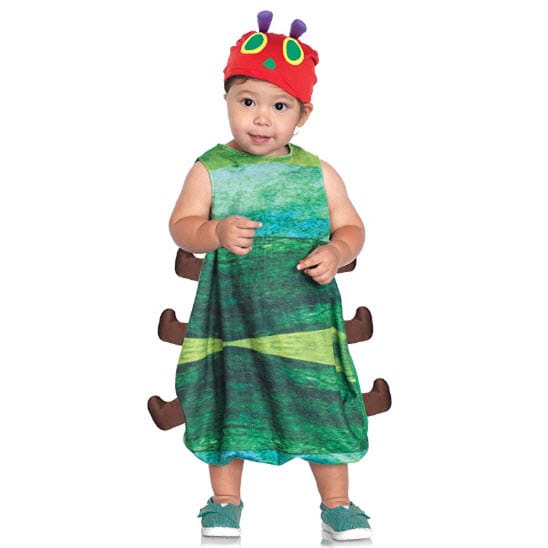 Book Character Halloween Costume Ideas
Inspire your kids to read this year by helping them choose a book character halloween costume! There are lots of fun options including…
Dr. Seuss Cat in the Hat Costume
The Cat in the Hat is about to appear and spread Halloween fun and cheer with this costume!
Curious George's Man In The Yellow Hat
This costume is going to make kids and adults alike smile, but likely for very different reasons.


Hermione Granger Gryffindor Robe
This Hermione costume looks straight out of Gryffindor! Any Potter- head will be glad to adorn this one!


Wednesday Addams Costume
This creepy and kooky costume is a classic! It has been popular for decades for good reason!

Goldilocks Costume
This storybook classic costume is perfect for little kids. I love that it has the 3 Little Bears to complete the look.


Hungry Little Caterpillar Costume
This costume is perfect for babies. The might be inspired by the character to eat their way through a slew of candy however.


Curious George Costume
Swing into the fun of Halloween with a curious monkey costume!
DC Superhero Girl's Harley Quinn Costume
Harley Quinn has introduced a new generation of girls to the pleasures of comic books. With this costume, any girl can go laughing into the night!
Fancy Nancy Halloween Costume
Oh La La! How fancy! Why not let your little one dress up like Nancy?

Pinocchio
Don't get caught in any lies when wearing this fairy tale classic costume!
Adult's Where's Waldo Deluxe Costume
If you are looking to be sought out on Halloween, this is the costume for you. Everyone will be excited to find you when you are Waldo!
Mad Hatter Costume
When you know who you were this morning, but have changed a few times since then, this is the costume for you!
Charlie and the Chocolate Factory Deluxe Willy Wonka Costume
If you are dressed like Willy Wonka, you should totally be prepared to share a lot of candy!

Red Riding Hood Costume
On your way to Grandma's house or a party? No one will ever know.