Looking for LEGO gift ideas for boys? Look no further! We've got the best LEGO gifts that boys will love. From LEGO sets to LEGO storage, we've got everything you need to make your LEGO lover happy.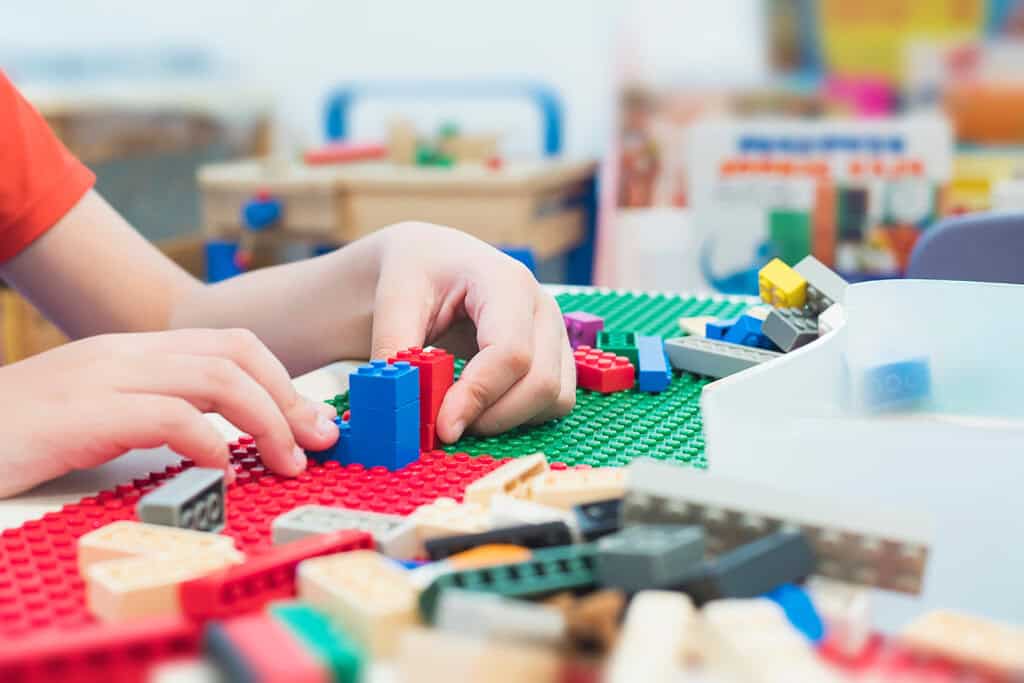 LEGO Gift Ideas for Boys
Most little boys love Legos so they make a great gift. Make sure to watch our LEGO Deals Page for the latest and greatest deals. Updated daily!
Now onto the fun stuff…
This kit allows kids to build a roller coaster with props and fun extras like shark carriages and a ticket booth. This playset includes 4 mini figures, all ready for imaginative play and fairground fun, and a variety of creative building bricks that allow this 3in1 toy to be rebuilt as The Skull Ride or The Ship Ride.
---
Give a boy a place to store his legos in this cute oversized Lego box. It makes for a great gift for an active builder.
---
Challenge your Marvel fans building skills with this War Machine Buster building kit!
Build the posable War Machine Buster mech toy, with an opening Minifigure cockpit, 6-stud rapid shooter, 2 detachable stud-shooting cannons, 2 flick missiles and gripping hands, and battle the Outriders!
---
Let me tell you what boys really want for Christmas… base plates!
Discover an exciting new design that gives you the added benefit of connecting brick pieces from below to create multiple levels/stories. Biggest baseplate on market with bottom connectivity.
---
Create a Pterodactyl, Triceratop and T Rex Toy with this Lego set. Dinosaur loving builders will love this one!
Kids will enjoy embarking on dinosaur adventures with this 3-in-1 dinosaur playset that transforms into a Pterodactyl, Triceratops and T Rex Toy. Each dinosaur toy will create hours of pretend play for kids.
---
If your Lego fan likes all things Marvel, he is going to love building this kit!
Build Tony Stark's Iron Man Hall of Armor with a rotating podium, detachable modules that can be combined and stacked in many different ways, plus a posable Igor Suit mech with minifigure cockpit and mobile robot toy.
---
Inspire future building sessions with 50 new ideas for the bricks your boy already has!
Turn your pile of LEGO bricks into a day of fun! This unique activity book has step-by-step instructions and tons of photos to teach you how to build all-new and totally awesome robots and a robot lab, race cars to race your friends and jet planes to zoom across the room at lightning speed or fit in your pocket for on-the-go play.
---
This kit is so much fun because it brings classic Mickey to the build! Boys will love this one!
This LEGO boat set includes 2 new-for-April-2019 minifigures: Mickey Mouse and Minnie Mouse, each with silver-colored decoration, plus Mickey Mouse's parrot figure
---
If you have a boy building a city, he needs this fire station kit to keep every brick and minifig safe!
Kids can build a feature-packed 3-level fire station with Scout tower, separate toy garage and an off-road toy truck with new light and sound building bricks, This fire station playset will let kids create endless rescue adventures
---
If you are shopping for a boy who likes Ninjago this Blue Dragon set is the way to go for a "whoa!" expression upon opening!
Boys and girls will love building the cool, blue Stormbringer the Lightning Dragon set, featuring 'lightning bolt' shooters and a swiping tail, Kids can roleplay riding the dragon with their minifigures and act out epic ninja warrior battles.
This ninja playset is built with 493 pieces and includes 4 minifigures: Zane, Jay, Daddy No Legs and Muzzle and features a pedestal to display the Dragon Chestplate, It also includes collectible ninja weapon pieces like Dragonbone Blade ninja sword.
---
This 484 piece set is perfect for giving the gift of open-ended play to boys!
Kids will spend hours engaging in pretend play with this medium-sized building kit. This build your own play toy allows kids to create toy trains or tiger figurines with this classic collection of LEGO bricks in 35 different colors
---
Take a bite out of play time with this deep sea creature kit. Build a shark, crab and treasure with the included bricks.
Kids can create their own animal with this build and rebuild ocean playset featuring 3 toy sea creatures, They can go from building a scary toy shark and a crab with a box of treasure to building a flexible toy squid or a giant-mouthed Angler Fish
---
If your boy really loves Legos, he is really going to go crazy for this Lego head storage container. Perfect for storing all of his little legos and more!
---
Is it a bird? A Plane? Or just an awesome Lego Batman set to build? Boys who like the Dark Knight will love this set!
---
This kit brings the action to the build and never stops entertaining kids!
Comes with 80 page instructions, 33 LEGO pieces, Instructions for 10 modules, 6 plastic balls, string, paper ramps and other components