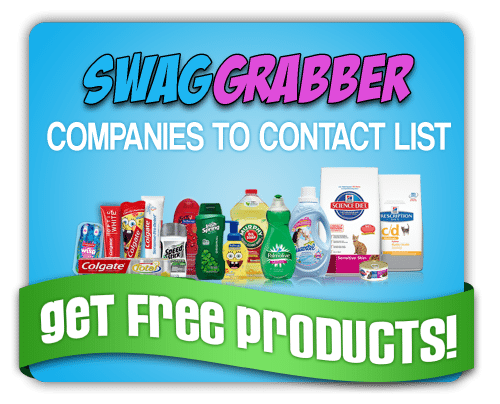 Did you know you can Contact Companies to Get Free Stuff?
It is a little known fact that compliments or complaints will get you amazing things from companies…they love to hear your feedback and use it to improve their products or services.
Simply use the "contact us" link on any of these websites and let them know what you like or dislike about their products. You will most likely receive coupons for either free items or cents off. I say "most likely" because this is not a guarantee, but I personally have had great success with doing this. This is where I get most of my Free coupons from.
Pick 10 or 15 and email them (use your junk email account) do this about every few days or so and you will be amazed at the response you will get. 20 minutes of time can easily turn into $50 worth of free stuff!
NOTE: Don't just complain to get free stuff, that isn't very nice.
If you know of any other great ones, please post a comment!
A-1 Sauce
Act II Popcorn
Albers
Alpine Lace Cheese
American Italian Pasta Company
American Rice, Inc.
American Roland Food Corporation
Apple Jacks
Argo Cornstarch
Arm & Hammer
Athens Pastries & Frozen Foods
Azteca Foods
Baker's Chocolate
Ball Park Franks
Barnum's Animal Crackers
Baskin Robbins
Bays English Muffins
Beech-Nut
Ben and Jerry's
Bernstein's Italian Dressing
Bertolli
Best Foods
Bigelow Tea
Bird's Eye
Birkett Mills, The
Bisquick
Blue Bunny Ice Cream
Bob Evans
Boboli
Bob's Red Mill
Breyer's Ice Cream
Bridgford Foods
Brooks Chili
Bruce Foods
Brummel & Brown
Bumble Bee Seafoods
Buitoni
Burleson's Honey 
Butter Buds
Butterball
Cadbury's
Calavo Avocados and Papayas
California Sun Dry
Campbell's
Carl Buddig
Carnation
Carolina Turkey
Casa Fiesta
Castleberry/Snow's Brands
Challenge Butter
Charleston Seafood
Cheerios
Cheez Whiz
Cheez-It
Chex Party Mix
Chicken of the Sea
Chips Ahoy!
Chiquita
Clabber Girl Baking Powder
Coca-Cola
College Inn Broth
Comstock/Wilderness
Contadina
Cool Whip
Country Bob's
Country Crock
Country Time
Cream of Wheat
Cremora
Crystal Light
Dannon Yogurt
Dean Foods
Del Monte Foods
Digiorno Pizza
Dole 5 A Day
Dole Food Company, Inc.
Domino Sugar
Dreyer's Grand Ice Cream
Duncan Hines
Durkee Spices
Eagle Brand Sweetened Condensed Milk
Earthbound Farm
Earthgrains
Edy's Ice Cream
Egg Beaters
Eskimo Pie
Empire Kosher
Equal Sweetener
Famous Amos Cookies
Farmer John
Fisher Nuts
Fleishmann's Yeast
Folgers Coffee
Folgers Latte
Foster Farms
Franco American
Frank's Red Hot Cayenne Pepper Sauce
French's
Fresh Express
Fresh from the Boat
Frito Lay
Gardenburger
Gatorade
General Mills
George Jones Sausage
Gerber Baby Food
Ghirardelli Chocolate
Gilroy Foods
Godiva Chocolatier, Inc.
Gold Kist Farms
Good Seasons
Gorton's Fish
Goya Foods
Grandma's Molasses
Gravy Master Green Giant
Guiltless Gourmet
Haagen-Dazs
Hawaii's Own Tropical Blends
Healthy Choice
Healthy Request
Heinz
Hellmann's
Hickory Farms
Hidden Valley Ranch
Hodgson Mill
Holland House Cooking Wine
Holsum
Honey Baked Ham Company
Honey Maid
Honeysuckle White Turkey
Hormel Foods
Jell-O
Jelly Belly
Jet Puffed Marshmallows
Jif Peanut Butter
Jiffy Mix
Jimmy Dean
Jolly Time PopCorn
Kelloggs Rice Krispies
Kikkoman
King Arthur Flour
Knox Gelatine
Kool-Aid
Kozy Shack Puddings and Desserts
Kraft Interactive Kitchen
Lawry's
Lee Kum Kee Oyster Sauce
Libby's Pumpkin
Life Cereal
Lindt of Switzerland
Lipton Recipe Secrets Database
Lipton Tea
Louis Kemp Seafood
Lucky Leaf Pie Fillings
M&M's
Mahatma Rice
Mallomars
Malt-O-Meal
Manischewitz
Maple Leaf Prime Chicken
Marie Callenders Cornbread
Mariners Cove Soup
Mars, Inc.
Marshmallow Fluff
Martha White
Maxwell House
Mazola Oil
McCormick
McKenzie's
Millstone Coffee
Milnot Evaporated Milk
Minute Maid
Minute Rice
Minute Tapioca
Miracle Whip
Molinos de Puerto Rico
Morton Salt
Mott's
Mrs. Dash
Mt. Olive Pickle Company
Nalley
Nestea
Nestle;
Norbest Turkey
Mrs. Smith's
Nabisco
Nabisco World
Nalley
Natra Taste
Necco (New England Confectionary Company)
Nestle Toll House
Newman's Own
Newtons
Nilla Wafers
Nissin Ramen
Nonesuch Mincemeat
Norbest, Inc.
Nutella
Nutrasweet
Nutter Butter
Ocean Spray Cranberries
Omaha Steaks and Seafood
Oreo
Ortega Mexican Foods
Oscar Mayer
Pace Foods
Pasta Roni
Pepperidge Farm Goldfish
Pepperidge Farm Puff Pastry
Pepsi-Cola
Peter's Chocolate
Philadelphia Cream Cheese
Pillsbury
Pillsbury Bakeoff
Planters Peanuts
Polly-O Cheeses
Popsicle
Post Cereals
Premium Saltine Crackers
Presto Flour
Pringles
Progresso Soup
Quaker Oats
Ragu
Ready Crust(Keebler)
Ready Pac Produce
ReaLemon
Reddi-Whip
Red Star Yeast
Redi-Base
Reynolds Wrap
Rhodes Bake-N-Serv Frozen Dough
Rice-A-Roni
Rice Krispies
Riceland Foods
RiceSelect
Rich's
Ritz
Ritz Bits
Robin Hood Flour
Roland
Ronzoni Macaroni Company
Rosetto Pasta
Rudy's Tortillas
Saffola
SAF Perfect Rise Yeast
Sargento Foods
Scharffen Berger Chocolate Maker
Seneca Foods
Smucker's
SnackWell's
Solo Foods
7-Up
Spam
Splenda
Sue Bee Honey
Sunkist Growers
Sun-Maid
Tabasco
Teddy Grahams
Toblerone
Tollhouse
Triscuit
Uncle Ben's Rice
Wheat Thins
White Lily Flour
Wilton Industries
Wrigley
Yoplait Yogurt
Zatarain's