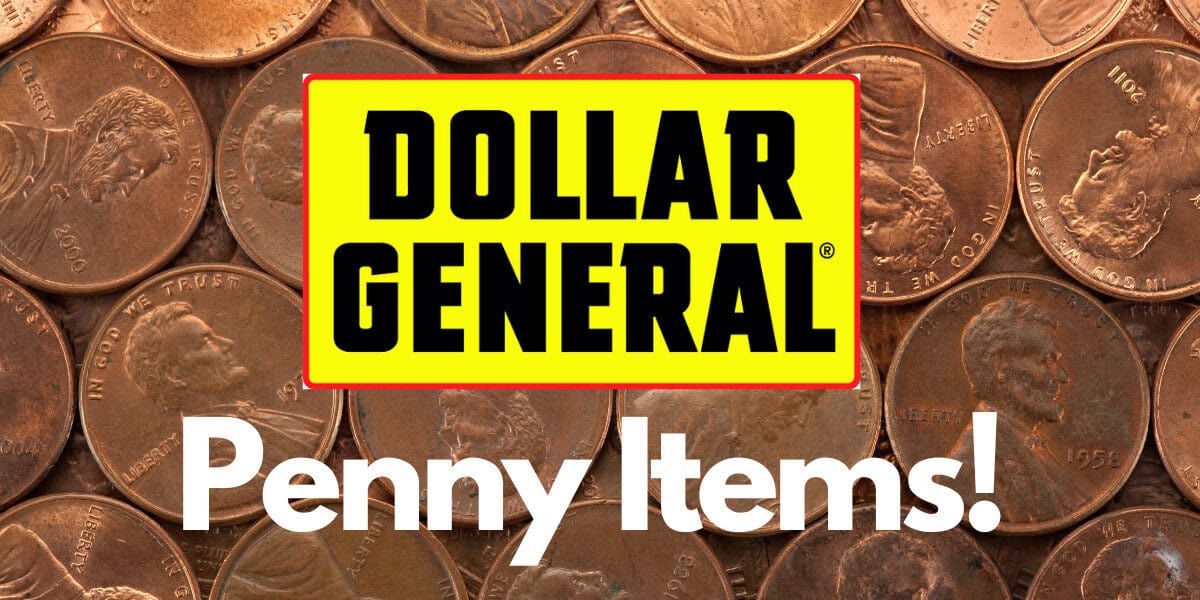 Everything You Need to Know About Dollar General Penny Shopping:
When Dollar General really wants to get products out of their inventory they will mark them down to $0.01. The store is supposed to pull those items but it doesn't always happen which means if you find them (before they do), you can get them for a shiny penny!
How do I do penny deals a Dollar General?
Rule #1 – DO NOT ASK STORE ASSOCIATES ABOUT PENNY ITEMS. This is the biggest No-No in the book. If you ask you will NOT get any of them and will ruin it for everyone else!
Dollar General's policy on penny items is clear – they are supposed to sell it to you if you find one. Problem is, some stores will refuse, you have to be prepared for this. Think of this as a win some, lose some situation. If you get lucky you will get items for a penny.
99% of the time, your cashier will NOT let you go back for more if you find some, so if you think you have found some, grab them all! You can always put them back if they don't ring up properly!
Understanding Dollar General Codes and Symbols:
When you look at the barcode on a product there will be a code underneath. It will include a combination of the following codes:
SP – Spring
SU – Summer
FA – Fall
WI – Winter
17 – 2017
18 – 2018
19 – 2019
20 – 2020
21 – 2021
22 – 2022
For example, FA20 is fall 2020. You can use these codes to determine how old something is. If it is Dec 2021 and the code is FA19 it is a few years old and could be clearance. ESPECIALLY if it is a seasonal item!
This is the first place you look to see if you have a possibility of getting a penny item. Know the codes!
What color dots are penny items at Dollar General?
The next things to look at are symbols…
Purple Dot
Brown Dot
Red Dot
Pink Dot
Pink Star
Blue Dot
Brown Diamond
+ others
The right symbol combined with the right code increases your chance of a penny find! And there are certain items, like Disney, that have their own codes. You can follow the sales at Dollar General and get a pretty good idea of what symbols are on sale.
Tips for Penny Shopping
Don't ask employees about penny items. This is a HUGE no no!
Be polite. Don't argue or demand that something should be a penny just because you saw someone else got it for that.
Load your cart with all you want if you think it is a penny because the employees are supposed to go pull it off the shelf the minute they realize they are there.
Remember – not every store gets the same discount at the same time. If what you want isn't pennied out yet check back.
Don't get it price checked. If it rings up for more than just ask them to remove and explain you thought it was on sale for less. Don't mention penny sales!
Be NEAT! Stores get trashed by people looking for penny stores and it makes DG less inclined to be nice about it.
Know what you are looking for when you go in. Have screenshots, a list etc. The internet almost never works in DG so don't count on that. Look around and follow our Dollar General group the. do our best to keep up with the penny sales.
Dollar General Penny Store Policy
Knowing this can make things much easier. Here is what the policy is for DG for dealing with items to be pennied out.
Monday-Identify and Remove PRP items from the Sales Floor:
In preparation for completing the PRP Event, the specific product should be pulled from the sales floor and by close of business. Stage in the Receiving Room.
The product will still ring at the register at the current clearance price until the following day.
All areas of the sales floor must be checked to ensure that ALL PRP items are pulled.Tuesday-Product will Ring at the Register at ( 0.01 ) one cent
The product will ring at a penny.
If any additional PRP items are identified by the store team, immediately pull from the sales floor.
If any penny item is identified by a customer, ALWAYS sell the product to the costumer at 1cent. If we fail to pull all of the penny product from the floor, it is never appropriate to deny the sale or argue with the customer.
After taking care of the customer, locate any additional penny items and remove from the sales floor.
Wednesday-Begin the PRP
The PRP is live and should be processed by the deadline using the instructions provided in START.