No matter how well you plan, there's always a chance that something can go wrong on your favorite Amusement Park. That's why it's important to be prepared for anything and everything.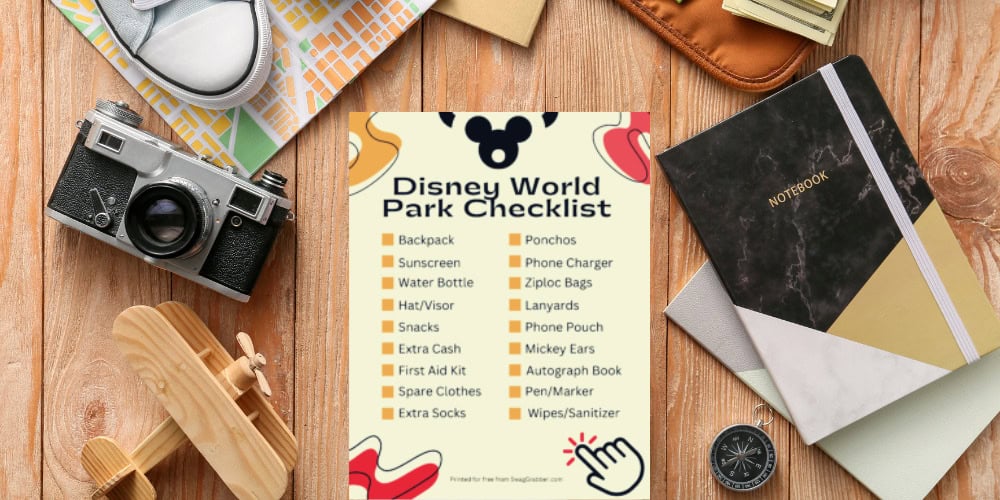 From losing your wallet to dealing with a broken stroller, here are some things you should always have in your Disney World survival kit.
Important Documents – First and foremost, you'll want to make sure you have all of your essential documents in order. This includes your passport (if you're traveling from out of the country), driver's license or photo ID, proof of insurance, and any other tickets or vouchers you might need.
It's also a good idea to make copies of all of these documents, just in case you lose the originals. You can even take photos of these documents so you have them in your phone or in the cloud if everything goes missing!
Next, you'll want to pack some essential items for your personal comfort and convenience. This includes things like…
Sunscreen – it's Florida, there is sun, you will need sunscreen. Even in the winter!
Lip balm – the sun and the heat can be drying, so make sure you pack some lip balm to keep your lips hydrated.
Hat or visor – again, the sun. A hat or visor will help keep the sun out of your eyes and off of your face.
Sunglasses – again, the sun. Sunglasses will help keep the sun out of your eyes and off of your face.
Water bottle – it's hot in Florida and you'll want to stay hydrated. A reusable water bottle is a must-have item for your Disney World survival kit. They have fountains everywhere!
Snacks – because no one likes being hangry (hungry + angry). Pack some snacks to tide you over until meal time. This is allowed…per the Disney site "Guests are allowed to bring food items—such as snacks or foods that do not require heating—into Disney theme parks".
Spare clothes – Because accidents happen, especially with kids. It's always a good idea to have a spare set of clothes on hand, just in case. Don't forget SOCKS – water rides will soak your feet!
Ponchos – One thing you can count on is to get wet at Disney. Whether it's from a water ride or a afternoon shower. It almost always happens.
You can find packages of disposable ones on Amazon that come folded up nicely in small packages or buy durable ones to rewear throughout the trip.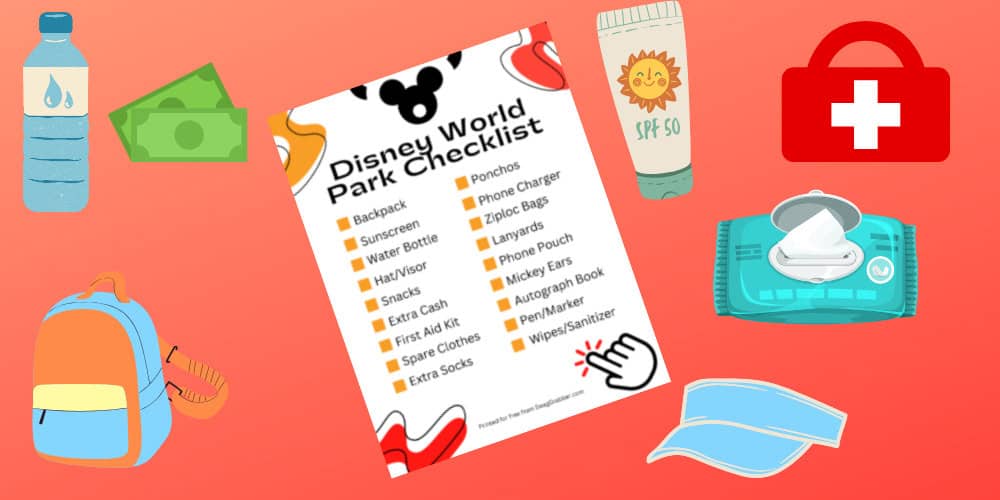 Phone Charger – Make sure to take a charger with you, you will be using your phone a lot to take photos! There are plenty of places to charge your phone in the parks!
Ziploc Bags – I always add a variety of Ziploc bags to our packing list because they're so handy for leftover food, keeping your essentials dry on water rides, and separating things in your backpack. These are super helpful to have packed with you.
Lanyards – Lanyards are a great way to display Disney Park pins so if you're a pin collector this is a must for your Disney World packing list. They can also work as a nice neck wallet to store your gift cards or credit cards in.
First-aid kit – You never know when you might need it. From cuts and scrapes to headaches and stomachaches, a first-aid kit can be a lifesaver for small cuts and scraps. They do have first aid stations for bigger issues.
Emergency contact information – In case of an emergency, it's important to have a list of emergency contacts (family, friends, doctor, etc.) that you can call on for help.
Extra cash – Because sometimes credit cards don't work or you need cash for something unexpected. It's always good to have some extra cash on hand, just in case.
Electrolytes – When it comes to hydration, it is important to replenish electrolytes along with water. Buying sports drinks throughout the day can become pretty expensive. Instead, opt for Nuun hydration tablets that can be added to any water bottle.
Waterproof Phone Pouch – A waterproof phone pouch makes it easy to capture fun family memories without worrying about getting your cell phone wet. Keep your phone protected at the Disney water parks, your Disney resort pool, or on water rides like Splash Mountain.
Wet Wipes – Pick up some travel sized packages of Kleenex for your park bag as the toliet paper in the bathrooms are pretty scratchy in the park. I also carry a travel sized package of Wet Wipes to wipe down sticky kids hands and tables before we eat.
Air Tags – There can be a lot of things to keep track of during a vacation, including a rental car, luggage, and children. Apple AirTags can help you keep track of all of it!
Leave one in your car, so you aren't left wandering around expansive parking lots. Quickly find your luggage at the airport or with the bellhop. Add one to your child's lanyard to easily find them if they get separated throughout the day.
Autograph Book and Sharpie – You can also buy an autograph book in the parks for a reasonable price but any small notebook will do for character autographs. I like to bring a clickable Sharpie so it's easier for the characters to use when they sign.
Pennies and Quarters – If you want to collect the pressed pennies during your trip then add these to your Disney World packing list. Be sure to get shiny pennies!
Gear for baby – Also, don't forget to pack any essential items for your little ones. This includes things like diapers, wipes, formula or baby food (if needed), and toys or books to keep them entertained.
Lastly, don't forget to pack your sense of adventure! Disney World is the happiest place on earth, so make sure you're prepared to have the time of your life.
Here is a free checklist so you don't forget the basics… just click and print!