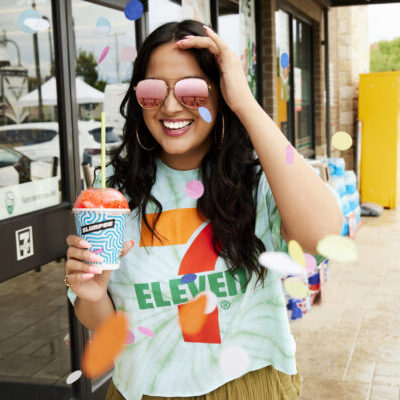 7-Eleven, Speedway, and Stripes stores will once again be offering a FREE Medium Slurpee!
Download the 7-eleven app or Speedway app and register. Throughout the month of July all users will receive an offer for a Free Medium Slurpee valid any day in July PLUS many other great deals including:
Birthday Gift Giving: 7-Eleven feels so good about getting older, they are helping to provide 1 million meals to Feeding America
The Slurpee Party Never Stops: When your celebratory free small Slurpee drink runs out, no need to feel blue. Customers can get back into the spirit of the orange, green and red by going to their local 7-Eleven store and grabbing another small Slurpee drink for just $1!
Hey Grill-friend!: Every Slurpee needs a snack sidekick, so customers can grab any grill item — Big Bite hot dogs, taquitos, Cheeseburger Bites, Buffalo chicken rollers and eggrolls — for just one dollar for the entire birthday month!
You Donut Want to Miss the Fun or this Deal: Nothing says celebration in the morning like a colorful birthday cake donut! 7Rewards loyalty app members can enjoy one for just 50 cents on July 11th.
Take the Party Anywhere with 7NOW Delivery: Can't visit a store? Delivery through the 7-Eleven app can bring the party home or to almost any location. Plus, customers can have their free Small Slurpee drink delivered on July 11, and delivery is free on any order during the 7-Eleven's birthday weekend (July 10-11). Want to order a snack along with your Slurpee? Delivery deals in July include whole pizzas for only $5 and a $10 pizza and 16 boneless wings combo, plus the $1 dollar deal on grill items!