FREE 30 Day Amazon Prime Video Trial – Watch The Tomorrow War for FREE
For a limited time, Amazon is offering a FREE 30 Day Trial to Amazon Video!
During the trial period, you will get unlimited access to exclusive Amazon Originals content as well as other movies and TV shows including the newly released movie The Tomorrow War!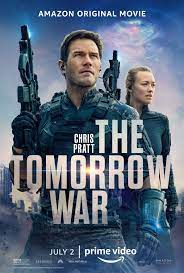 This movie is awesome if you haven't seen it yet! The world is stunned when a group of time travelers arrive from the year 2051 to deliver an urgent message: thirty years in the future, mankind is losing a global war against a deadly alien species.
Can existing customers get the FREE Amazon Video Trial?
Amazon Prime Video's current free trial is 30 days long. The free trial to existing Amazon customers who haven't tried Prime in a long time. If you haven't had a Prime Membership in a while it's worth a shot!
What devices can Amazon video be streamed on?
Amazon Video can be streamed on Amazon Fire TV, Apple TV Amazon Video app for tvOS, Amazon Video app for Android. Amazon Prime Video app for Kindle Fire, Amazon Prime Video app, Amazon Instant Video – desktop and mobile devices, Amazon Instant video on Roku via the Amazon Channel, Amazon Instant video on Samsung, LG Smart TVs and Blu-ray players via the Amazon Video app, Amazon Video on Xbox One, Amazon Video on Amazon Fire TV, Amazon Instant video on Wii U, Amazon Instant video on Sony Internet-connected TVs and Blu-ray players through the Amazon Video app, or Amazon Channel Amazon Video for Windows 10 PC and tablet devices.
What happens at the end of my Amazon Video Trial?
If you love the membership keep it for $12.99 per month. You can also get an Amazon Prime Membership (get free 30 day trial here) and the Amazon Video membership is include for free. If you don't want to keep it – cancel anytime.
How do I cancel my Amazon Video Free Trial?
To cancel your trial, first navigate to https://www.amazon.com/Videos . Next, click the Your Account drop-down menu (top right) and select Manage Prime Membership
On the next screen, scroll down to Cancel a membership option: Click on Cancel membership , then confirm by clicking End free trial . You will then receive an email confirming that your free trial has been cancelled.
Get several months of free streaming movies here >>

More Deals You Don't Want to Miss...