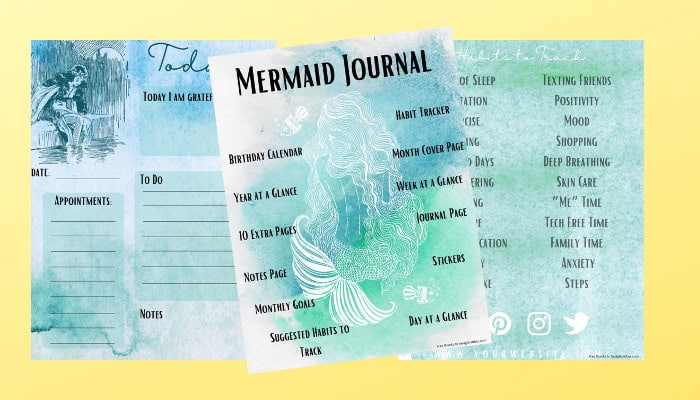 Free Printable or Digital Mermaid Journal
Mermaids are a perfect mix of the fantasy world and our reality. They hold so much symbolism that they can be used for almost anything; creative writings, dream interpretation, or even as an inspiration to write your own book!
You can use this Mermaid Journal to write down your own mermaid stories, doodle pictures from mermaid movies you have seen, or even put together a collection of facts about these aquatic creatures. The choice is completely up to you on how you want to use this notebook. Enjoy creating your very own free journal today!
NOTE – it is 77 pages so it may take a minute to load!
You can print one page or the entire thing. You can also customize it as a digital journal on GoodNotes!
Find some more fun downloads and printables by going here!
Thanks for visiting! Feel free to share any thoughts or ideas you have on this post in the comments area below. I love hearing from you all. Have a marvelous day!!
SMILE, YOU'RE AMAZING!!