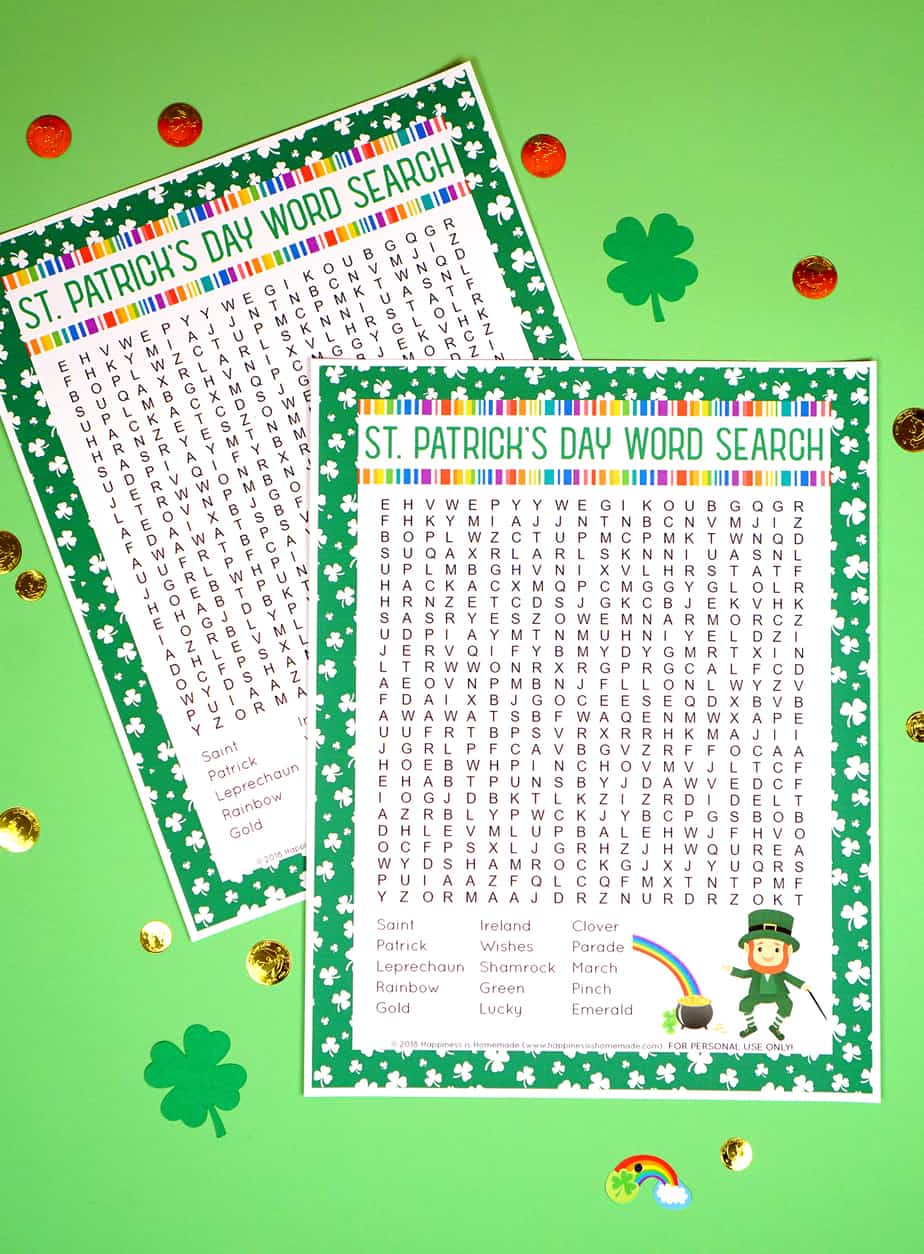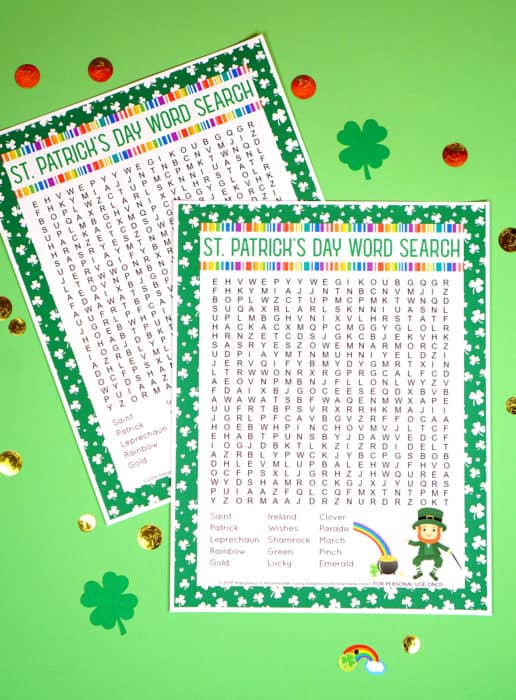 We are big fans of St. Patrick's Day in our home. One thing we also love are all things free!
Printables are a great way to save money on everything from parties to home decor. With St. Patrick's Day right around the corner, I figured now would be a perfect time to share with you some of my favorite St. Patrick's day printables. There is something for anything you might be looking for. From decor to activities, this list has it all!
Here are 20 St. Patrick's Day printables that you can use for your St. Patrick's Day celebration at home.
St. Patrick's Day Word Search
We're celebrating the Luck O' the Irish with this fun St. Patrick's Day printable word search that's perfect for elementary-school-aged children and older – even the grown-ups will have fun with this one! Seek and find fifteen St. Patrick's Day words in this cute word search puzzle.
---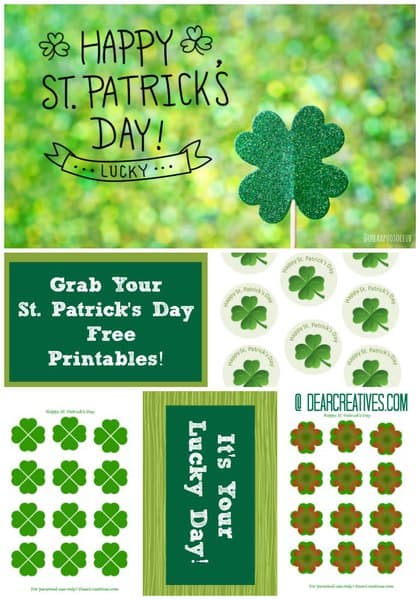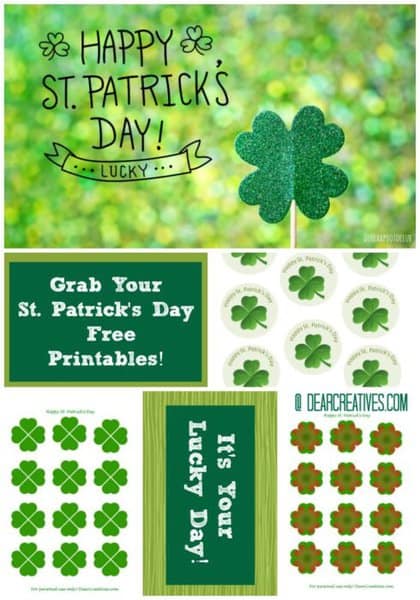 St. Patrick's Day Cupcake Toppers
Are you getting ready for St. Patrick's Day party? Grab our St. Patrick's Day Free Printables! Print and make cupcake topper's with them for St. Patty's Day. Or use them on printable sticker paper for stickers for gifts, kids parties or party favors. Looking for more printables? See our gallery of free printables.
---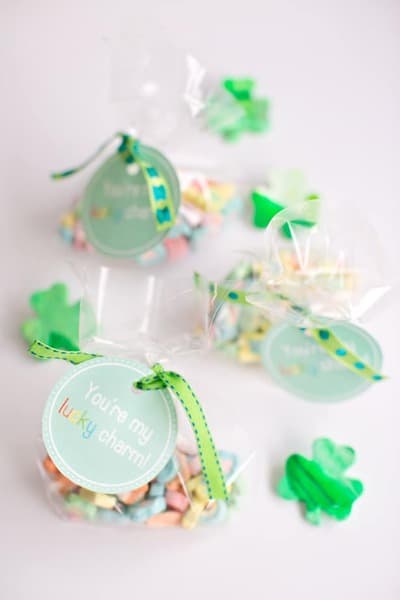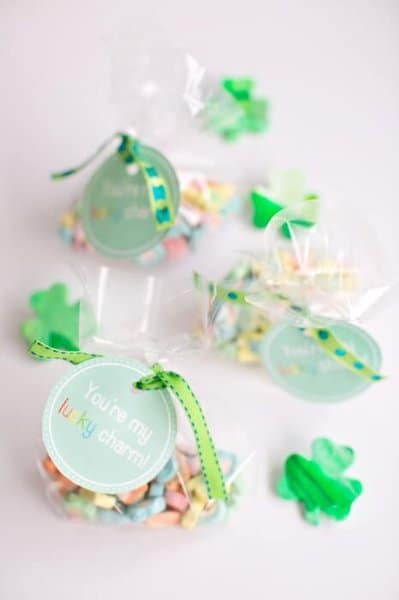 St. Patrick's Day Free Printable Tag
These "You're My Lucky Charm" printables make cute and easy favor tags you can print out to celebrate St. Patrick's Day with your kids. I filled our treat bags with marshmallows from Lucky Charms cereal (everyone knows it's the best part!), but you can fill with any colorful types of candies or treats.
---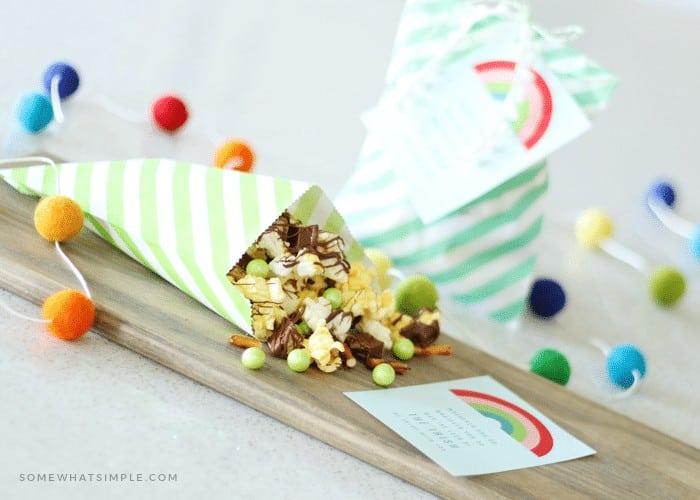 St. Patrick's Day Gift Tag
Time to spread some Irish cheer and we have just the ways to do it! Whether you play Roll a Leprechaun with your family, indulge in a traditional Corned Beef and Cabbage cuisine, or follow the Leprechaun Footprints to a pot of gold, with a little "Luck", you're St. Patrick's Day celebrations are about to become a whole lot sweeter!
---


St. Patrick's Day Agamograph
Spring is finally here and with all the greenery that it brings, we prepared a thematic St. Patrick's Day agamograph template for your kids to color and fold. This agamograph template is perfect for kids or kids at heart because it's simple, easy to do and absolutely adorable to look at after.
---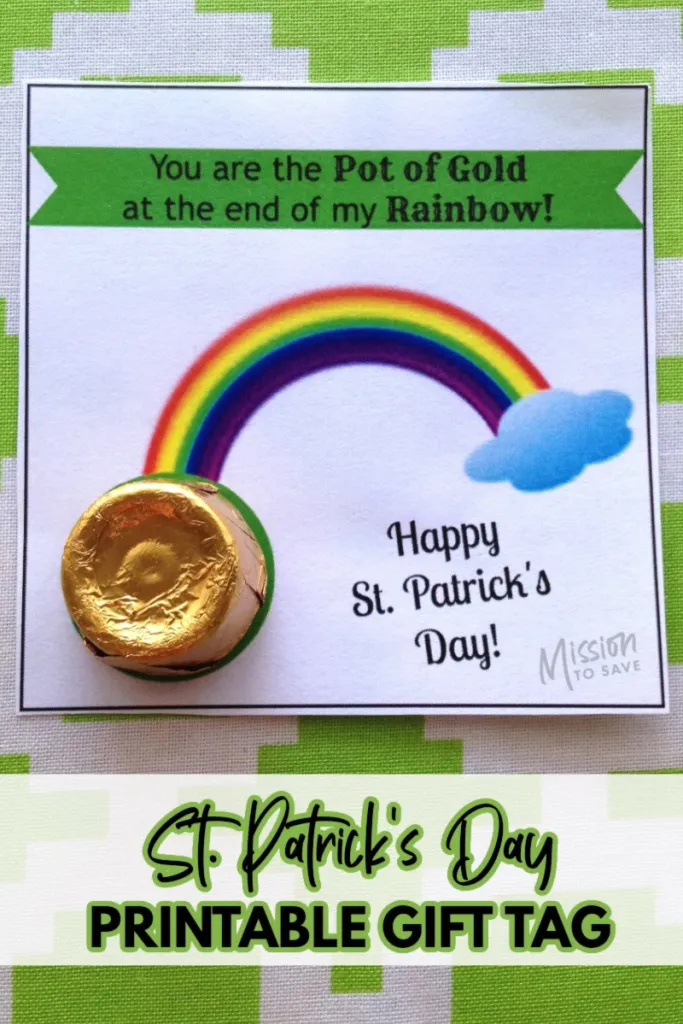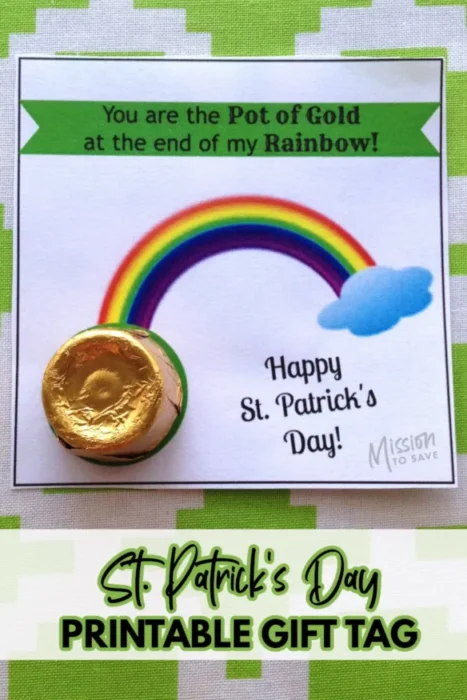 Gold St. Patrick's Day Printable Tags
Time to think of the next "holiday" and how to celebrate it – St. Patrick's Day. I made these adorable printable tags. They are perfect for spreading a little St Patrick's Day cheer (and make for a super frugal gift too)! I know that kids and adults alike will smile when they receive this little sweet sentiment.
---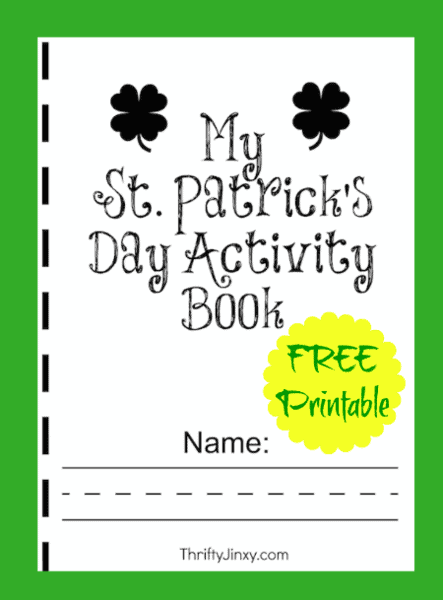 St. Patrick's Day Activity Book
THIS book comes with 8 different activities like a word find, matching game, Shamrock tic tac toe, and more. For an extra leprechauney (that's a word, right?) print out the book on light green copy paper.
---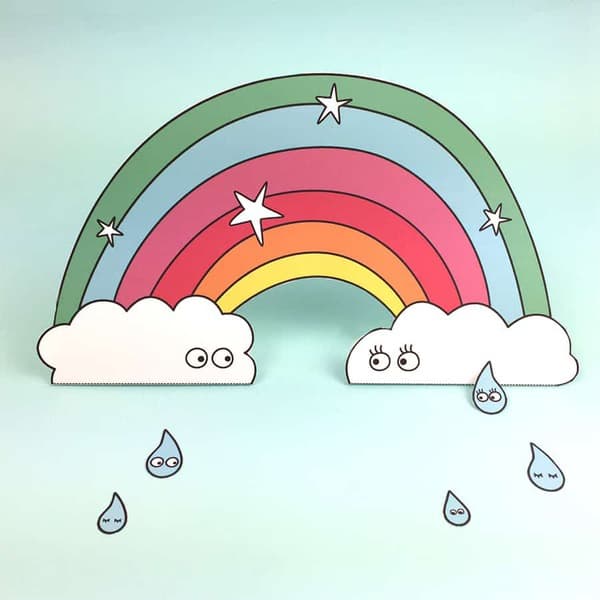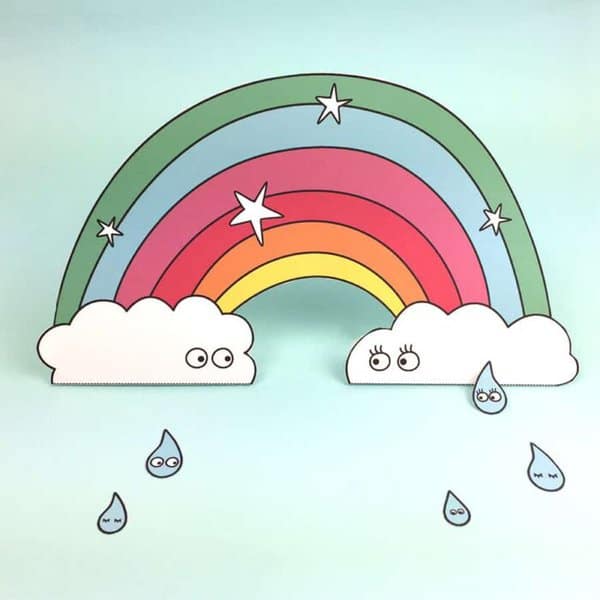 Printable Paper Rainbow Coloring Activity
Celebrate St. Patrick's Day or any fun rainbow party with this cute rainbow print! You can stand the rainbow up to make an instant cheerful decoration for the kids' room, or have kids color in the blank coloring template!
---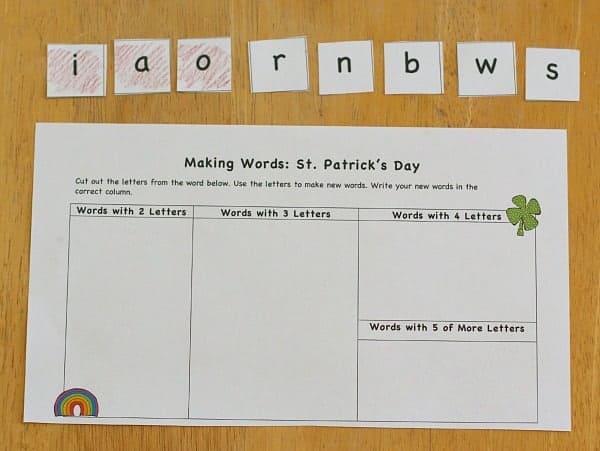 Making Words Activity
If you're not familiar with making words, it's basically a hands-on activity for kids to make various words by moving letters around. Instead of children having every letter of the alphabet in front of them, kids are given a smaller set of letters to choose from. Allowing children the freedom to create words helps them focus on how moving letters changes the sound and meaning of words. It's a great way to reinforce letter sounds and spelling in a fun way!
---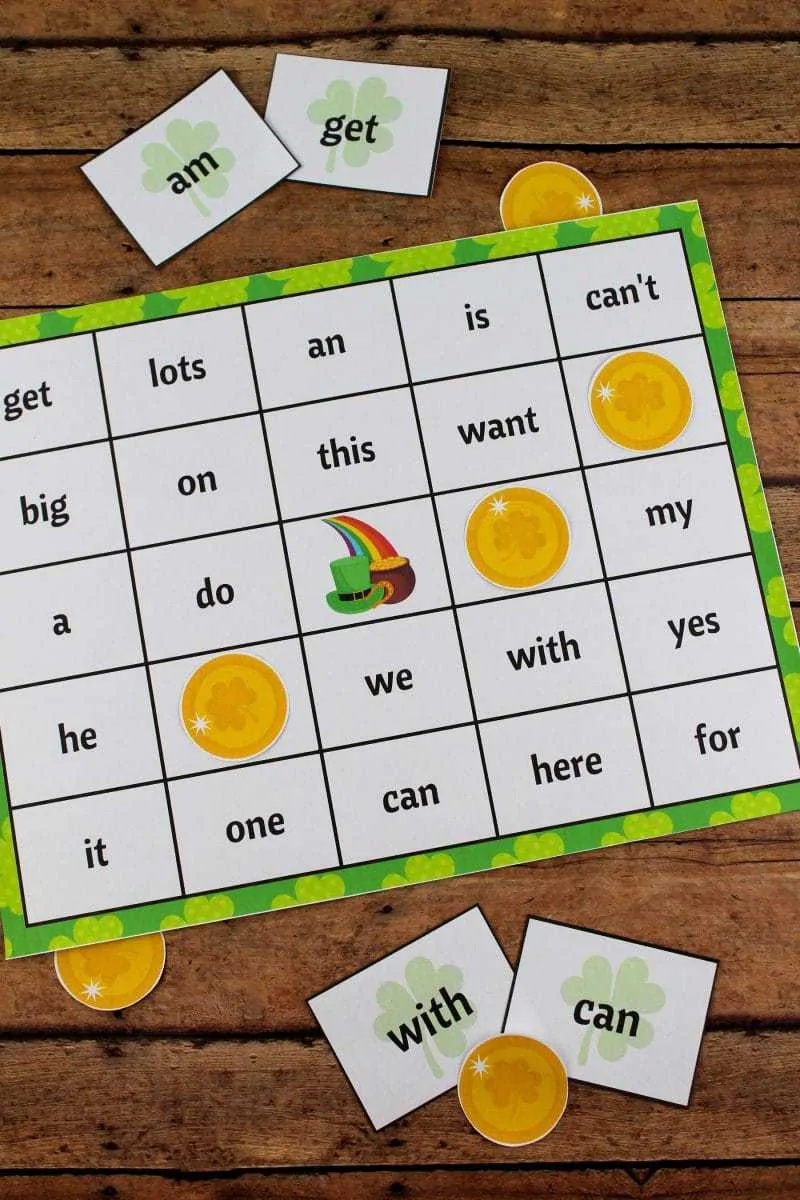 St. Patrick's Day Bingo
This printable bingo game is perfect to play in the days leading up to St. Patrick's Day. Whether in the classroom or at home, the kids will love this fun St. Patrick's Day game!
---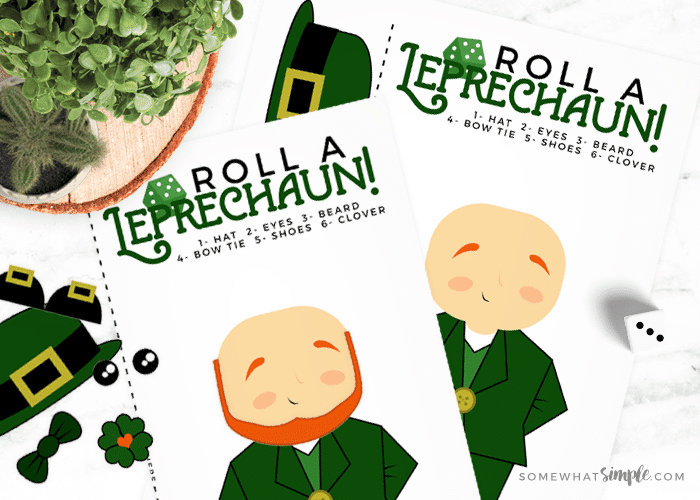 Leprechaun Game
We've played this dice game over the years in my home mostly on a whim because there is no planning needed! Roll a die, add the corresponding piece to the Leprechaun's body, and the first person to build their adorable Leprechaun wins!
---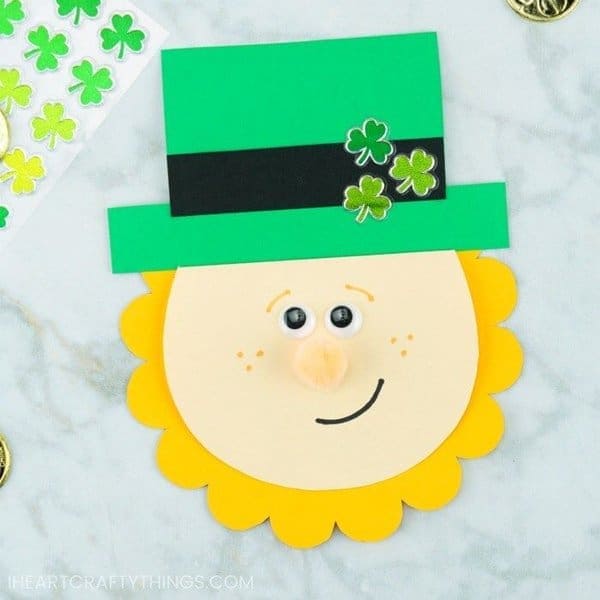 Printable St. Patrick's Day Card
Wish some happy Irish blessings upon a family member or friend this year by creating them this printable St. Patrick's Day card. This adorable leprechaun card is simple and easy for kids to create with our handy template. In fact, it's simple enough that preschoolers will even love creating some St. Patrick's Day cards this year in honor of the holiday.
---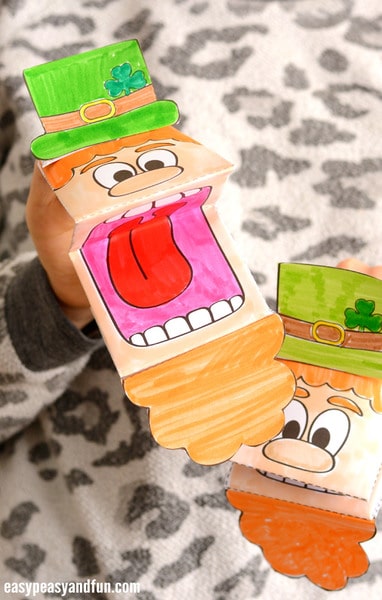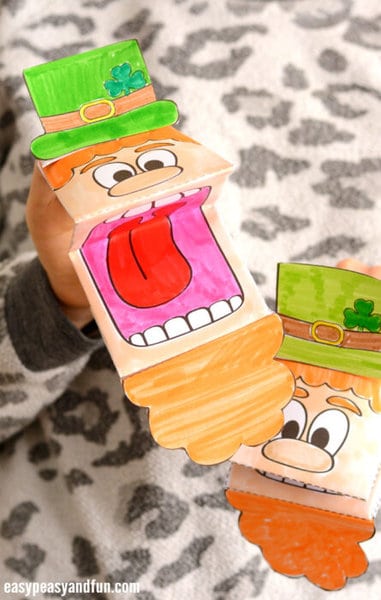 Printable Leprechaun Puppet
Ready for St. Patrick's Day? Surprise your kids with a wonderful and fun activity – get our printable leprechaun puppet and have them color it, fold it and later on play with it. Such a wonderful afternoon or classroom activity that will ignite their imagination as they play with their very own puppet.
---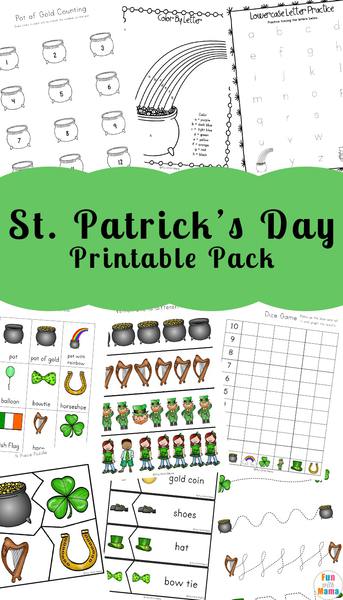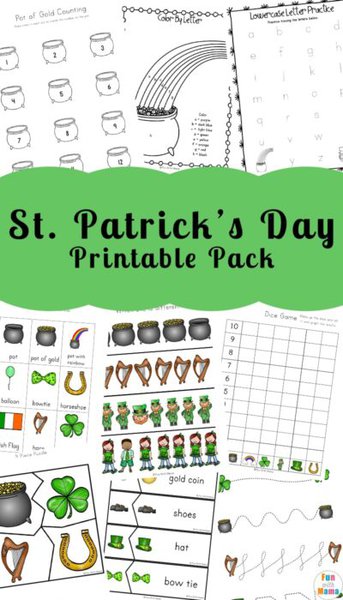 St. Patrick's Day Coloring Pages and Activities
It's nearly time for those tricky little leprechauns to arrive. Before they get here, your kids can enjoy these fun St. Patrick's Day coloring pages, St. Patrick's Day activities and more. This pack is loaded with learning activities for kids in preschool and kindergarten. With pots of gold, colorful rainbows and an emphasis on the color green… there is a lot of themed St Patrick's day games and fun!
---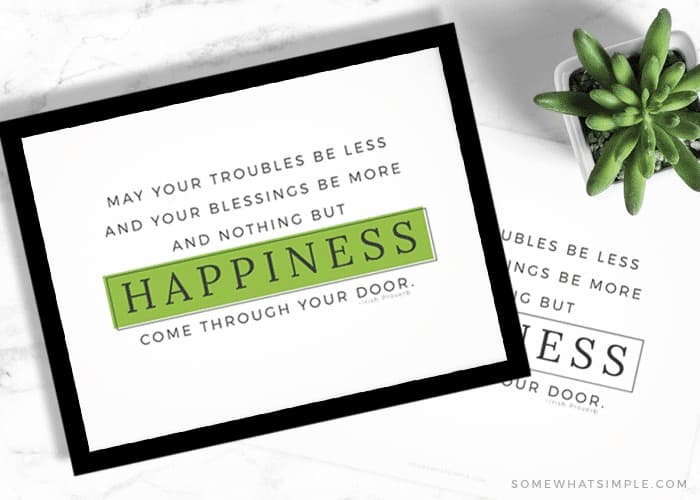 St. Patrick's Day Quote Free Printable
St. Patrick's Day is one of those holidays we keep really simple around here. We all wear green, obviously, and we'll usually make green pancakes or shamrock floats, but that's about the extent of our celebrations! Simple, fun and memorable!
---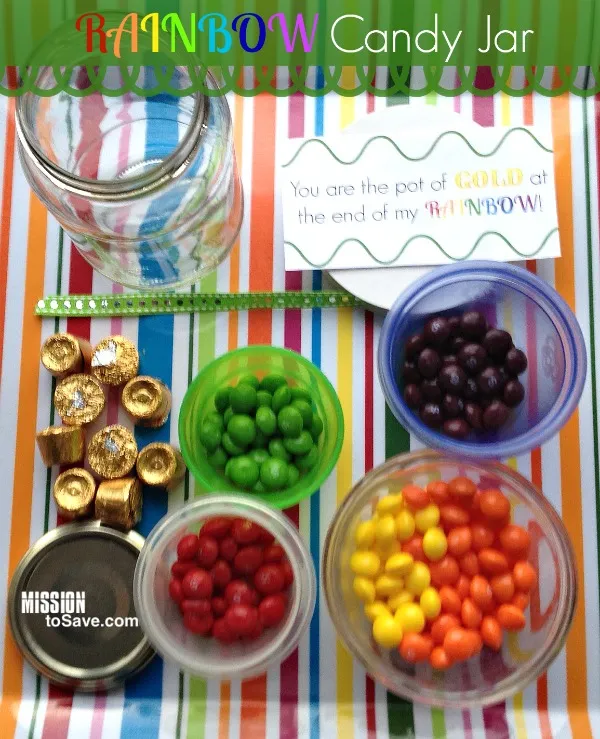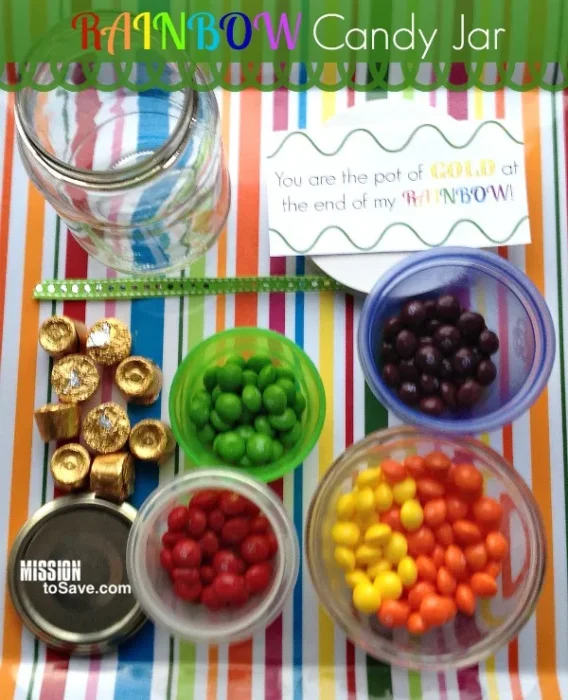 Rainbow Candy Jar Printable Tags
I have seen several versions of these Rainbow Candy Jars on the web, so I had to make one of my own.   This obviously would be great for St. Patrick's Day, but they would also be a fun "add on" for a kiddo's birthday gift or even a teacher appreciation gift.
---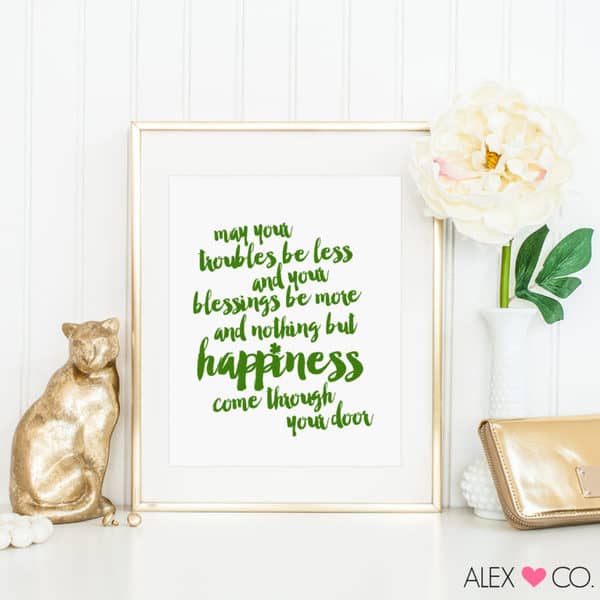 St. Patrick's Day Quote Printable
What I do in my home is slide the printable into a timeless, classy frame and then swap out the printables along with the seasons and holidays. Easy Peasy! You only need a standard frame, pair it with a sweet mat, and you have a lovely piece of artwork for less than $20.
---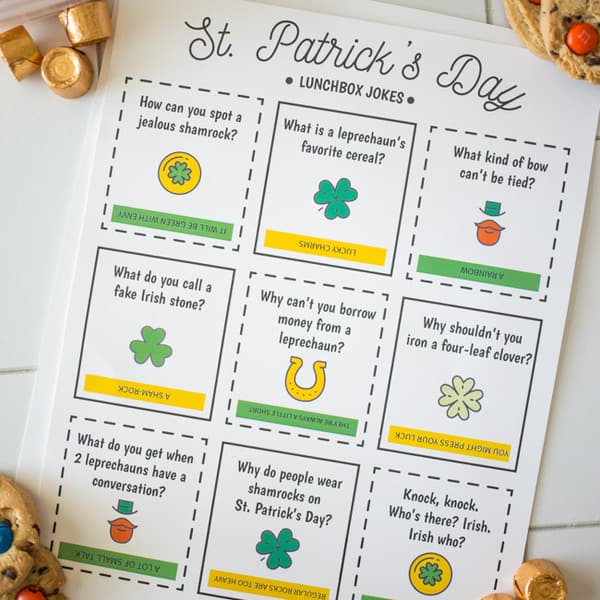 St. Patrick's Day Lunch Box Jokes
Hi friends! St. Patrick's Day is just around the corner and like me, you might just want to add a little something special to your kiddos lunch boxes or snacks. I started adding jokes to my boys' lunches for Halloween one year and they loved them so much that they keep asking for more! So at every given opportunity (like fun holidays) we whip up some fun Lunch Box Jokes perfect for girls and boys alike!
---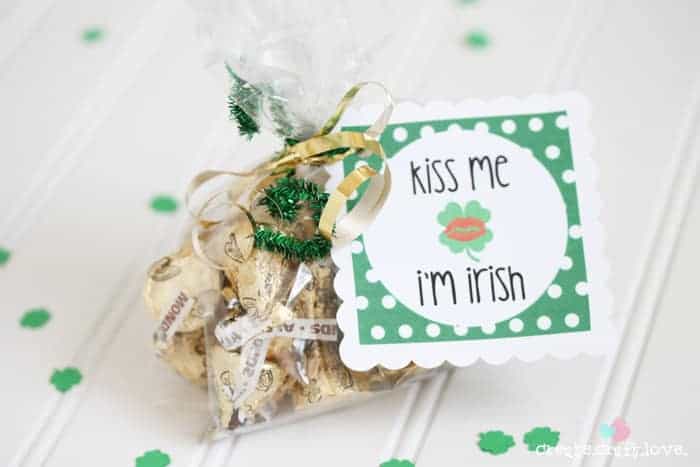 St Patrick's Day Kiss Me I'm Irish Printable
These printables are super festive and ideal for St Patricks Day green breakfasts or scavenger hunts! Simply, grab some clear treat bags from the store and fill with Hershey kisses.  I chose the almond ones since they were wrapped in gold but you can easily substitute for the straight chocolate lovers out there.  Fill your treat bag and tie with some pretty coordinating ribbon.  Print on cardstock or regular paper and back with cardstock.  I used by Cricut Explore to cut out the cute little scalloped squares.  Hole punch the corner and tie to the treat bag!
---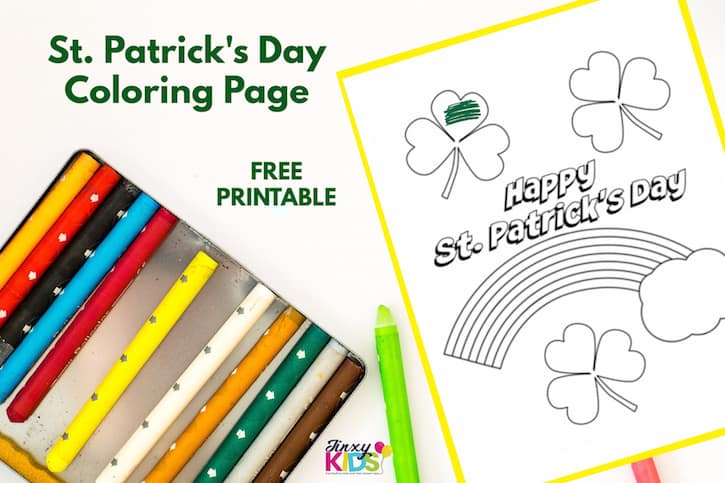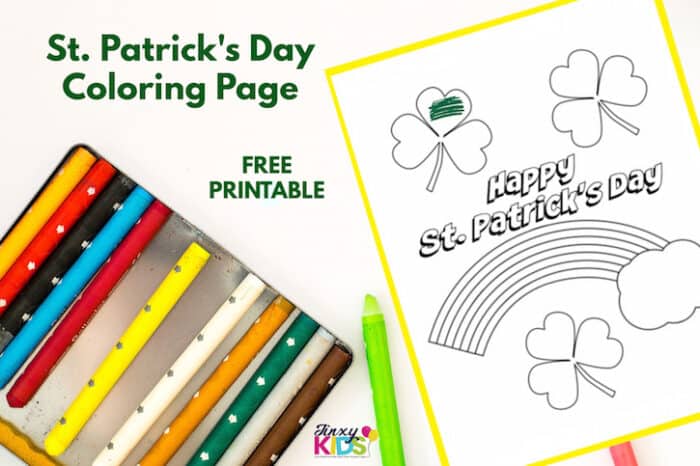 St. Patrick's Day Printable Coloring Pages
How about a fun St. Patrick's Day coloring sheet for some holiday fun? With this free printable St. Pat's Day Printable Coloring Sheet, kids can break out the crayons, markers or colored pencils and celebrate. St. Patrick's Day will soon be here! It is a fun holiday filled with leprechauns, rainbows, shamrocks, pots of gold and the luck o' the Irish! It's a fun holiday for everyone to celebrate from young to old!
---