The Reindeer Cam is Back – Watch Santa's Reindeer Feed!
Posted on: December 21, 2018
in
Freebies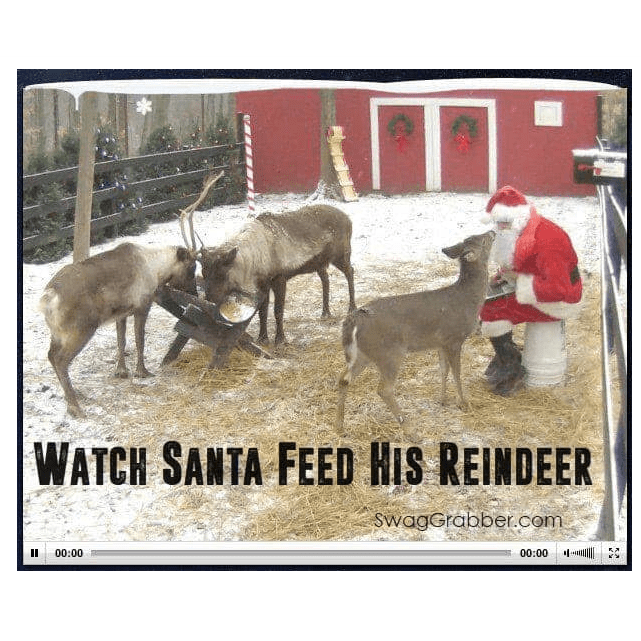 The Reindeer Cam is back again this year!
If you have kids you must check out this site. It is really cool because kids get to watch Watch Santa's Reindeer Feed live!
They even have scrolling box of Santa's Nice List – you can get your kiddos name on it by doing the following:
Option 1 – Support ReindeerCam
Instantly add name(s) to the Nice List! They ask that you contribute $1.99 per name to support their efforts. These names can be viewed on the Live Feed for the next 48 hours and for the whole season on our Nice List page.
Option 2 –  Send a letter to Santa – Free!
Tell Santa about the time you were Generous, Kind or any of the other Virtues of a Nice Kid and Let him know what you would like for Christmas. He loves to hear from you… honestly it's probably one of the best ways onto the Nice List. Draw him a picture and let him know what kind of cookies you'll have waiting for him. You can trust us, we're Santa's Elves and Santa LOVES LOVES LOVES cookies!
Make sure the letter has your child's name on it and send it to 4593 Wren Dr. Caledonia, MI 49316
SHOW TIMES: Weekdays at 11am & 7pm Eastern, Weekends at 7pm Eastern
More Deals You Might Like...