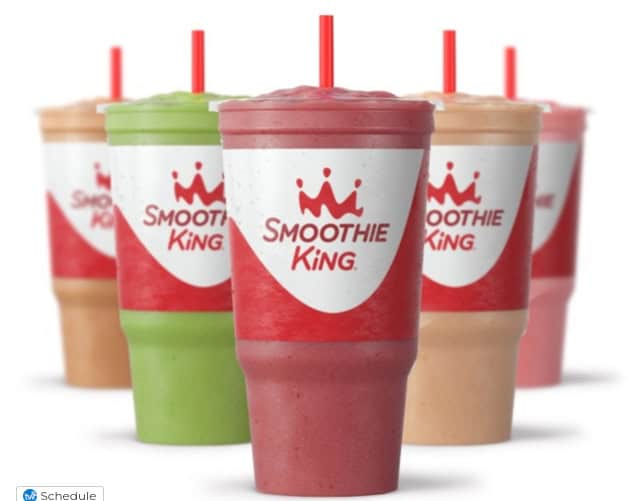 TODAY ONLY – you can get a Free 12 oz. Pumpkin Power Meal Smoothie at Smoothie King!
If you're a Smoothie King Rewards member check your app for a Free 12 oz Coffee Smoothie Valid today only.  STORE LOCATOR
I don't think this will be available for new members, but you can make an account for future offers. There are quite a few perks to having their app!
---
Perks to Joining Smoothie King Healthy Rewards!
The benefits of joining Healthy Rewards are endless. The convenience and efficiency are second to none, but some of the financial incentives make Healthy Rewards feel like the perfect fit for your lifestyle.
Finally! A refreshing rewards app that actually integrates seamlessly into your existing healthy habits. Support your health and fitness journey with members-only benefits, skip the line mobile ordering, exclusive offers, and motivational content.
$5 20 OZ. COFFEE SMOOTHIE BEFORE 11 AM
Purchase any 20oz Coffee smoothie for $5 plus tax. Offer valid before 11am local time only. Valid on in-store and app orders only.
SIGN UP BONUS
With Healthy Rewards, there's no verification or waiting period. The moment you sign up, you'll receive $2 off your first smoothie — immediately. Sign up in store or from the road for your instant discount.
FREE 20 OZ. TO 32 OZ. UPGRADE ON FRIDAY
When you're a Healthy Rewards member, Fridays are even sweeter. Sign up today to upgrade any 20 oz. smoothie to a 32 oz. for free on Fridays. More blends, more journeys, more rewards — join today.
Download the Smoothie King App!
Download the app and order on the go and avoid the lines!
Download it now and you can order and pay for your favorite smoothies right from your phone. Plus, you can find a location near you, check out the menu and nutrition information, and more!