National Deep Dish Pizza Day Freebies & Deals: April 5, 2023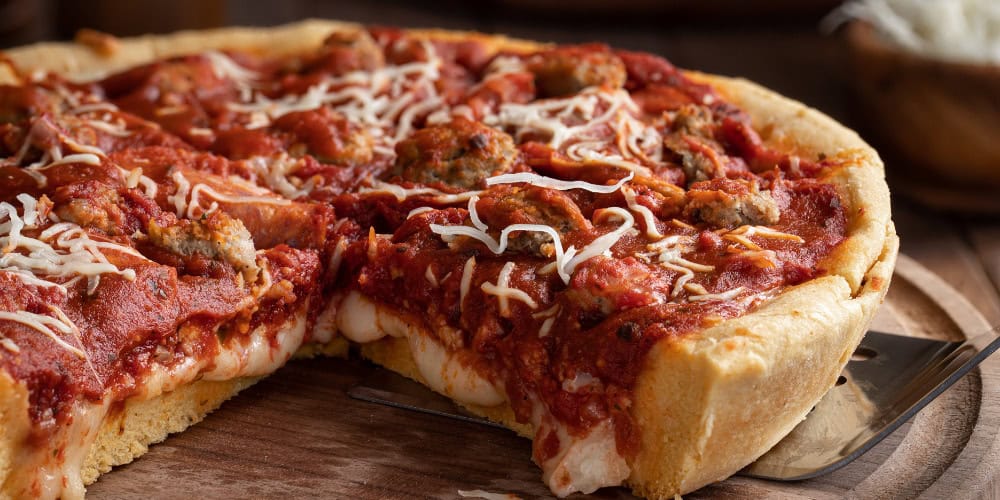 National Deep Dish Pizza Day is celebrated annually on April 5th. On this day, pizza lovers and foodies alike indulge in the deliciousness of a deep dish pizza. The classic deep dish is a thick, crunchy pizza crust that is filled with cheese, sauce and whatever toppings your heart desires. While there are many different takes on the traditional deep dish, no matter what type you order, it will be both savory and utterly delightful.
National Deep Dish Pizza Day is the perfect excuse to get together with friends and family over a piping hot slice (or two or three) of your favorite kind of deep dish. To help you celebrate there are several places offering deals and freebies.
While we don't know what will be available for 2023, here is what was offered for 2022.
Beggar's Pizza
The motto at Beggars Pizza is "We Lay it on Thick!" That's oh so deep dish and as it should be at this Chicago-based pizzeria where you can also indulge in a deep dish cookie. Now that's a place to celebrate National Deep Dish Pizza Day. Big Cheese Loyalty Club Members get one FREE topping on any size pizza all month long.
Buddy's Pizza
Walk into a Buddy's and you'll find yourself at the birthplace of Detroit-style deep dish.  And you can get 10% Off Your Meal for Dine-In or Carry-Out with offer code: 10MEAL, so go for that ooey gooey deep dish on it's special day.
Cici's Pizza
It's the perfect day to try out Cici's NEW Deep Dish Pizzas that come in Cheese, Pepperoni, Meat Eater, and Supreme starting at $9.99.
Cottage Inn Pizza
Celebrate and go Deep at Cottage Inn where you can get $3 Off Any Large Deep Dish with coupon code: DD3. Valid April 5 through April 7.
Domino's
Domino's does deep dish too! And it's called The Handmade Pan. Any specialty pizza can turn into a medium deep dish for in store and delivery. Take advantage of current deals like $3 Off with a Carryout Order of $5 or more when you order online through Dominos.com or the Domino's app.
Click here for the full list of Domino's Pizza promo codes and deals.
Double Dave's
Choose your deep dish crust (or crispy thin crust or even the "caulipower" cauliflower crust!) at Double Dave's and add some Peproni rolls while you're at it, because on Deep Dish Pizza Day, you can also get Peproni rolls for only $1.25. Prices may vary based on location.
Click here for the full list of Double Dave's promo codes and deals.
East of Chicago
Try the mouth watering Signature Pan Crust and then why not have a peanut butter & jelly pizza for dessert at East of Chicago. Check out these East of Chicago coupons like a Medium 3-Topping Pizza for $11.99 OR Large 3-Topping Pizza for $14.99. This offer is valid until April 30.
Giordano's
Giordano's is a classic for Chicago-style deep dish, with a ton of awards for Chicago's Best Pizza from CBS, the NYT, NBC, Chicago Magazine, and more. Try Giordanos specials like the Ultimate Meal Deal that feeds 4 for only $37.95. This deal comes with a 2-Topping Medium Deep Dish (or Thin Crust, but who wants that on Deep Dish Pizza Day?), a Family Size Salad (house or Caesar), and 4 Cookies!
Click here for the full list of Giordano's promo codes and deep dish pizza day deals.
Godfather's Pizza
Top it up on National Deep Dish Day at Godfather's Pizza where you can enjoy Top it Tuesday and get a Medium (for $12.99), Large (for $15.99), or Jumbo (for $21.99) Pizza with up to 4 toppings. No coupon needed.
Jet's Pizza
Head to Jet's for that deep dish because you can get a Small 1-Topping Deep Dish with Deep Dish Bread for only $16.99. You can also get 2 Deep Dish Slices and a 20oz drink for only $5.66. No coupon needed.
Little Caesar's
Get a Detroit Stye Deep Dish at Little Caesar's to celebrate National Deep Dish Pizza Day because you can also add on some STUFFED Crazy Bread with Crazy Sauce Hot-N-Ready for only $3.49 between 4-8pm.
Mazzio's Pizza
Choose to go deep with Mazzio's Deep Pan (or Thin 'N' Crispy, Hand-Tossed, Stuffed Crust, or Gluten-Free!) and try innovative Mazzio specials like the Calzone Ring, Cinnaboli, and our personal favorite Pepperolies. Find Mazzios deals like a Free Lunch or Dinner Buffet with Purchase of Soft Drink.
Minsky's Pizza
You'll find Minsky's at the top of many Kansas City's Best Pizza lists.  Try a savory Deep Dish Pan or a fancy sweet potato, cauliflower, or gluten-free crust and pair with their house brews like the Minsky's IPA! Satisfy your deep (dish) craving here because you can get $2 Off a Medium Gourmet Deep Dish (with coupon code: DEEP2) and $3 Off a Large Gourmet Deep Dish (with promo code DEEP3).
Old Chicago
Old Chicago is the place to be whenever you're craving a Chicago-style deep dish pizza, pepperoni rolls, and craft beer night.  Get ready for a fun night because this pizzeria stands out for its impressive selection of local and global brews along with a ton of great Old Chicago deals. Join OC Rewards and get a FREE Appetizer (up to $10 value) after you make your first transaction.
Sarpino's
Sarpino's specializes in fantastic gourmet pan pizzas, using 100% premium Wisconsin with no added fillers and top notch meats with no artificial flavors. And any pizza can be calzonified! Plus, when you order through the Sarpino's app you can get 10% Off with promo code: APP10.
Uno's Pizzeria & Grill
Get a BOGO 50% off deal on deep dish pizzas at Uno's Pizzeria & Grill in celebration of Deep Dish Pizza Day. This deal is only available in restaurant.