If you have always wanted to become a travel agent but don't want to invest in the expensive equipment and software necessary, there is a way to do it for free. We will show you how!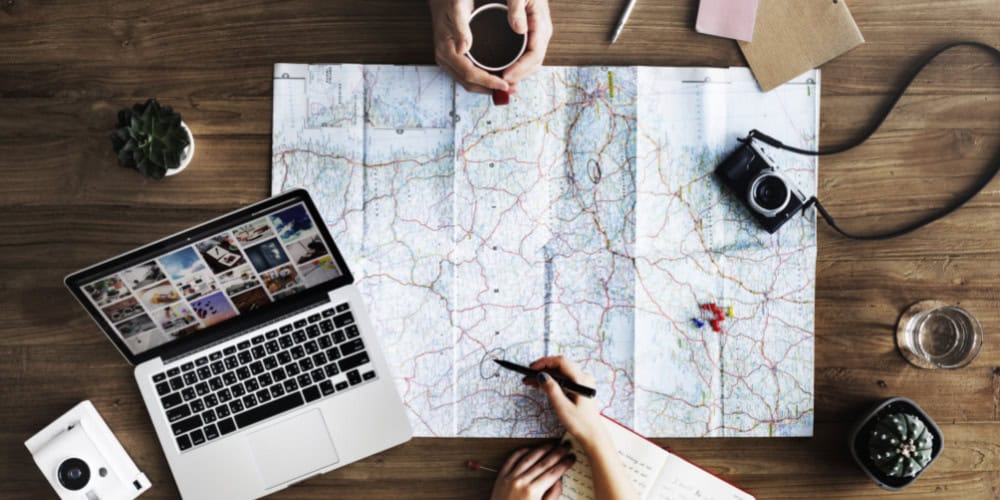 Becoming a travel agent without any prior experience or knowledge can seem daunting, but the truth is that it is entirely possible to become a successful home-based travel agent with just a few basic steps.
Besides the attractive income, there are several other benefits of becoming a home-based travel agent.
Some of these benefits include:
Freedom to work from home and save from not owning an office
Having to plan your working hours
Additional passive income if you're working part-time
Chance to travel at discounted prices
Becoming your own employer
How to become a travel agent in just a few steps
A travel agent doesn't necessarily have to be someone with a lot of experience who is doing it as a full-time job. A home-based agent could be a stay-at-home mom, an Executive Chef at a four-star hotel or resort, and/or a retiree in need of some supplemental income.
The really great thing about the travel agent industry is that there are a lot of ways to get your foot in the door and learn the ropes. You can start out working part-time from home and, as you get more comfortable with the business and build a clientele, you can transition into a full-time travel agent.
1. Familiarize yourself with the travel industry: Becoming a home-based travel agent requires knowledge of the travel industry, so read up on destinations and amenities offered by tour operators, hotels, resorts and cruise lines. Following online travel blogs and forums can help you stay current on trends in the industry.
2. Get certified: A certification from The Travel Institute or similar organizations shows that you have taken classes to learn about the trade, giving your customers confidence in your abilities. You also may be able to get discounted rates on tickets and lodging through some certifying bodies.
3. Obtain liability insurance: As a business owner, you'll need to purchase general liability insurance for yourself and your business as well as errors and omissions insurance.
4. Choose a business structure: Depending on where you live, you may need to register your travel agency with the state and pay taxes on income earned from commissions. Consult an accountant or attorney before setting up shop.
5. Set up a website: A website is essential for advertising and marketing your services as well as providing information about yourself, your credentials and the destinations and vacations you offer.
6. Market yourself: Create flyers and business cards that list your contact information, certifications, services offered and any discounts available through affiliations with businesses in the industry. Reach out to potential customers by offering promotional deals or discounts through social media sites, email marketing campaigns or local ads in newspapers or magazines.
7. Keep up to date: As a travel agent, you'll need to stay up-to-date on the latest industry trends and regulations. Join organizations such as The Travel Institute, which offers seminars and webinars about the industry, or attend conventions for home-based travel agents.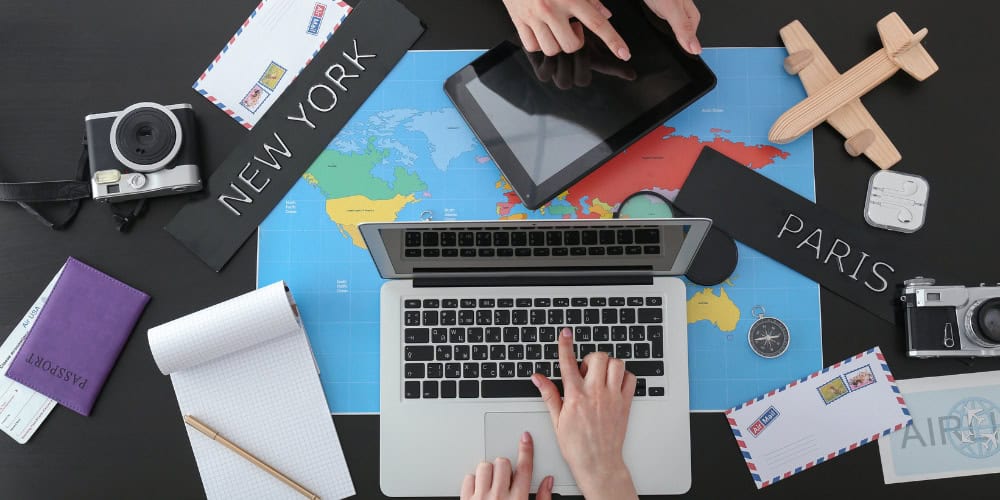 There are no industry standards for education and training for travel agents, so one can begin working in this field after high school graduation and once you get certified. Pursuing a certificate or an associate or bachelor's degree in tourism before seeking a job can take one to four years.
How to get certified to be a travel agent at home:
If you really want to be taken seriously, you need to get certified. There are a few great places online that you can get certified.
One of the best places to start is with the International Airlines Travel Agent Network (IATAN). This organization provides a host of benefits and services that will help you launch your career as a home-based travel agent. These include access to discounted airfares, hotel rates, car rental discounts and other deals that can help you provide competitive prices for your customers.
In addition, IATAN also offers training courses and certification programs which teach you how to become a travel agent. These courses are designed to teach you the basics of how to book flights, hotels and other services for your customers. After completing these courses, you can take the certification exam and become an accredited IATAN agent.
Another great resource is The Home-Based Travel Agent Network (HBTA). This organization provides home-based agents with the tools they need to succeed in the industry. HBTA offers access to hundreds of travel suppliers, discounts on products and services, and free marketing materials. They also have a robust library of resources that include articles, videos, webinars, podcasts and more that will help you stay up-to-date on industry trends.
Once you have all the necessary information and materials, you can start building your client base and working from the comfort of your own home. Through networking, attending travel shows and conventions, and offering competitive prices, you can quickly become a successful travel agent.
Once you've completed these steps, you'll need to start networking like crazy! Attend trade shows, join social media groups for agents, and reach out to potential customers. You'll also want to start building relationships with vendors as soon as possible in order to get access to deals for your clients. Building up a clientele takes time and patience, but by offering excellent customer service and finding ways to add value for your customers beyond simply booking flights or hotels, you will eventually succeed in becoming an established home-based travel agent who has built up his or her own business from the ground up!
FREE Resources for Travel Agent Training
#1. Online Travel Agent Training for free (ed2go.com).
This course is prepared to give students a better understanding of travel and tourism.
Also, you get to know how best to navigate and keep up with the changes in the travel industry. Basically, you will earn a travel agency certificate at the end.
#2. Becoming a Travel Advisor – A Great Career Choice (asta.digitalchalk.com).
Here's one of the online travel agent courses that train students to become professional travel consultants.
Here you will learn all about the dedication, travel experience, and excellent interpersonal skills to become a travel consultant.
#3. Ethics for Travel Advisors.
This course commits to training students using concrete real-life examples to become travel advisors.
This program is sponsored by ASTA: a company committed to excellence and value.
#4. How To Become A Travel Agent Training Programs.
This is a free course that teaches you how to become a travel agent.
With a track record of more than 50 years, you can be sure to receive the best training for a prosperous future in the travel industry.
#5. Travel Industry Certification Programs (thetravelinstitute.com).
Here's another free travel agent certification online training.
Besides the CTA, CTC, or CTIE travel agency certificate students earn, they also get the opportunity to connect with top travel agencies.
#6. Travel Introductory Program: TRIPKIT.
Just like the name states, this is an introductory program that gives you a solid foundation about the travel industry.
Although this is an online free travel agent training, you need textbooks, workbooks, and online tests to excel.
#7. Certified Travel Associate Program.
You get a travel agency certificate at the end of this program for free. What you will learn is how to increase sales, value, efficiency, and to become marketable.
#8. The Certified Travel Industry Executive (CTIE®) Program.
This course is for travel agent wannabes who want to be part of the executive team.
By design, this course incorporates leadership roles into their travel agency courses.
#9. Certified Travel Counselor Program.
By design, this course teaches you how to become an effective travel agent manager for free.
Also, you will know how to meet the new demands of today's travel managers via comprehensive management preparation.
#10. Travel Agent Training Independent Learner Program.
All you need for this course is access to up-to-date material which consists of 30 lessons of 15 to 30 minutes each.
University Sponsored Travel Agency Online Courses With Certification.
#11. B.Sc in Travel & Tourism Management.
The University of Chandigarh University offers you a B.Sc almost free to become a travel agent online.
#12. B.Com Travel and Tourism Management.
Amity University Jaipur offers free online travel agency training almost free.
This course builds you in travel and tourism management.
#13. BBA in Tourism Management.
SAM Global University, Bhopal offers training for travel agents to earn a certificate in tourism management.
#14. PGD in Travel and Tourism Management.
Ludhiana tutors at Ludhiana Group of Colleges teach students who enrol on this program to become travel agents almost free by expanding their knowledge in travel and tourism.
#15. MA in Travel and Tourism.
You can get a master's degree in Travel and Tourism free by applying to Assam Down Town University, Guwahati.
Also Read: 45 Affordable Online Masters Programs in 2020
#16. Diploma in Travel and Tourism QLS Level 4.
This travel agent course enlightens students on the relevance of the contemporary travel industry.
However, this course is not totally free. You get an 80% discount on tuition. That's almost free.
#17. Certificate in Travel and Tourism QLS Level 1 Award.
At the end of this program, you earn a travel agents certificate after you've been brewed on everything about the contemporary tourism industry.
#18. Certificate in Travel and Tourism QLS Level 3.
This course comes with a travel agency certificate. It comes with an 80% discount on tuition.
It's not totally free.
#19. Advanced Diploma in Travel and Tourism QLS Level 5.
This is one of the not-totally-free online travel agent training that comes with an 80% discount on tuition.
This course prepares students to gain hands-on experience with travel agencies.
#20. Travel and Tourism Management- Diploma QLS Level 7.
Also, this is not a totally free online travel agent course training. Students pay tuition with an 80% discount.