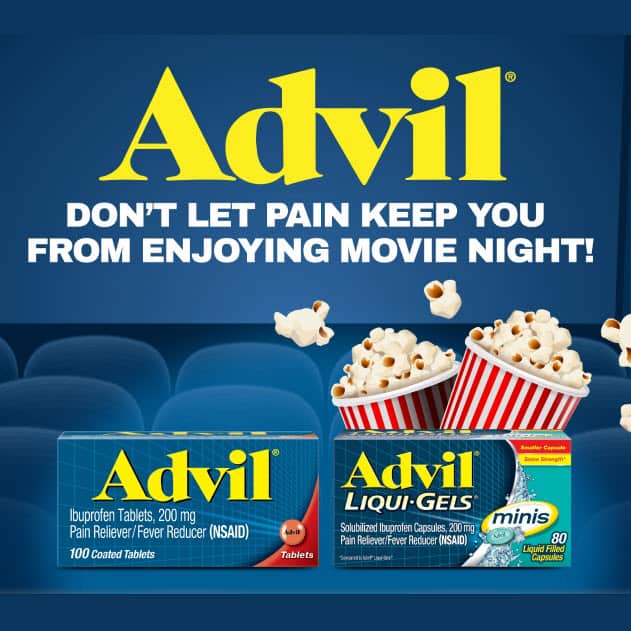 Well, this is a pretty cool freebie!
Walmart and Activate Rewards is offering a FREE Movie Ticket (worth up to $13) when you buy just one Advil product from Walmart!
It's a pretty easy one to get…
Buy 1 participating Advil product at Walmart between 09/29/2019 – 11/20/2019. Retain your printed paper receipt.
Take a photo of your receipt, showing the qualifying items starred, and upload the image using either your mobile device or desktop computer.
We review submissions within 2 business days. Once your receipt is approved you will receive an email confirmation with your Promo Code.
Eligible Advil products include:
| | |
| --- | --- |
| Advil Tablet 50ct | 30573015030 |
| Advil Liqui-Gel 40ct | 30573016930 |
| Advil Caplet 100ct | 30573016040 |
| Advil Tablet 100ct | 30573015040 |
| Advil Tablet 130ct | 30573015130 |
| Advil Liqui-Gel Migraine 80ct | 30573016840 |
| Advil Liqui-Gel Mini 80ct | 30573176980 |
| Advil Liqui-Gel 80ct | 30573016940 |
| Advil PM Liqui-Gel 40ct | 30573016743 |
| Advil PM Caplet 80ct | 30573016440 |
| Advil Tablet 200ct | 30573015475 |
| Advil Liqui-Gel Mini 160ct | 30573176989 |
| Advil Liqui-Gel 160ct | 30573016989 |
| Advil PM Caplet 120ct | 30573016443 |
| Advil PM Liqui-Gel 80ct | 30573016755 |
| Advil Tablet 300ct | 30573015498 |
| Advil Liqui-Gel Mini 200ct | 30573176913 |
| Advil Liqui-Gel 200ct | 30573016949 |