We've all been there, school project deadlines looming, and we're clueless. So we end up racking our brains the night before, trying to come up with some cool ideas for our project. But, thanks to the internet, bright ideas for school projects are right at our fingertips!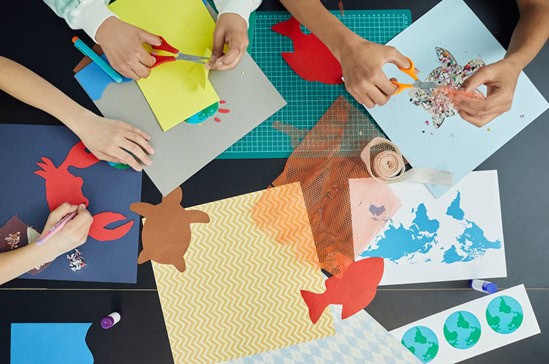 The internet has made it easier for kids to access endless creative ideas. Gone are the days when you had to build a solar system out of cork sheets. So check these creative printable ideas for kids' school projects to help you next time!
World Maps, Globes, and the Space
From world maps to space trivia, you can't go wrong in helping your kid create a fun and creative school project that is printable.
These days over, your kids or siblings don't have to painstakingly write down every single detail only to let one little mistake make you start all over again. Today they can print specific maps with every relevant detail and add fun facts to each location with just a click!
Not only can they create an entire world map from printables, but they can also even build their own globe! Yes, the globe, the exact model of the earth!
How on earth (pun intended) do you do that?
Well, using 3-D printing, of course!
What is 3-D Printing?
Also known as additive manufacturing, this process uses a digital file to create or print a solid or three-dimensional object. 3-D printing is achieved by fusing layers of liquid or powdered plastic, metal, or cement after they have been laid down in thin layers. This is achieved by a 3-D printer that only takes minutes to construct an object, depending on the subject fully.
3-D printing is used in everything from simple projects to prototypes and special effects in films and TV. It is also used for furniture modeling and mock-ups of shoes, mobile phones, and even cars!
3-D printing is beneficial in so many ways; here are some of them…
Look Fantastic
Flexible Designs
Environment-Friendly
Less Waste
Sturdy Materials
Fast Production
3-D printing is also cheaper, and this is dependent on what is being printed. If you're getting your subject printed from outside, it will take anywhere from a couple of dollars to several hundred dollars if you print detailed prototypes. You can also purchase a 3-D printer, and you will have to shell out from $300-$500 depending on the model and features.
Historical Reenactments
Bringing the past to life is no big deal! And for the little one's history projects, you can help them design the coolest projects! Whether they want to duplicate the ancient Egyptian civilization or portray the life and times of the early men, now, all is possible with printables!
If your child picked ancient Egypt as their topic, there are several areas they can tap into. Let's take a look at some:
Pyramids: They can build a 3-D model of a pyramid, complete with hieroglyphic inscriptions all around. You can achieve that with custom printed tape, flawlessly!
Hieroglyphics: Create your own book of spells with printable hieroglyphics (ancient Egyptian alphabets). Get bonus points by adding actual excerpts from ancient Egyptian texts!
If they picked Jurassic Park as their topic, here are some fun ideas,
Print high-quality images of different dinosaurs along with information about their species, habitat, lifespan, hunting skills, appearance, and other details.
While 3-D printing dinosaurs can be a little tricky and expensive, printing 3-D images will be a breeze and cost much less. And also, they will look so cool on the project board as they shift with the slightest movement!
Water Kingdom
Creating your water world is now easier than ever with printables! From fun clip art and figures of ocean creatures to actual images of sharks and whales, your kid can create a fun illustration of the ocean for their school project!
Here are some ideas for how your child can create their own underwater scene,
Print real-life photos and backdrops of the ocean floor and add fun avatars of ocean creatures and plants, complete with information!
Print out photographs of the ocean's fiercest inhabitants, the great white or the majestic blue whale, along with all their characteristics.
Take it up a notch and print an actual life-size image, so your kid can amaze their classmates and, undoubtedly, bring home the prize for the most creative youngster!
Conclusion
There you have it! We hope this list helps you and your kiddo develop the coolest ideas for their school project. Consider using these ideas for bonding time at home with your child or decorating for parties. Let their imagination run wild! Share this with your friends and family at once!
FAQs
1. Where can I get Custom Printed Tape?
Ans: Custom printed tapes are the most fun and decorative way to jazz up a DIY project, wrap gifts, or even for your business! Not only do custom-printed tapes help make things look better, but they're also essential for personalization.
For businesses, the custom-printed tape is perfect for promoting and adding authenticity. These tapes are sturdier than regular tape and a lot wider. Their prices depend on customization, but they're a smart investment for sure! Choose from regular paper and polypropene that are waterproof and durable. In addition, you can find custom tapes available online and in many stationary stores.
2.  What do 3-D Printers Usually Print with?
Ans: 3-D printers use materials such as PLA, ABS, TPU, and different blends of these. These are liquid and/or powdered plastic, metal, and cement variations. This makes 3-D printed models lightweight and long-lasting.
These materials also mean 3-D printed models or prototypes are flexible and resistant to water, pressure, and heat. Resins, graphite, and paper, are also used in 3-D printing; these materials, however, are not as durable as ABS, TPU, or PLA plastic. The cheapest to use in 3-D printing is ABS, which is relatively less sturdy than TPU, which can be costly depending on what you're printing.