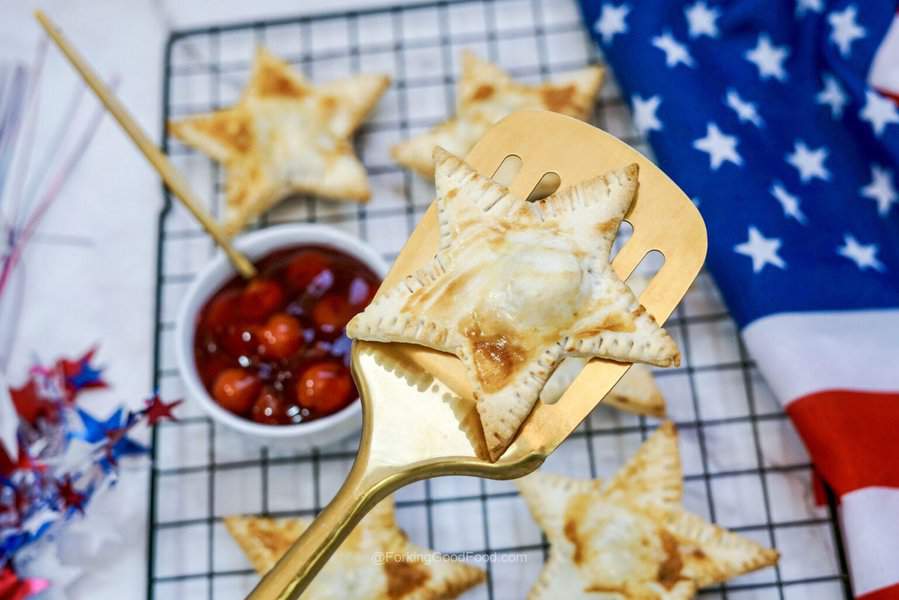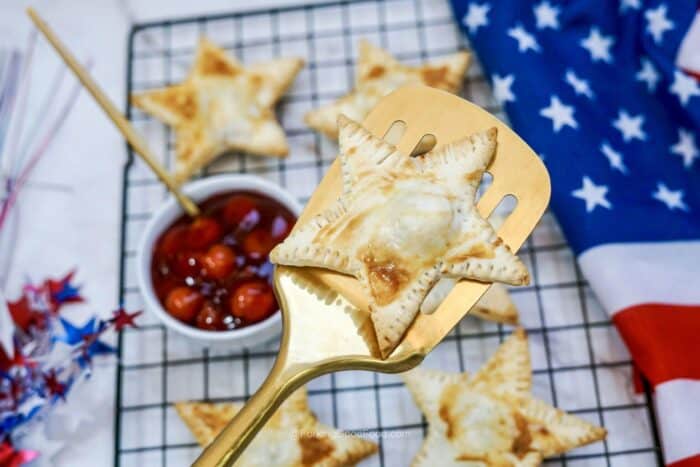 America is a melting pot of cultures, which is evident in the food we enjoy. From coast to coast, and everywhere in between, there are unique and delicious desserts that can be enjoyed by anyone. In this post, we will explore 20+ American sweets that will have your taste buds singing with joy!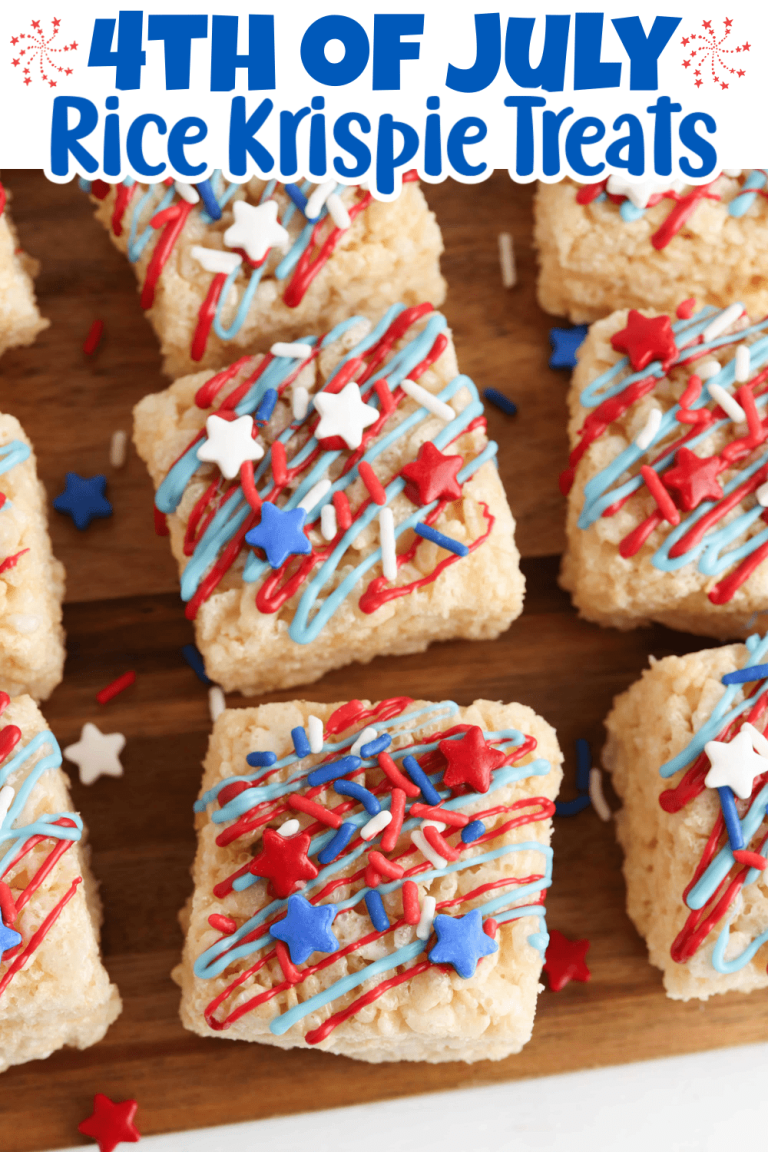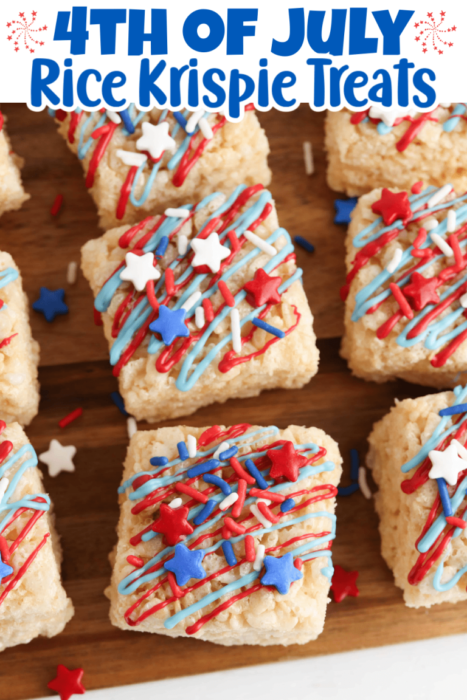 With so many reasons to celebrate, the summer is the perfect time for a party! But who wants to heat up their kitchen to bake a dessert during the hot summer months? With the help of these no-bake 4th of July Rice Krispies treats, you can prepare a quick patriotic snack for your next summer get-together without ever turning on your oven.
---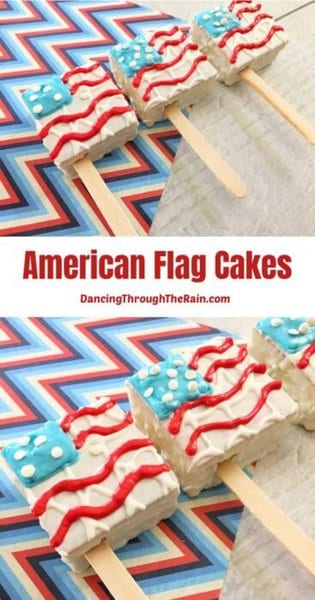 If you're looking for an easy patriotic dessert that is perfect for the fourth of July, Memorial Day or Labor Day, look no further than these easy American Flag Snack Cakes!
---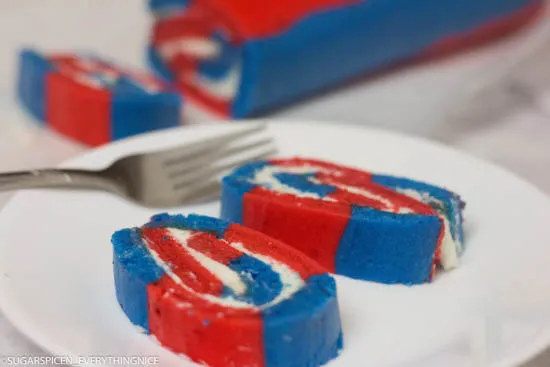 Swiss roll cake, simply put, is a thin sponge cake, with a layer of creamy frosting. Sometimes its a solid white cake roll where its a regular vanilla cake, sometimes its made with cocoa powder to give a sold chocolate brown cake. You may even find a mix of the two as well.
---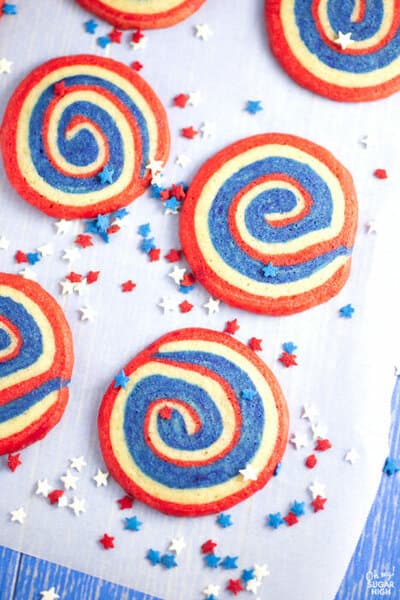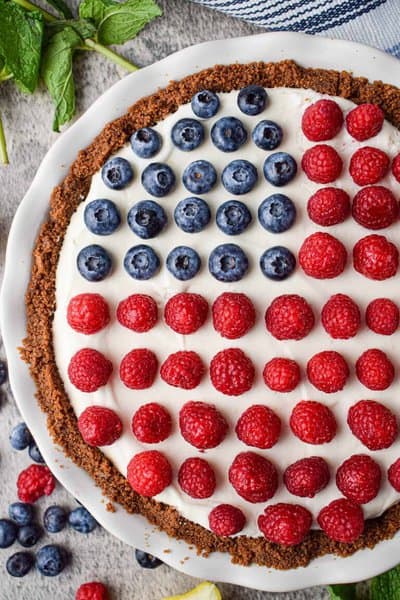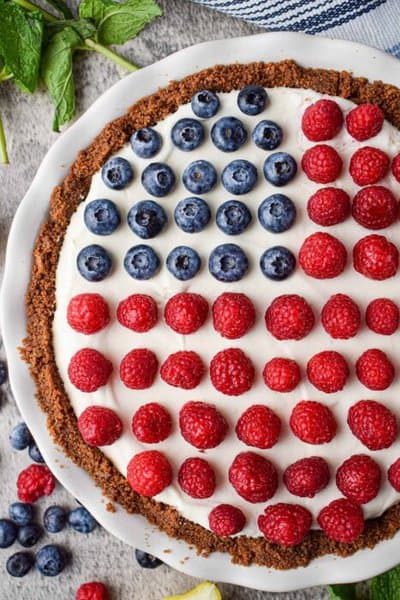 This delicious red, white and blue 4th of July No Bake Pie is perfect for your summer celebrations! With a fun fruit flag decoration, this patriotic pie has a pillowy lemon filling and a crunchy gingersnap crust that your family will love.
---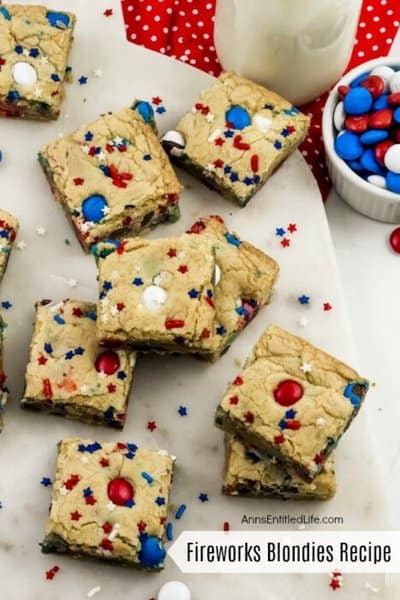 Blondie bars are some of the easiest sweets you can make. Using a basic blondie bar recipe you can dress up this wonderful treat to make nearly any holiday more festive. Just about anyone can make blondies. If you can read a recipe, follow direction, and mix, you are golden!
---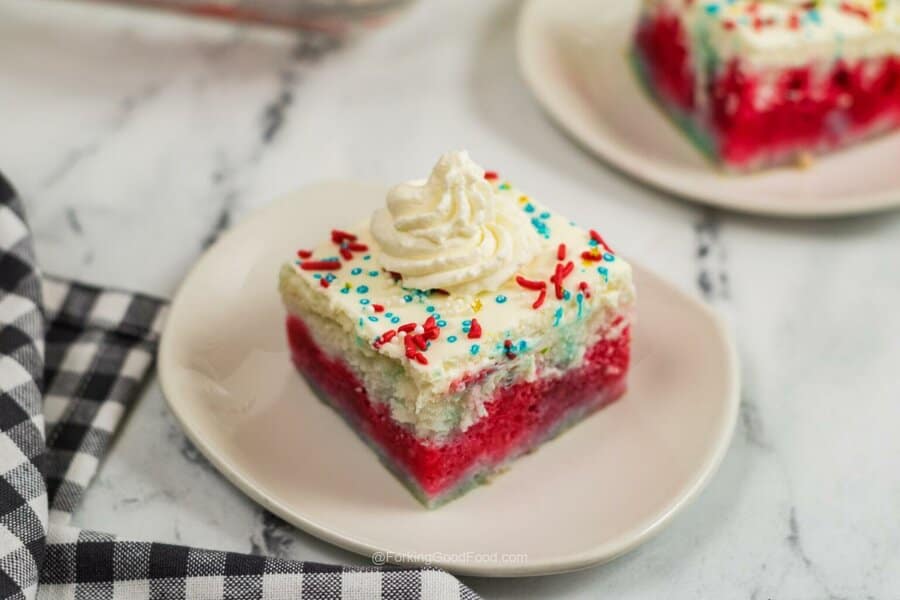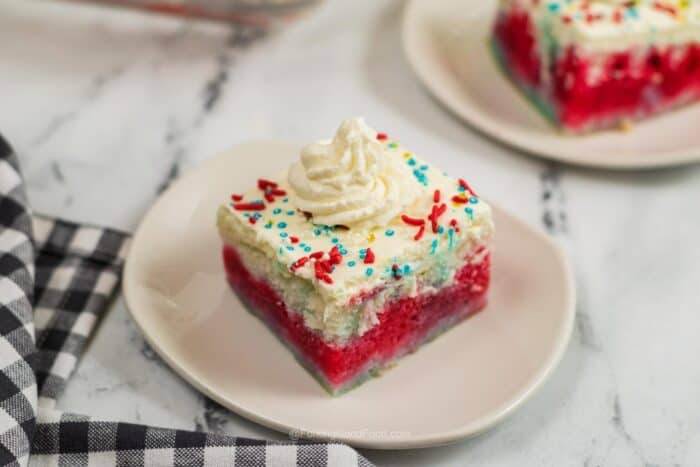 We love poke cakes at our house. My kids will eat them any time of the year and it is a perfect dessert for summertime cookouts! This poke cake is topped with jello that has been mixed with food coloring to make it look like an American flag. It's not just patriotic, but it tastes amazing as well!
---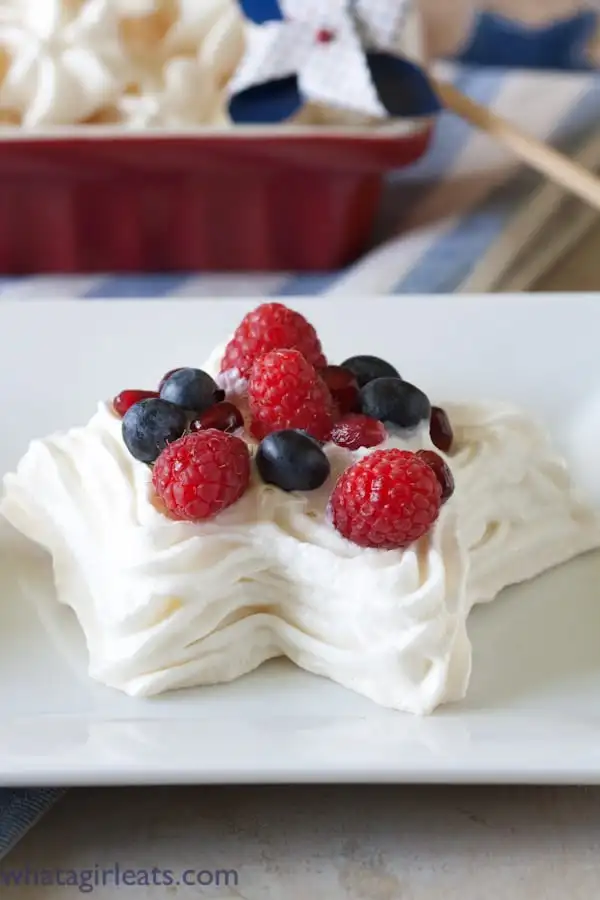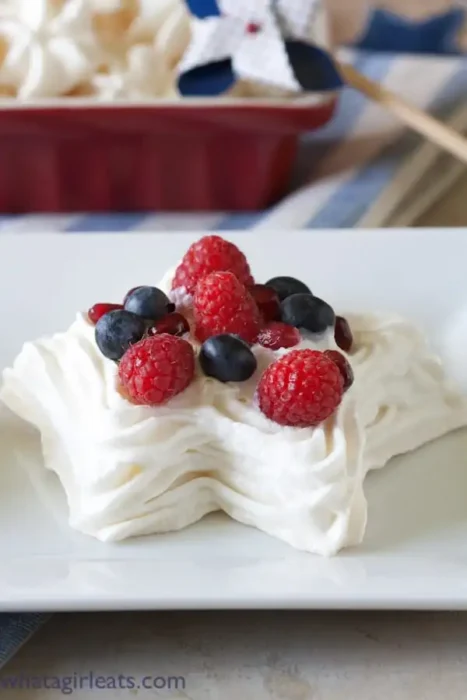 These star shaped meringues, "spangled" with  fresh berries are the perfect patriotic dessert for the summer.I like meringues. They were the very first dessert I learned to make in high school.
---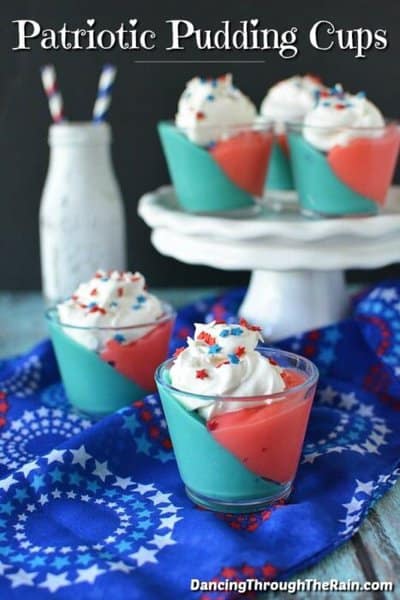 These Patriotic Pudding Cups are a fourth of July recipe that is super easy to make! With very few ingredients, these red white & blue desserts will be a hit!
---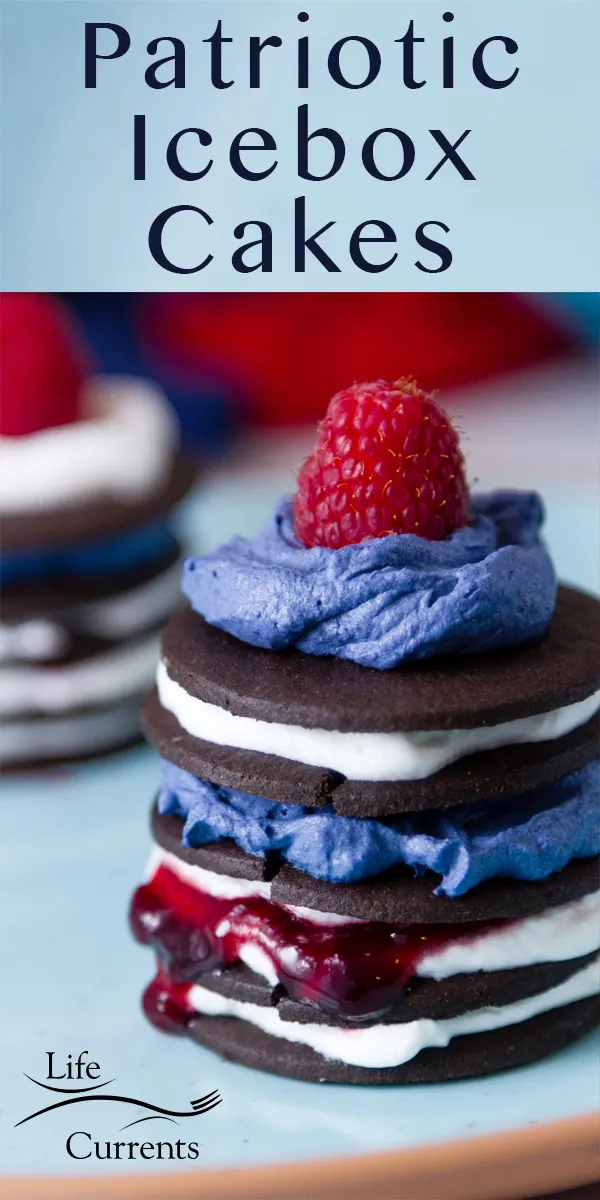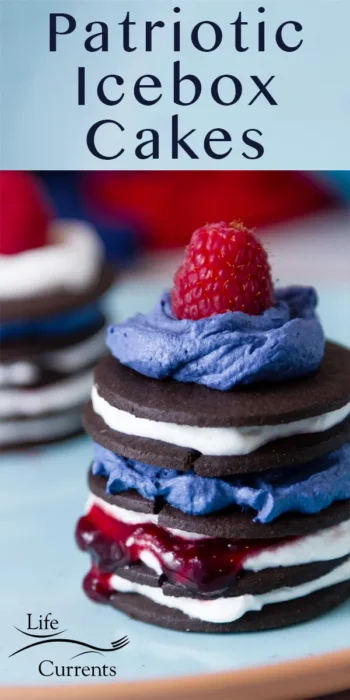 These impressive looking no-bake individual Patriotic Icebox Cakes are so simple to make and so delicious, and perfect for an American summer holiday. And there are no artificial colors to make the red white & blue of the American flag.
---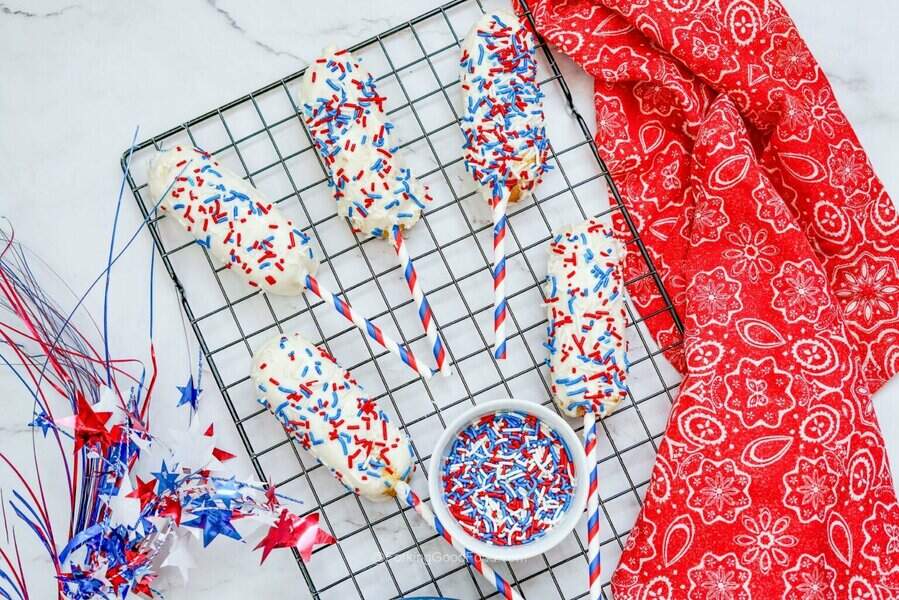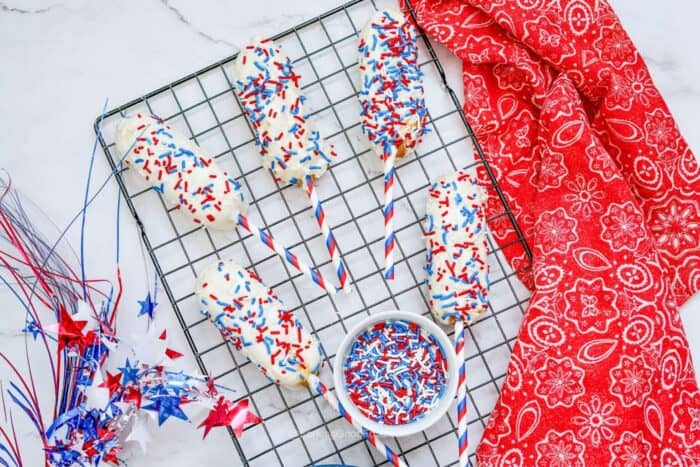 This time of year, there's nothing more patriotic than a Chocolate Covered Twinkie! Made with real milk chocolate, these Chocolate Covered Twinkies are a must-have for any chocolate lover. So don't wait, get your patriotic Chocolate Covered Twinkies today!
---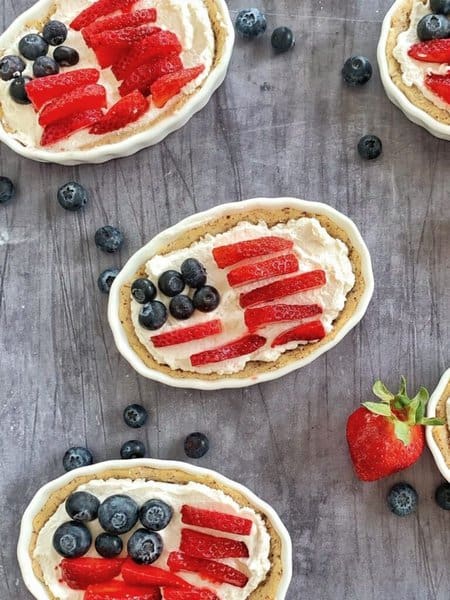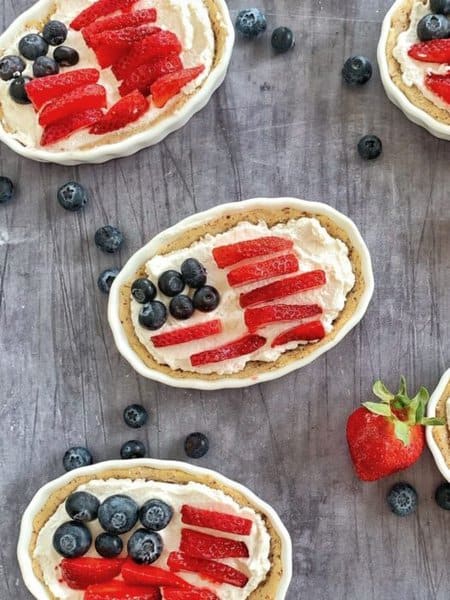 Fourth of July is one of my favorite holidays! It's hot, sunny, and there are always so many fun things to do! In honor of our amazing American holiday, I've put together a patriotic dessert perfect for this weekend! These patriotic mini fruit tarts are going to be your new favorite dessert! Not only are they easy and simple, but they're also made with whole foods and minimally processed ingredients. Plus, they're dairy-free, gluten-free, and vegan, so they're a great dessert for just about everyone!
---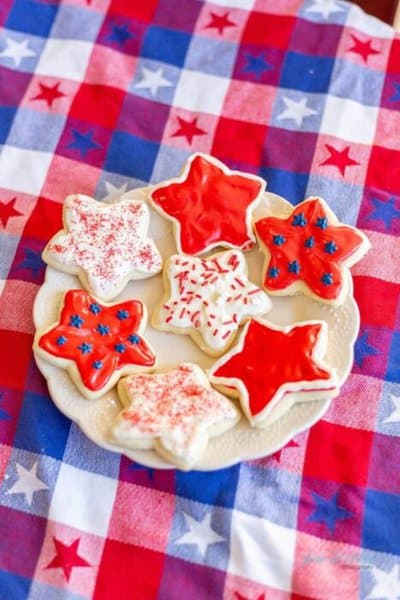 Ever since I was a kid, I've been making these sour cream sugar cookies with my mom.  I continued doing that as an adult in college.  My mom even mailed some to me both Christmases that I was a missionary in Puerto Rico! When Phillip and I were first married and his family came out for our December wedding, my mother-in-law tried these cookies and fell in love.  After they went home, she emailed me to ask for the recipe so she could make them with my new brother-and sister-in-law.  They've now become a family tradition in her household, too!
---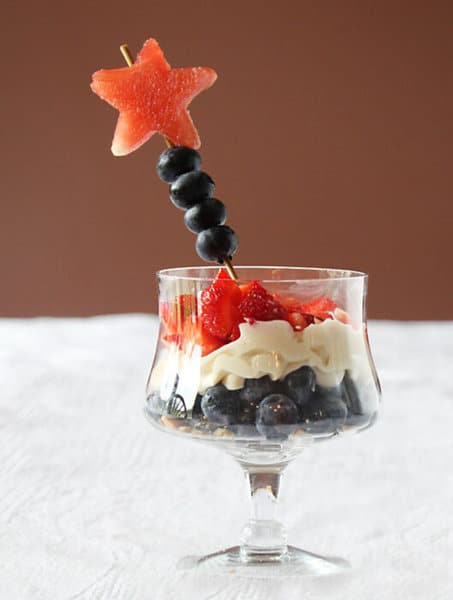 The 4th of July holiday is a time for fun and celebration!  This year I am trying to be health conscious as well and wanted to make a dessert that was healthier–but still keep all the fun!  What better seasonal food to use for this day of red, white and blue than berries!   So I layered strawberries, blueberries and a cream cheese whip into glasses and called it… Blueberry Strawberry Parfait USA!
---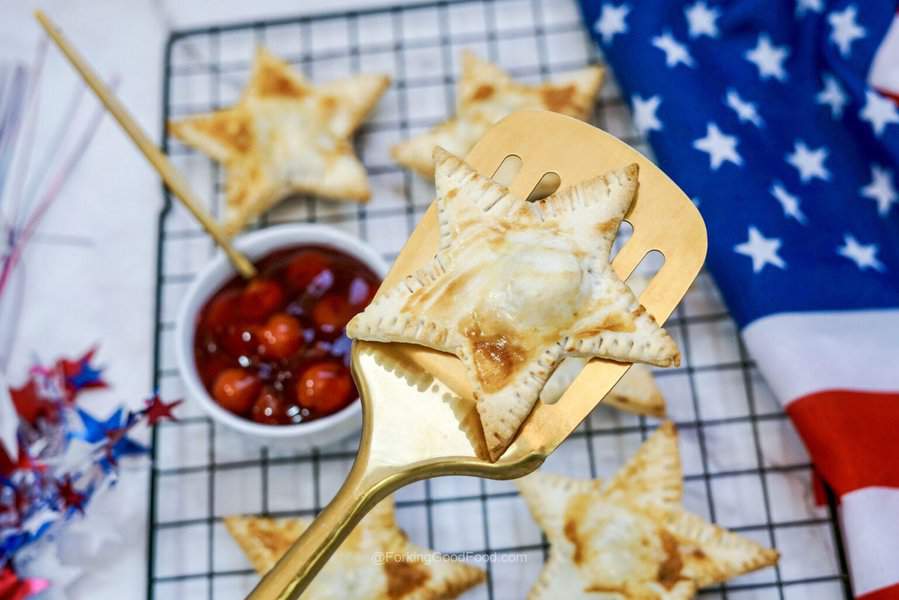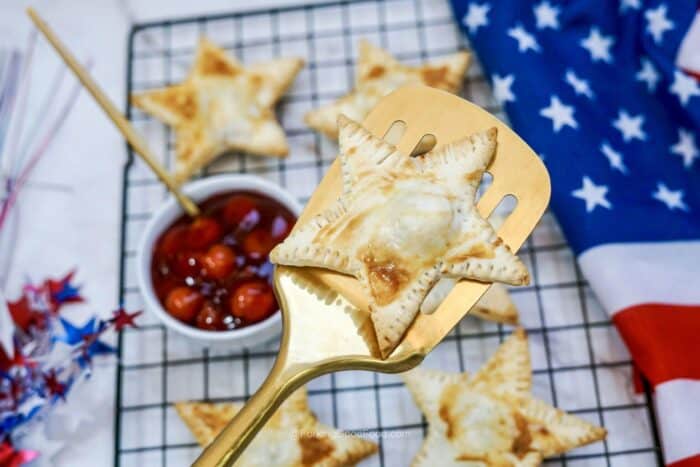 A cherry air fryer hand pie is a handheld pastry that is filled with cherries and has an air fryer crust. This recipe is perfect for a quick snack or dessert.
---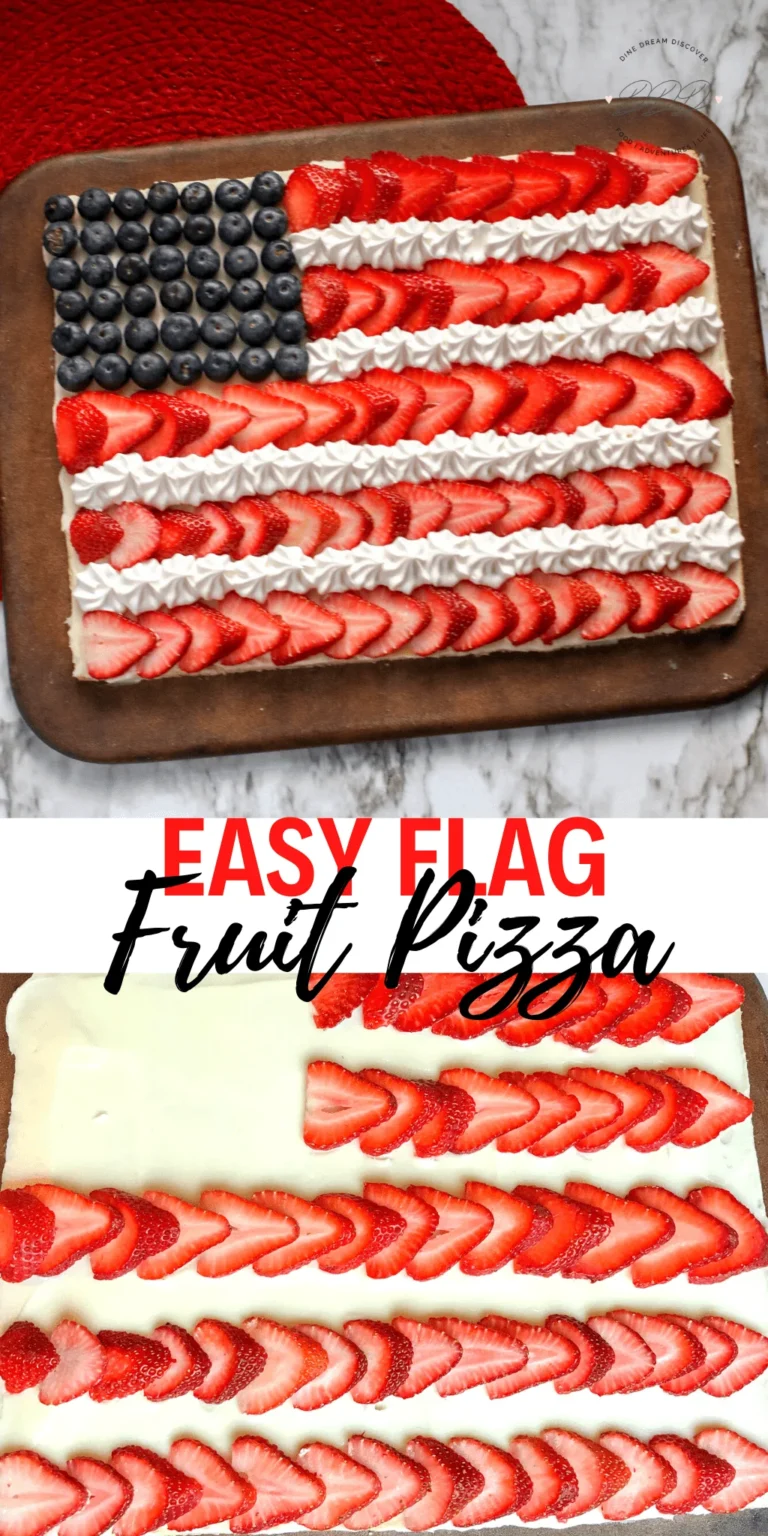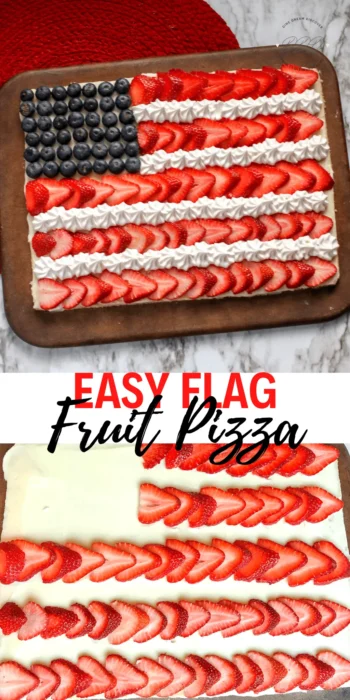 Perfect for Memorial Day, 4th of July, or Labor Day, this Patriotic Flag Fruit Pizza Recipe is an easy dessert pizza that makes an American Flag with fresh berries.
---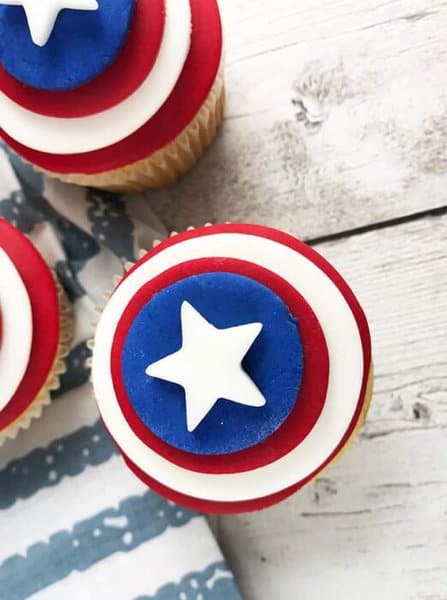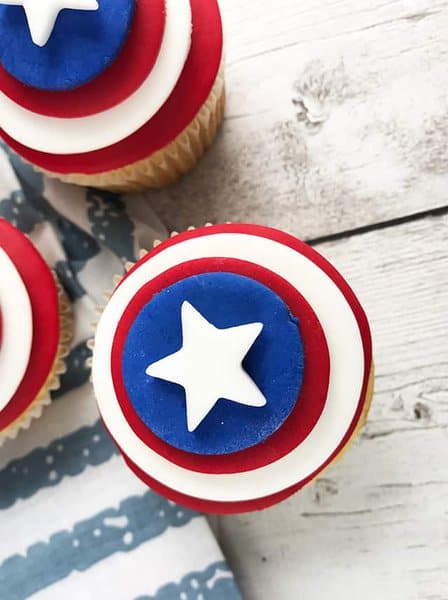 These 4th of July cupcakes are perfect for any Independence Day cookout or celebration! They have a cute fondant decoration on top of them that are perfect for people that aren't confident in their piping skills. The cupcakes are a homemade vanilla cupcake recipe that can easily be colored with gel food color too!
---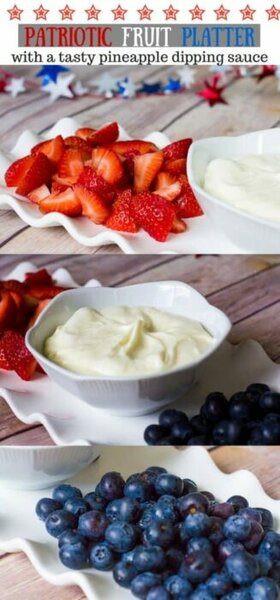 It really feels like I was making new year's resolutions just a few weeks ago, so my mind is completely blown that the 4th of July is almost upon us!  I am all about celebrating holidays through food, so this year I wanted to create a patriotic fruit platter with a tasty pineapple fruit dip.  And let me tell you, this is a crowd pleaser!
---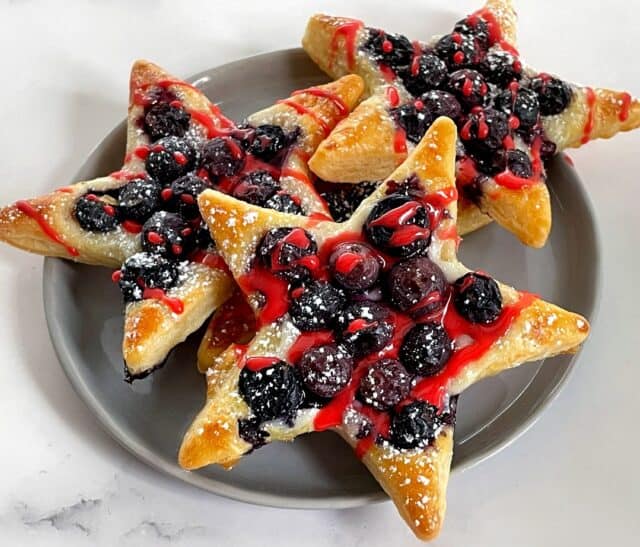 These cute and easy Blueberry Puff Pastry Stars are perfect for the Fourth of July, Memorial Day, or just for a fun pastry treat! Fresh blueberries and a delicious cream cheese filling make these stars irresistible.
---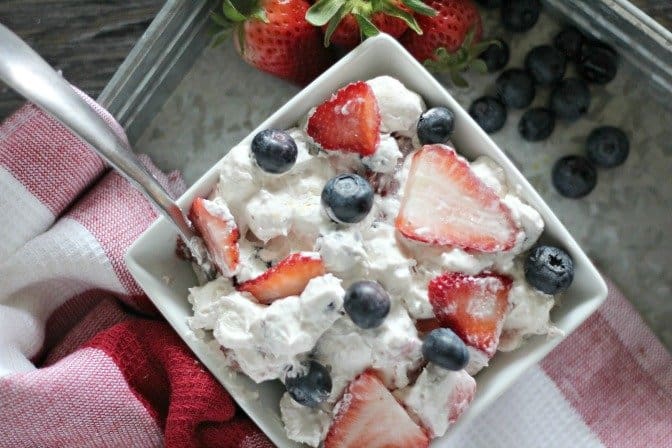 The 4th of July is such a fun celebration of our Independence. This quick and easy White Chocolate 4th of July Fluff made with fresh red and blue fruits, dry pudding mix, and cool whip is a quick and easy holiday themed recipe that is sure to be a hit at your celebration. It's so easy, it would be a fantastic recipe to let your kids help put together, so they feel like they are contributing too!
---