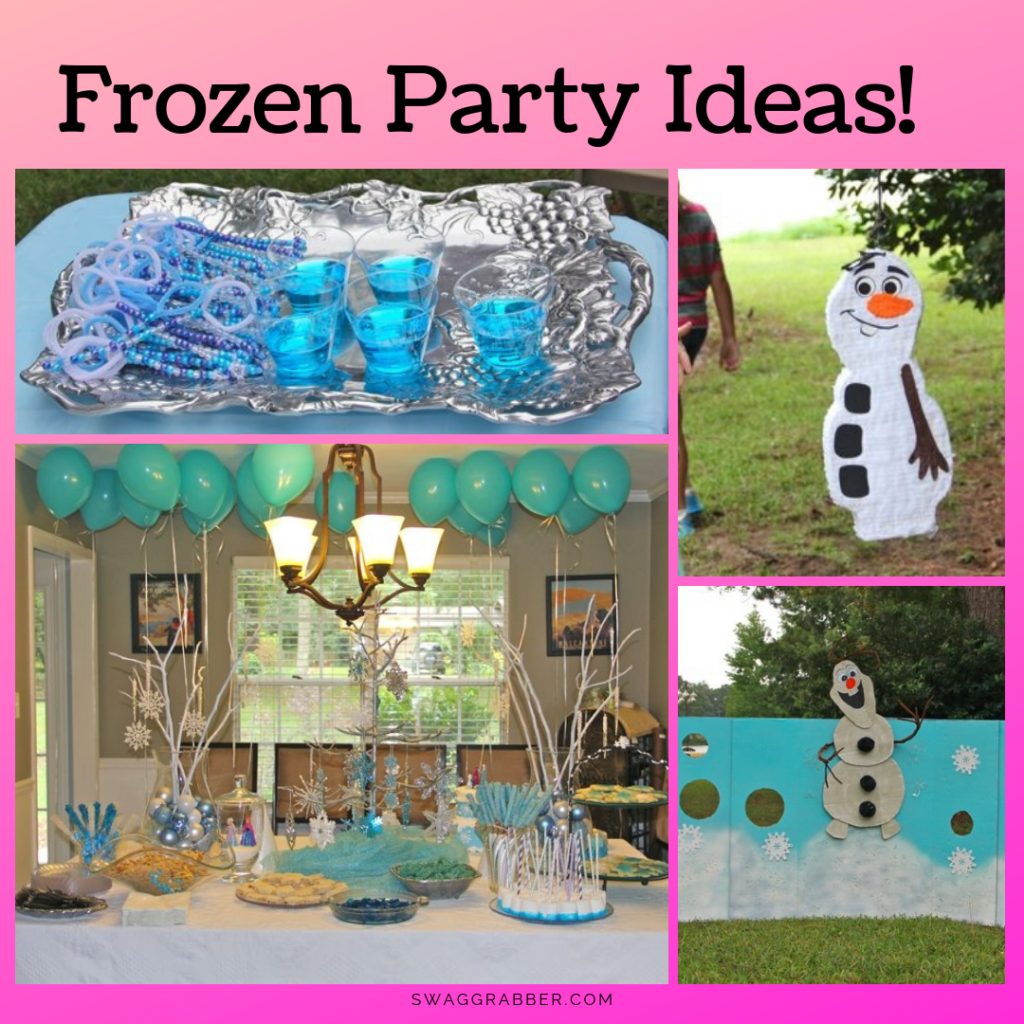 My twin daughters are obsessed with Frozen, so I decided to throw them a Frozen party for their 5th birthday. I found a lot of great ideas online and came up with a few of my own. Here's is what I did:
The Invitations: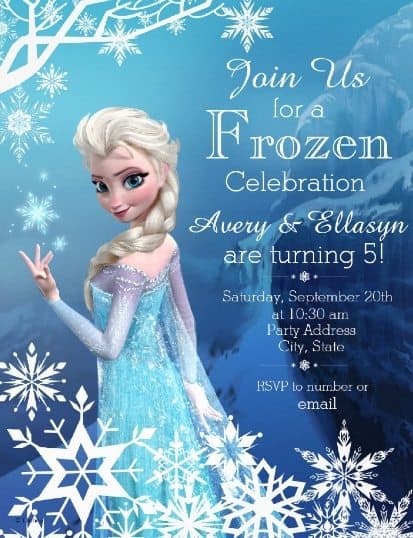 I ordered the invitations from Zazzle.com. You can also use Snapfish, Shutterfly, Vistaprint, or any other print company to create something like this. There are always free card options so you could get these created for as little as a few dollars!
The Activities: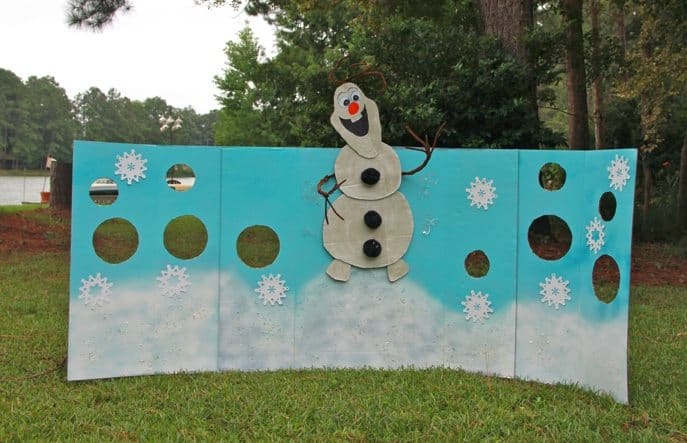 Olaf Toss Game – This project was easy, but time consuming.  I started off by gluing 3 project boards together. Then, I spray painted the aqua background and white snow. I created Olaf with a cardboard box and added pipe cleaners for arms and hair. Finally, I cut the toss holes and added some snowflakes. I also sewed beanbags from snowflake material (Hobby Lobby).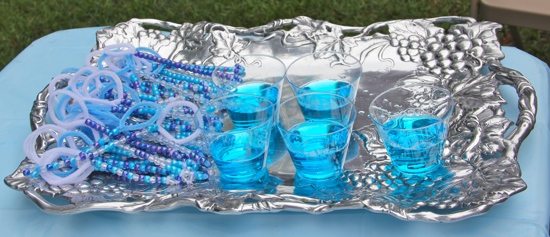 Frozen Party Bubble Station
My girls recently went to a birthday party that had a pinata, so they begged for one. There are several Frozen pinatas available, but I purchased this one on Etsy. There are several cute pinatas on Amazon.

I think the biggest hit of the party was the fake snow. It was very easy to do and a lot of fun for the kids. I purchased the fake snow from SnoWonder, but there are several brands on Amazon as well.
The Food: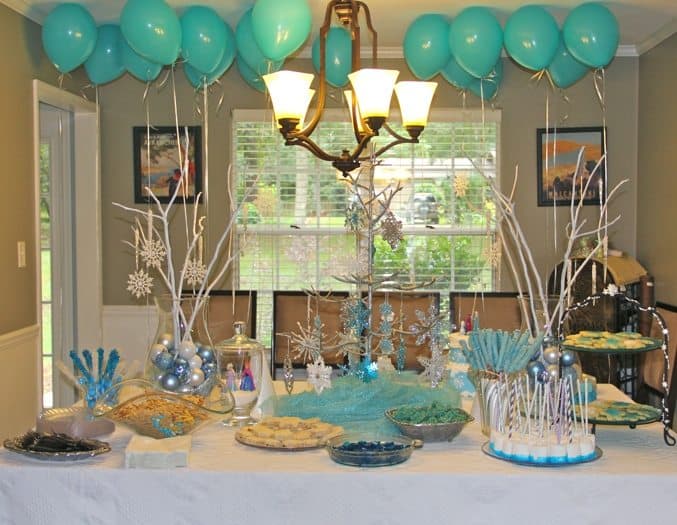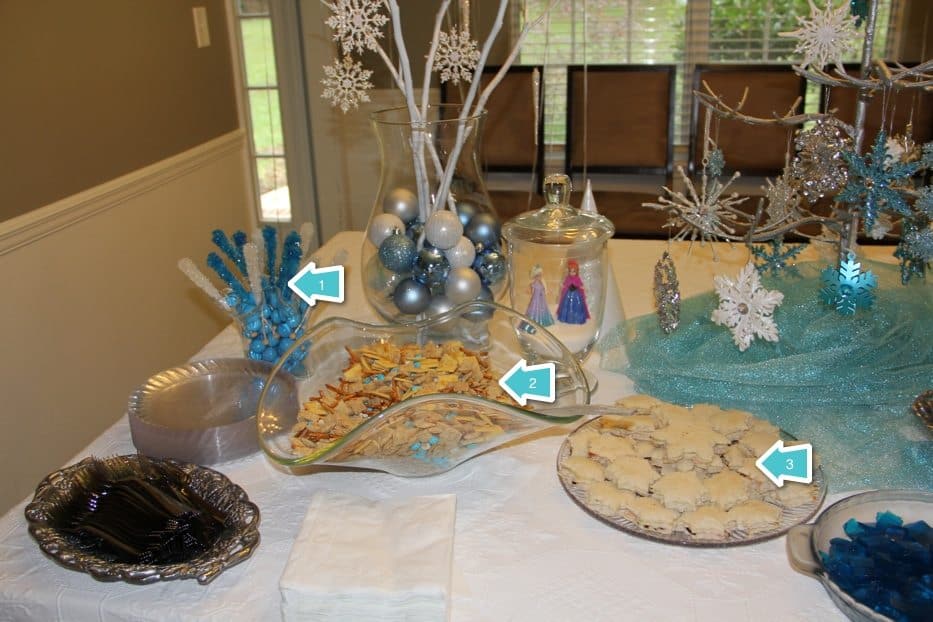 1. Blue Raspberry Rock Candy in vase full of gum balls – you can purchase these at Party City or Amazon.
2. Frozen Snack Mix – I used light blue M&Ms instead of the York Pieces and I also added yogurt covered raisins.
3. Snowflake Sandwiches – Turkey and Provolone on white bread with mayo and dash of dill. Then I used snowflake cookie cutters and sprinkled the top with powdered sugar.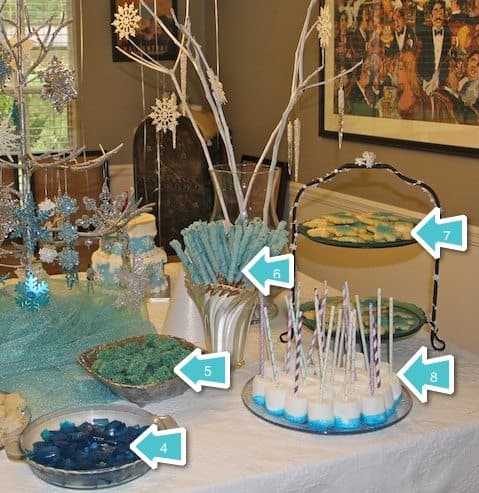 4. Berry Blue Jello cut into cubes. Click here to find a really cool FROZEN Jello "Ice" Cubes recipe.
5. Rice Krispies Treats- just add blue food coloring. You could also make Frozen Ombre Rice Krispie Treats.
6. Frozen Wands – pretzel rods dipped in white chocolate baking chip colored with blue food coloring. Then I topped with blue sprinkles.
7. Frozen Sugar Cookies – This was a wonderful recipe that I found on Joy of Baking a few years ago. I used snowflake cookie cutters for these cookies and added colored sprinkles. This is a great recipe with a video tutorial.
8. Frozen Marshmallows – I used a paint brush to lightly brush the bottom of the marshmallow with water and then dipped them in blue sprinkles. I purchased the straws from Etsy.com, but I've seen them cheaper on Jane.com.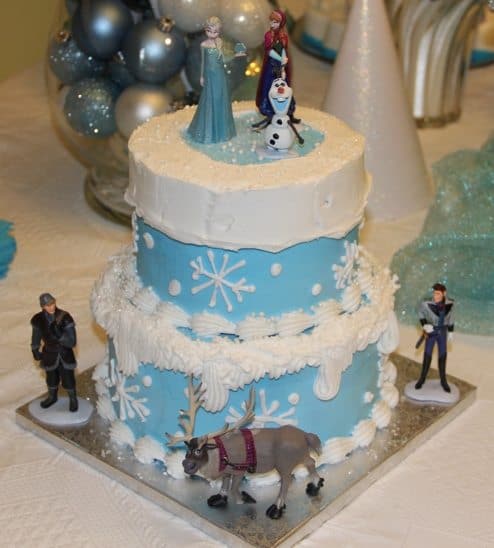 I unfortunately cannot make cakes well, so I ordered this from a local bakery. I ordered the Frozen characters from the Disney Store for $12.99. This same set is selling for $24.50 on Amazon.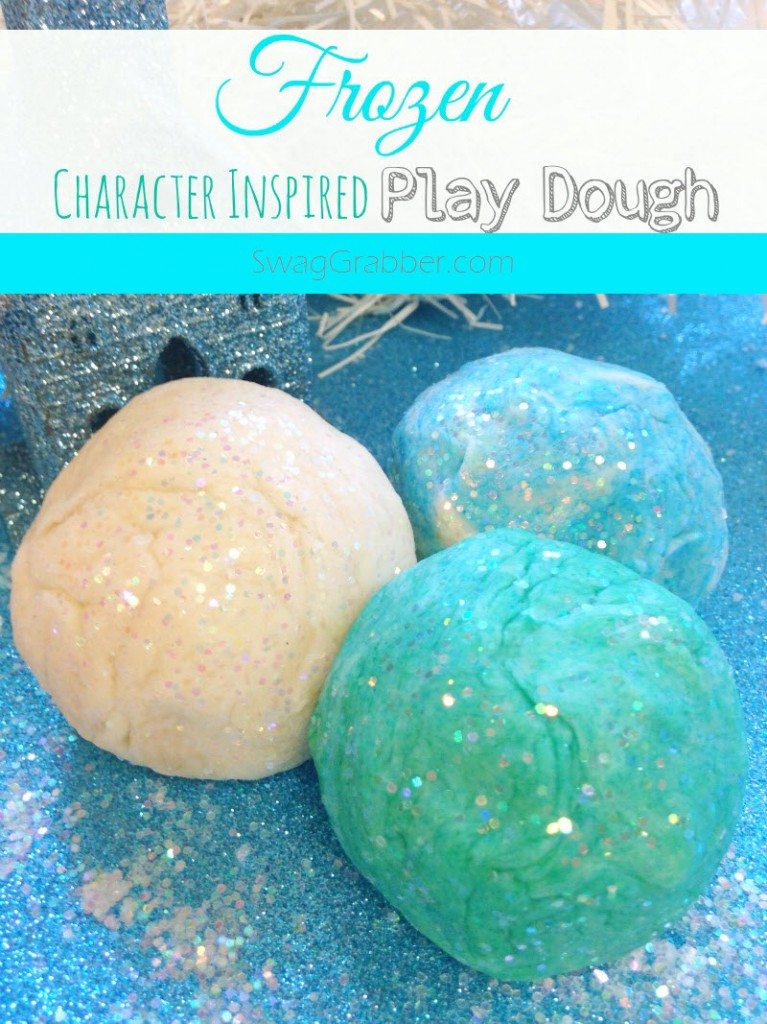 The Decorations & Favors: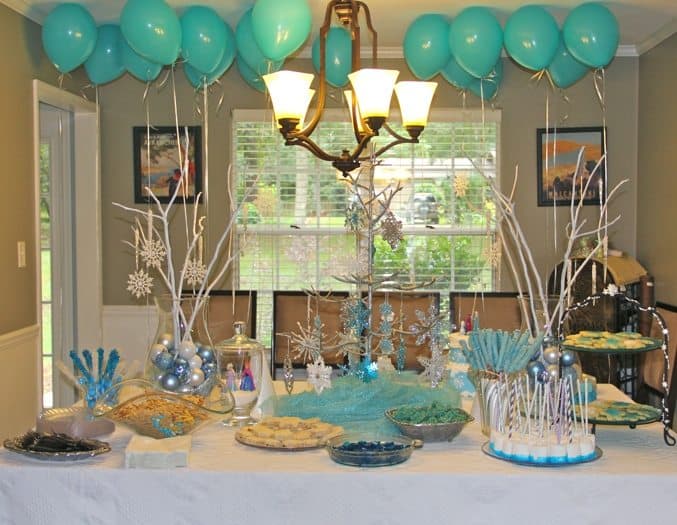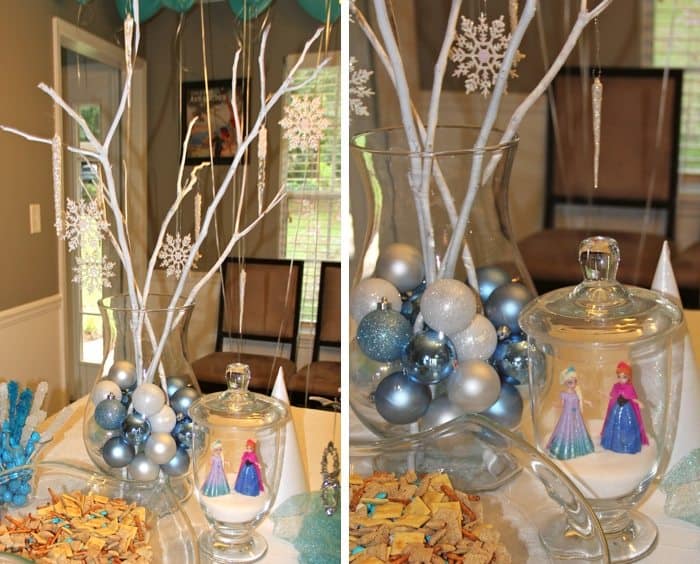 I filled glass hurricane lanterns with blue and white Christmas balls. Then, I spray painted large sticks with white glitter spray. Finally, I hung snowflakes and icicles from the sticks. I had most of these ornaments in my Christmas collection, but I did purchase a few items from Hobby Lobby. They have great selection of snowflakes, even in the summer. Be sure to use the 40% off coupon. I had a white Matelasse that I used as the table cloth. The Frozen Wonderland Terranium was my daughter's favorite. I poured sugar into an apothecary jar and then placed the Elsa and Anna Magiclip dolls into the sugar. You could use various winter items instead of the dolls. I also created Frozen Tree Cones using white glitter scrapbook paper. I topped the room off with lots of aqua balloons.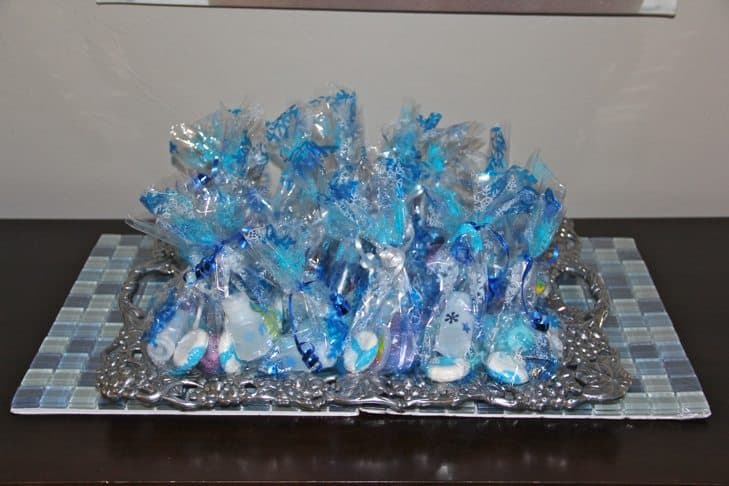 I purchased these cute snowflake bags (I paid around $4.50 for 20) from Amazon and filled them with the following items:
– Frozen Ring
– Small bubbles that I put snowflake stickers on. I purchase the bubbles (wedding bubbles) and stickers from Hobby Lobby when they were 50% off, but you could use the 40% off coupon if they are not on sale.
– Glitter Bounce Balls from Party City
– Glitter Putty from Party City
– Aqua and white lollipops from Party City
– Cookies N Cream Hershey's Kisses
I hope this gives you some ideas. If you have any other ideas, be sure to comment.
Check out my Frozen Party Pinterest page for more great ideas!