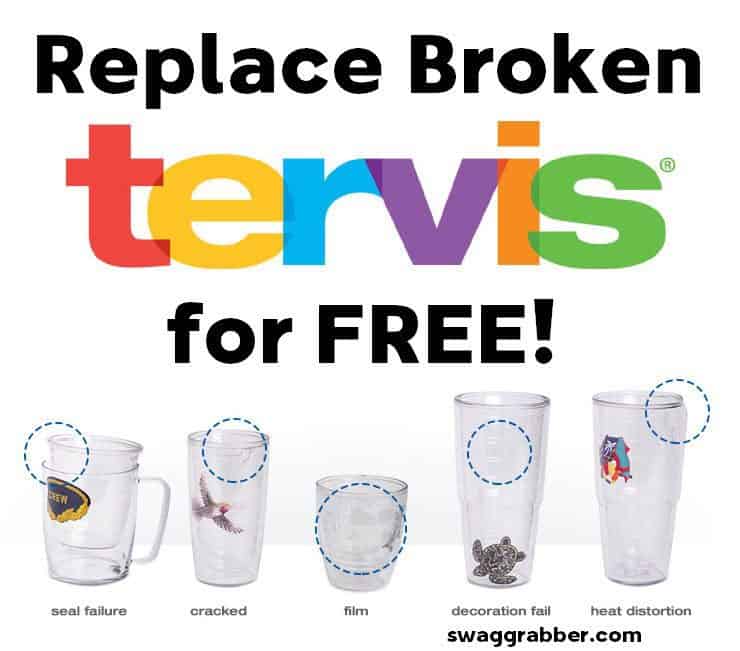 Got a Broken Tervis Tumbler? If you own Tervis Tumblers, you need to know about the "Made for Life Guarantee". These amazing cups are guaranteed for LIFE – for real!!!
If you have a problem with them, all you have to do is ship them back and they will replace them for FREE – no questions asked and no proof of purchase required!

To replace your tumblers:
Step 1: Fill out the made for life™ guarantee form►
Note: If you've completed the information and selected "printable form" but the form won't print for any reason, please wait 24 hours for an email confirmation with a return number. This email can be printed and included in your package.
Step 2: Pack your drinkware (tumbler, mug, water bottle, My First Tervis™ sippy cup, ice bucket) and guarantee replacement form in a box or padded manila envelope addressed to:
Tervis Tumbler Company
Guarantee Department
304 Triple Diamond Blvd
North Venice, FL 34275
Step 3: Allow approximately 4-6 weeks for your new items to arrive.
Our experience:
My family owns a lot of Tervis. We have bought them every time we have found them on clearance. We love them because we live in Florida and they are pretty much the only cups that will keep drinks cold. They are expensive but they are definitely worth the money.
We had a bunch that were broken (mostly dropped by the kids lol) so we gathered them all up and shipped them back. They just sent us BRAND NEW ones that were better than what we sent in!! I say better, because most of the Tervis was actually Christmas clearance that we picked up at Bealls for a few dollars a cup. They sent us not Christmas ones so we came out ahead. Seriously I had Tervis with Santa and flamingos on them lol. Now I have ones with just flamingos  🙂
If you have some broken ones, I highly suggest sending them in for new ones!