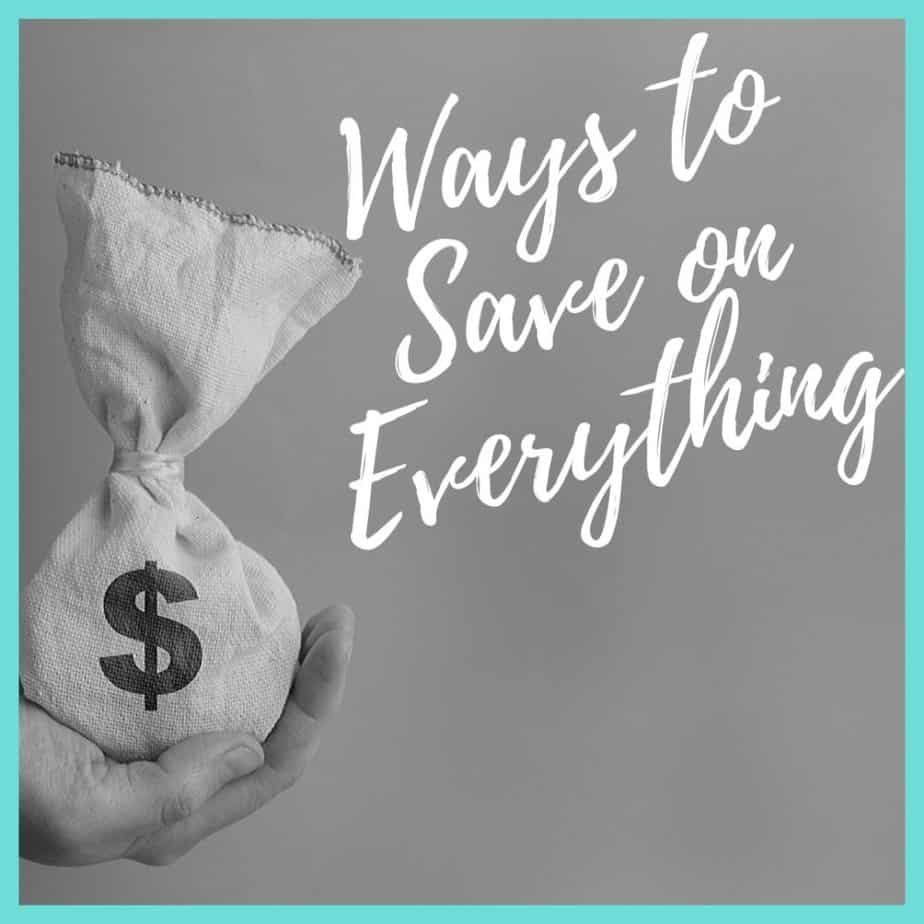 Save on Everything
Through the years I have learned some pretty neat tips and tricks to ensure I Save on Everything. Here are a few of my favorites you can implement today!
When I buy something my first thought is "how can I save more on this?". I run through my list of ways to save and then find the ones that will work on that purchase. Using this thought process can save you a ton on just about every purchase!
Negotiating:
Believe it or not, you can negotiate the price on just about anything. Even big-box stores will allow you to negotiate some. Of course, I wouldn't spend too much time trying to talk the manager down on a $0.79 can of peaches but a $1000 refrigerator…absolutely!
Rule #1 – Be Nice. The old saying "you get more bees with honey" is true. People want to help nice people. Simply talking to an employee or manager about something can lead to big savings so start up a conversation!
Floor model and discontinued items are the easiest to negotiate on. If one store won't work with you, try another. Shopping around can save you some serious money. This is especially useful at smaller Mom & Pop stores. Another way to save is to combine items. Shop owners are more willing to negotiate on multiple items!
When it comes down to it, haggling is easy. There is no reason to be scared of it if you haven't tried it before. Simply ask – there is no harm in asking for a discount. All they can do it say No if they say Yes you can save a ton!
TIP! – Plan ahead if you can. Seasonal items like grills, patio furniture, jackets, etc are easier to get a discount on when they are out of season so if you know you are going to need one..wait for it to be out of season!
Cash Back from Credit Cards:
Lots of credit cards offer blanket cashback offers now. Discover and American Express are offering a whopping 5% back for new users. You can use these to pay for just about anything now. That is 5% back on utilities, food, gas, cell phone bill, and a zillion other things!
I'm not a fan of credit cards, carrying a balance can cost you a lot. If you are good about paying off, then credit card cashback is a fantastic way to save on EVERYTHING.
The two cards we suggest are:
American Express Blue Card – they are offering 5% back on just about everything right now. PLUS you can get $200 back if you spend $1000 in the first 3 months. Remember you can use this for utilities, cell phones, and more!
Discover – they are offering 5% back on everything. PLUS you get a $50 bonus just for signing up!
Cash Back Websites:
There are several cashback websites available right now. You sign up for an account and then click through them to purchase your item. By doing this you will get a percentage of your purchase back – usually 1-20%. These are great because they cover almost all online stores.
Cons – sometimes you won't get cashback for using a coupon code. You can only use the ones ON their site. The other issue is it can take weeks or even months to get the cashback so it isn't an instant savings.
You can get quite a bit back. I used one for our washer and dryer purchased from Lowe's. Got $55 back on EACH. Combine that with the cashback from credit cards and store discounts and you can get a pretty hefty savings!
The two we suggest are:
Coupon Codes:
Online retailers will occasionally offer coupon codes that you can use to get discounts. A LOT of times, there is a code available. We post a lot here on SwagGrabber.
There are a few ways to find these codes…
Check our Online Coupon Code page – we usually have most of the available codes.
Google the store and coupon code – you might find obscure codes
Search the website – look for specials, offers, promos, etc. Some even offer discounts for signing up for emails!
Check their Facebook page for special offers
In-Store Discounts:
Some stores will offer in-store discounts. These can be actual coupons or discounts for being affiliated with something. For example, Lowe's offers a 10% discount for all military. That is off everything, every day. This discount has saved us a ton over the last year!
A good place to watch for these discounts is your mail. Kohl's is famous for sending out $10 off $10 coupons. Yes, you can get $10 in free stuff! I keep a little folder in the kitchen to store the coupons I find in the mail. Then if I need a local service I check there first.
There are senior discounts for those as young as 50 now. You can save at restaurants, stores, and other venues just for telling them you are over 50!
Combining These Concepts:
You don't have to use just one. You can combine these to increase your savings. This is how I save on everything. I start thinking of how I can increase my savings. Normally I can find SOME way to save on what I need.
Here are a few examples:
Example 1:
Toolbox from Lowe's. We negotiated down the price of it by 25% because it was a floor model. It had a small dent in the side. We didn't care about the dent – we did care about 25% off!
Then we used my husband's Veterans discount to get 10% off. We saved 35% off the retail price of something that never goes on sale!
Example 2:
Gas. Every time we fill up we get 5% off each gallon with my Fuel Rewards Card – the use a credit card to pay to get 5% back! That is a 10% savings, every time!
Example 3:
Buying clothes online – Find the ones I want and then go to look for coupon codes for the website. Then check cashback sites for cash back options that will work with those codes. Then use my credit card to get ANOTHER 5% back!
These are a few of our tips on how to increase your savings. How do you stack savings to save?