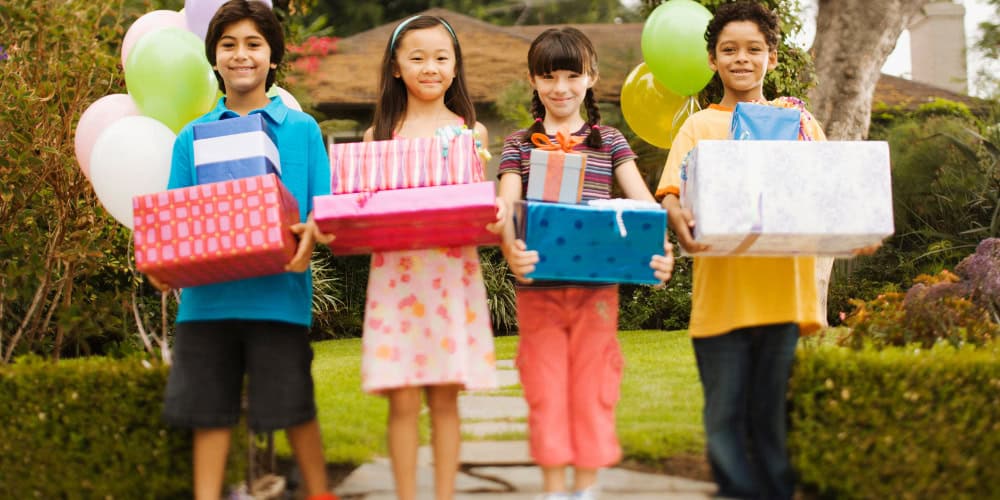 For families overwhelmed by the number of classmate's birthday parties their child is invited to, finding the extra money for gifts can put a pinch on finances. The following ideas all start with an item that can be filled with smaller objects that encourage children to plant flowers, explore nature, bake, make art, and otherwise keep busy.
Some purchased items will get divided among several gifts. Although the initial outlay of money may seem a lot, when a child gets invited to eight birthday parties in one month, the cost of the items is spread over numerous gifts. Select a theme for a season or a year to keep costs down. These gifts should work for kids aged five to ten.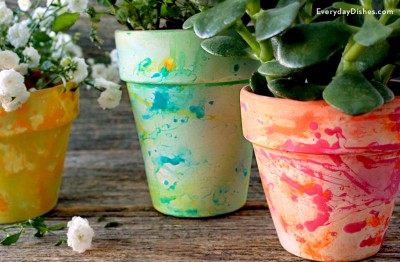 Little Gardener Birthday Gift
Start by purchasing a terra cotta pot and dish. You can usually find these at local Dollar Stores or on Amazon. The gift-giver can determine the size of the pot, depending on their budget. Fill a plastic sandwich bag with enough soil to fill the pot. Include a packet of marigold or herb seeds – the pungent leaves and flowers will create a nice sensory experience when the plants grow.
Add in a strip of acrylic paints and an inexpensive brush. Save a little more money and cut apart the strip into individual paint pots. Give three paint pots and a brush, which should be enough to decorate even a larger pot. The gift-giver can decide to include a mini garden marker, a tiny watering can, or any other small gardening implements that fit his or her budget.
These Splatter Paint Pots are such a cute idea from Fun Family Crafts. There are so many great ideas for kiddos to get creative!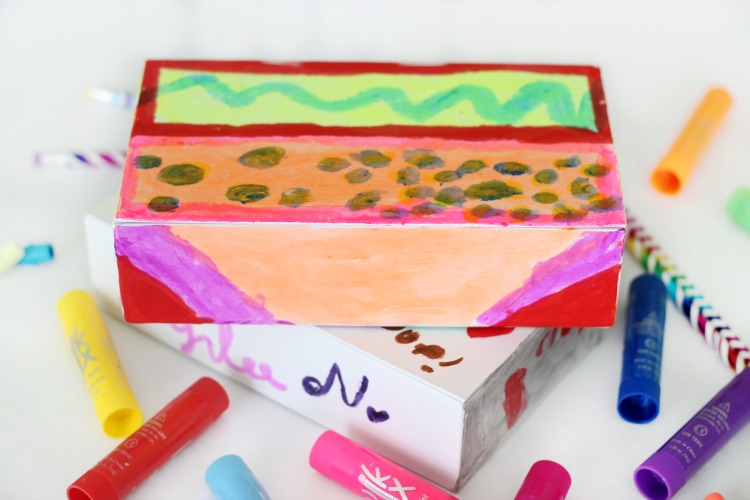 Make an Art and Craft Box for a Child
Start with a pencil box. Look for one that lacks embellishments or designs. Tuck in a tiny bottle of white glue along with stickers, rhinestones, buttons, feathers, and other doodads. Divide these items from their larger original bag into small jewelry plastic bags or zipper strip snack plastic bags. Add in crayons or colored pencils and a small pad of unlined paper that will fit in the box.
Expand this craft box with a strip of acrylic paints or a small watercolor palette. Include a few chenille stems, pompoms, and wiggle eyes. This is the perfect item for crafty kids but also will get discovered on a rainy day or when the child's family goes on vacation and they look around the house for activities to bring along for the trip.
I love the ideas for how to decorate pencil boxes from Glue Sticks Blog. SO many fun ideas!
Create a Nature Explorer's Bag
Begin with an inexpensive backpack or fanny pack. Tuck in a bug collection box or jar, a small hand net, a magnifying glass, and a notebook and mechanical pencil so the child can record his discoveries. Most of these items can be found at your local Dollar Store!
Depending on one's budget, inexpensive binoculars or a compass could be added. Lower costs by filling a large bug collection jar with a magnifying glass, a couple of small bug boxes, and a strip of insect stickers for a fun touch.
Another option is to take a divided plastic box (look with jewelry making supplies or fishing equipment) and decorate the cover with, '[the child's name]'s Treasure Box.' Tuck a couple of interesting rocks and seashells in a couple of the compartments and leave space for the child's own collection.
A great example of one of these Nature Explorer's Bags is over at Evergreen. I absolutely love useful gifts like this!
Cookie Making Kit
Fill a jar with the dry ingredients for making cookies. Print out the ingredients in the mix as well as the recipe for completing the cookies (or brownies). Check beforehand with the parent to find out if the child has any allergies – when in doubt, skip this gift idea.
Another option would be to fill a large jar with gorp trail mix – mix up raisins or dried cranberries, peanuts, O-shaped or granola cereal, sunflower seeds, and chocolate or peanut butter candies. Tie on a label proclaiming this as '[child's name]' on-the-go energy snack' – an appropriate gift for the kid who goes hiking or plays a lot of sports. Of course make sure the child doesn't have a  peanut allergy before adding them!
There is such a cute idea of how to put this Cookie Making Kit together over at Modern Mom Life to make a cookie or treat kit of your own.
Each of these do-it-yourself gifts involves assembling an assortment of items into a themed gift. These are ideal when a child will be attending multiple birthday parties in a month or over the year. By dividing some items over several gifts, parents can keep costs down while giving gift that offer a variety of activities for young children.