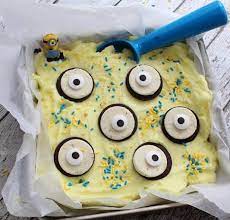 Everybody loves Minions! If you have a Minion party coming up, consider making this adorable Minion Ice Cream! Super Easy!
INGREDIENTS
Yellow ice cream (banana or lemon)
6 Large Oreo cookies
Wilton Candy eyes -large size
Blue and yellow sprinkles
DIRECTIONS
Line a 9×9 pan with wax paper.
Scoop out a quart of your favorite yellow ice cream (I used lemon sherbet).
Separate 6 large Oreo cookies and discard the sides without creme filling.
Press a Candy eye into the middle of each Oreo piece with the creme filling still attached.
Scatter the Oreo "eye" cookies through out the ice cream.
Sprinkle blue and yellow sprinkles on top.
ENJOY!