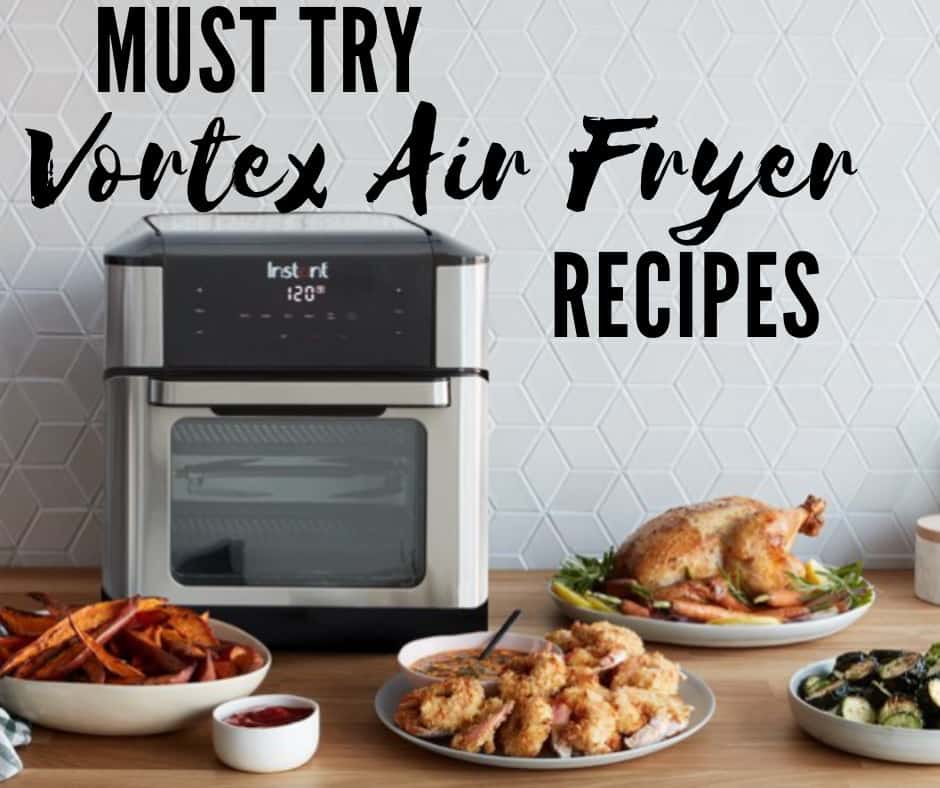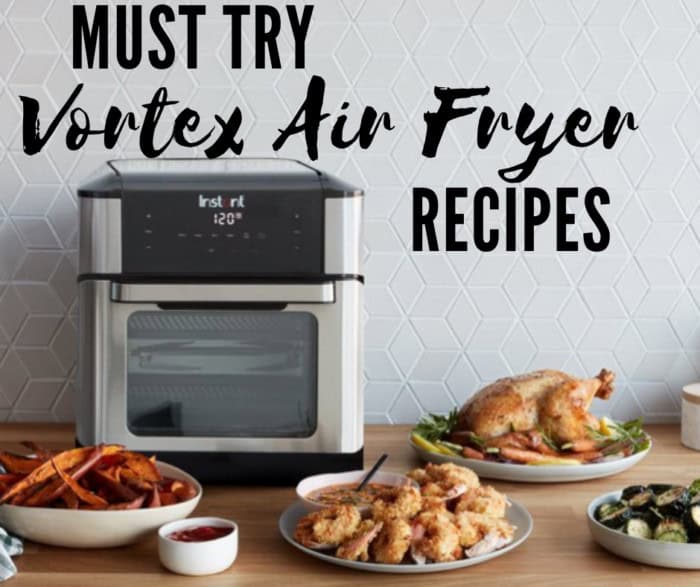 My Instant Vortex Air Fryer has become an indispensable part of my kitchen. We live in Florida so summers are HOT, turning on the stove heats up the whole house. Not good!
I found I can use my Vortex to cook just about anything and it doesn't heat up the whole house and normally cooks it a whole lot faster!
This sweet little appliance saves me time and money! Check out my favorite cook book for a Vortex…
Find the best deals on a Vortex Air Fry here >>
These aren't just for Vortex – you should be able to use all of these on a rack style fryer too!
The MUST Try Recipes When You Get A Instant Vortex Air Fryer
All of these Instant Vortex Air Fryer recipes can be made with very little time and effort.
Craving steak and not a lot of time to make them? You'll be chowing down on hearty protein in no time at all.
If you love crispy bacon, get ready to be in awe. The taste and crispiness of this bacon are like nothing you'd ever be able to achieve anywhere else.
You'll never dread making lasagna ever again because this might be the simplest way, ever.
There's no need to fire up the grill when you can use your Air Fryer to cook up your burgers just as fast, and just as tasty, too.
Not only are these Keto-friendly and low carb, but they're also such a tasty snack or appetizer to be able to make for the family.
Talk about a great way to load up on the protein. The combination of mushroom and sausage proves that they're meant to be used together from now on.
This is a great side dish that can easily accompany any main meal. It's also perfectly hearty to enjoy entirely on its own as well.
I'm a believer that bacon just literally can make anything better. So when we wrapped it around our pork tenderloin, we discovered a new dinner favorite.
Now is your chance to make homemade stromboli rolls right in the comfort of your own kitchen. With the use of your Air Fryer, you'll find it's not such a hard recipe at all.
Many people shy away from cooking up chicken because they think it's too hard to do. But using an Air Fryer makes it a total breeze.
Even the kids are going to love helping with this fun recipe. It's a simple throwback to your childhood as well.
Combining the sweet taste of coconut with shrimp really does make a stellar meal. You don't even need to dip these in butter, either.
These chicken wings are perfect for game day, tailgating, or just a nice and simple weeknight or weekend dinner at home.
What I love most about these french fries is that they're cooked perfectly crisp.
Talk about a super simple breakfast for the family to wake up to. And a great way to start off the day.
Leave the store-bought options at the store and make your own version at home instead.
Do you prefer to have a bit thicker "fries"? Then this recipe is for you.
It's possible to make moist and delicious muffins within moments in your Vortex Air Fryer as well.
If you've been looking for the perfect mozzarella sticks, you're about to discover that they can be cooked in your own kitchen with ease.
These are perfect for dipping into soups or just grabbing and eating on the go.

As you can see, using your Instant Vortex Air Fryer can cook up some really great recipes and meals.
Don't waste another minute wishing that you can make this your reality…get yours today and start cooking!
What Instant Vortex Air Fryer recipe are you most excited to try?