It's National Banana Bread Day!!! Every year it is celebrated on February 23rd so it's a great time to try out new banana bread recipes!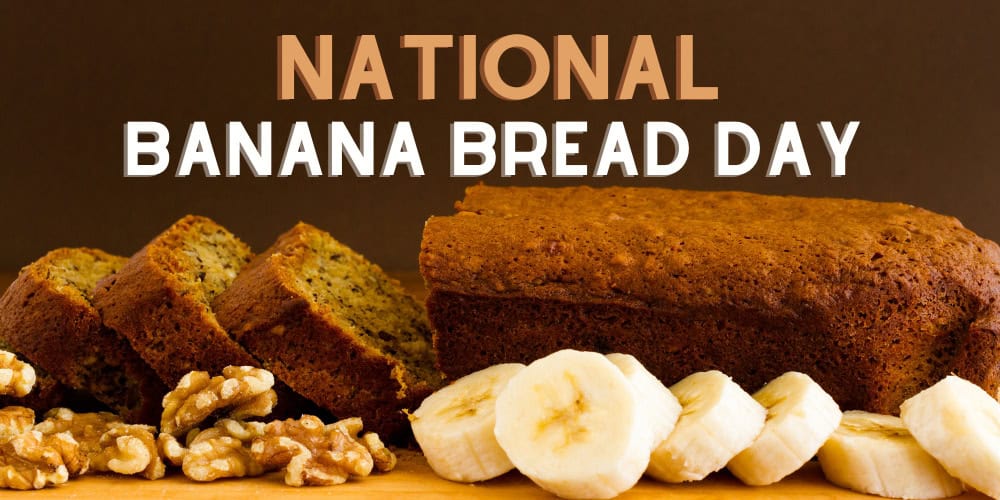 I love banana bread – it's my favorite thing to make with super ripe bananas. Kind of digging the fact there is a holiday devoted to this super yummy and super easy treat!
If you are looking for some fun new recipes, here is a list I have compiled that are perfect for National Banana Bread Day!
Unique Banana Bread Recipes
Want to make extra money with your phone? 
Here are our top picks for the best money-making apps out there:
About National Banana Bread Day
National Banana Bread Day is celebrated on February 23rd every year in the United States. This special day recognizes and celebrates the deliciousness of banana bread, a classic dessert beloved by many. People can celebrate National Banana Bread Day by baking their own homemade banana bread or purchasing a loaf from their local bakery.
Banana bread is an updated version of traditional quick breads that have been around for centuries. It was likely created out of necessity during the 1930s as a way to use up overripe bananas before they spoiled. From then on, it has become one of America's favorite desserts and a staple treat in households all across the country.
To celebrate National Banana Bread Day, gather your friends and family and enjoy a delicious loaf of banana bread. You can also try out different recipes for chocolate, pumpkin, or even savory-style banana breads. And don't forget to top it off with some melted butter or cream cheese!
Whatever you do this National Banana Bread Day, make sure that you celebrate the deliciousness of this classic dessert. Enjoy your slice with a cup of coffee or tea, and take a moment to appreciate all the tasty variations that exist today!
How to eat banana bread?
Banana bread can be enjoyed as is or with a variety of accompaniments. Sweetened cream cheese, yogurt, ice cream, butter, honey, and jam are all excellent options to pair with banana bread for added flavor and texture. It also makes an amazing French toast when dipped in egg mixture and fried in a pan. For those with a savory tooth, try making sandwiches using savory ingredients such as nut butter or grilled vegetables!
How long does banana bread last?
When stored properly, banana bread will last up to 3-4 days at room temperature. If you'd like to extend the shelf life of your loaf, it can be frozen for up to two months in an airtight container or freezer bag. Reheat in the oven for a few minutes before serving.
How to freeze banana bread
Banana bread is one of the most popular quick bread recipes and it's an ideal snack or dessert. Freezing banana bread is a great way to ensure that you have a tasty treat on hand for whenever your sweet tooth calls.
Freezing banana bread to preserve its freshness and taste can be done in several ways. Here are the main methods:
1. Cut the loaf into pieces before freezing: Slice the loaf of banana bread into individual slices, place them side-by-side on a baking sheet, then freeze until solid (about 2 hours). Once frozen, move the slices to a freezer bag or airtight container and store in the freezer for up to 3 months.
2. Freeze the entire banana bread loaf: To freeze an entire loaf of banana bread, wrap it tightly in a layer of plastic wrap, then place in a freezer bag or airtight container. Label with the date and store in the freezer for up to 3 months.
3. Freeze banana bread after baking: You can also freeze banana bread right after baking. Allow the loaf to cool completely before wrapping it with plastic wrap and placing it in a freezer bag or airtight container. Label with the date and store in the freezer for up to 3 months.
To thaw frozen banana bread, move from the freezer to the refrigerator and allow it to sit overnight. Once thawed, you can enjoy your treat at room temperature or even briefly heat it in the oven. Enjoy!
Want to make extra money with your phone? 
Here are our top picks for the best money-making apps out there: