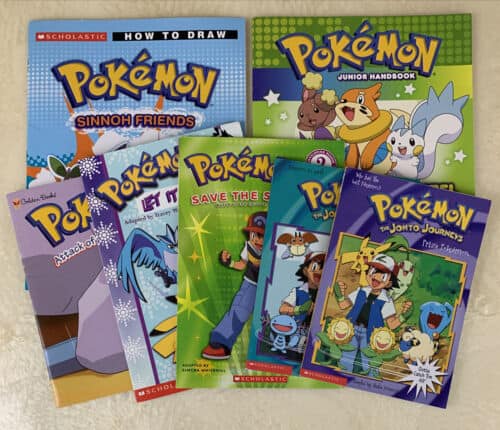 My kiddo is really into Pokemon right now, he is also struggling to reach his AR goal at school. If the book isn't about sports or snakes, he doesn't want to read it and we have gone through most of those. He said to me the other day "I really want to read Pokemon books", so of course I went in search of Pokemon AR books. I was surprised to find there are actually a LOT available!
Yes, your kid can get AR credit for reading Pokemon!! How cool is that?
Here is a list of available books, broken down by grade. All are available through Amazon but check your local library. I was able to rent a few from there which makes them FREE!
Level 2.0 – 2.9:
Ash's Triple Threat (IL: LG – BL: 2.5 – AR Pts: 0.5)
Battle for the Bolt Badge (IL: LG – BL: 2.3 – AR Pts: 0.5)
Emolga Makes Mischief (IL: LG – BL: 2.8 – AR Pts: 0.5)
Night in the Haunted Tower (IL: LG – BL: 2.9 – AR Pts: 1.0)
The Runaway Pokémon (IL: LG – BL: 2.5 – AR Pts: 0.5)
Sandile in Trouble (IL: LG – BL: 2.7 – AR Pts: 0.5)
Triple Trouble (IL: LG – BL: 2.3 – AR Pts: 0.5)
Level 3.0 – 3.9:
Attack of the Prehistoric Pokemon (IL: LG – BL: 3.1 – AR Pts: 1.0)
Battle Frontier: Deoxys in Danger (IL: LG – BL: 3.3 – AR Pts: 1.0)
Battle Frontier: Grovyle Trouble (IL: LG – BL: 3.0 – AR Pts: 1.0)
Celebi Rescue (IL: LG – BL: 3.2 – AR Pts: 1.0)
Charizard, Go! (IL: LG – BL: 3.4 – AR Pts: 1.0)
The Four-Star Challenge (IL: LG – BL: 3.6 – AR Pts: 1.0)
I Choose You! (IL: LG – BL: 3.3 – AR Pts: 1.0)
Island of the Giant Pokemon (IL: LG – BL: 3.4 – AR Pts: 1.0)
The Secret of the Tower (IL: LG – BL: 3.0 – AR Pts: 0.5)
Splashdown in Cerulean City (IL: LG – BL: 3.6 – AR Pts: 1.0)
Team Rocket Truce (IL: LG – BL: 3.0 – AR Pts: 1.0)
Wrath of the Legends (IL: LG – BL: 3.0 – AR Pts: 0.5)
Level 4.0 – 4.9:
Become a Pokémon Trainer (IL: LG – BL: 4.8 – AR Pts: 0.5)
Explore with Ash and Dawn (IL: LG – BL: 4.7 – AR Pts: 0.5)
Meet Ash's Pikachu! (IL: LG – BL: 4.9 – AR Pts: 0.5)
Watch Out for Team Galactic! (IL: LG – BL: 4.8 – AR Pts: 0.5)
Level 5.0 – 5.9:
Ash Battles His Rivals! (IL: LG – BL: 5.7 – AR Pts: 1.0)
Legends of Sinnoh (IL: LG – BL: 5.5 – AR Pts: 0.5)