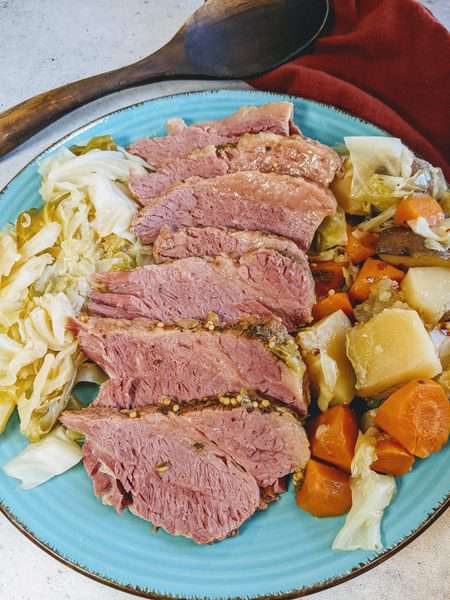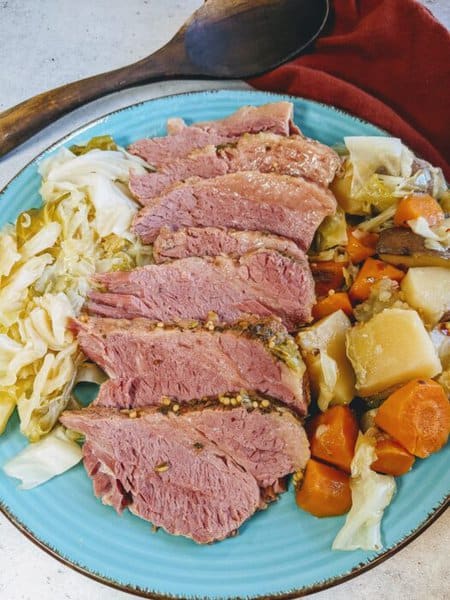 We are BIG believers in saving on anything possible. That includes food so we try to use as much as possible of what we have. We normally end up with a lot of leftover Corned Beef from the Corned Beef & Cabbage we cook for St. Patrick's Day so guess what kind of recipes we have for you today!
Yep, unique ways to use leftover corned beef and cabbage!
TIP – Corned beef usually goes on sale AFTER St. Patrick's Day. Stores will discount it to get rid of the stock they didn't sell. I have seen it as low as $0.99 per pound. These deals are normally not advertised so keep an eye out at your local store. Stock up and freeze some for later in the year. Corned Beef isn't just for St. Patrick's Day!
Beef brisket cured in brine and boiled served hot typically with cabbage, or cold, sliced for sandwiches. Here we are rocketing towards the end of March, and I cannot wait to spring to finally make her grand appearance. We've gotten through winter and just recently celebrated St. Patrick's Day which to me usually mentally means there are only a couple more weeks of chilly weather…hopefully!
---

Corned Beef Hash Breakfast Wrap
This Corned Beef Hash Wrap is a fantastic way to use up any corned beef you may have, and it makes for a delicious and hearty breakfast! Looking for something great to cook using leftover Corned Beef? You can use leftovers to create fantastic wraps in minutes!
---
A Fun twist on simple potato pancakes, these Irish Corned Beef Potato Pancakes are the perfect way to use up all your St. Paddy's Day leftovers.
---
Use your leftover St. Patrick's Day Corned Beef dinner and turn it into a delicious and easy soup that's ready for lunch or dinner in less than 20 minutes!
---
These easy Reuben Egg Rolls are the perfect easy appetizer for game days or gatherings. The crispy outer layer provides the perfect protection for the amazing Reuben flavor waiting inside. With minimal prep needed and only five simple ingredients, there's no reason that you shouldn't treat your tastebuds with this simple recipe!
---
Wrapped in a warm flour tortilla and full of delicious flavor. The only thing missing is the salsa. Or for some creaminess, add some sour cream. You won't regret making this scrumptious burrito.
---
Reuben Pizza is a fun and delicious twist on a traditional Reuben sandwich. Top your favorite pizza with creamy Thousand Island dressing, tangy sauerkraut, and corned beef are top with gooey Swiss cheese. Simple and finger-licking good.
---
Reuben dip is a spin on the classic Reuben sandwich with all the same delicious flavors featuring cream cheese, corned beef, Swiss cheese, sauerkraut, and thousand island dressing.
---
Instant Pot Leftover Brisket Soup. Watch over my shoulder as I make use of my leftover instant pot brisket and transform it into the best ever hearty brisket soup. You will love how easy it is to take some leftover cooked brisket, add some veggies and stock and pressure cook into an addictive beef soup. Then serve it with warm bread for the ultimate winter warmer.
---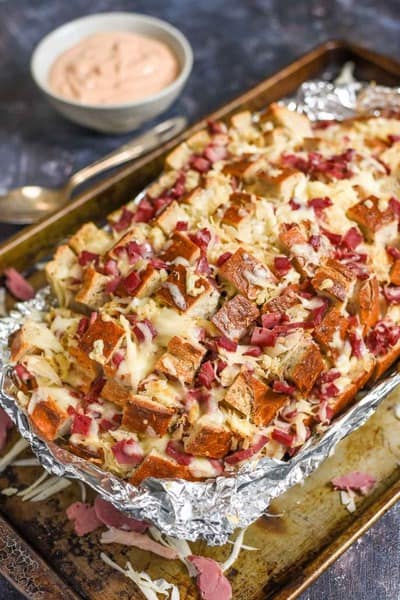 If you've never made pull apart bread before, it's almost embarrassingly simple to put together. I start with a nice round crusty loaf of bread (I managed to find rye bread at a local Jewish deli, but Sourdough can also work). The bread is scored in parallel and perpendicular lines, then stuffed with handfuls of cheese, meat, seasonings, or whatever else suits your fancy. Because this was a Reuben-inspired bread, I used gobs of shredded Swiss, thick slices of chopped corned beef, and a sprinkling of sauerkraut for good measure.
---