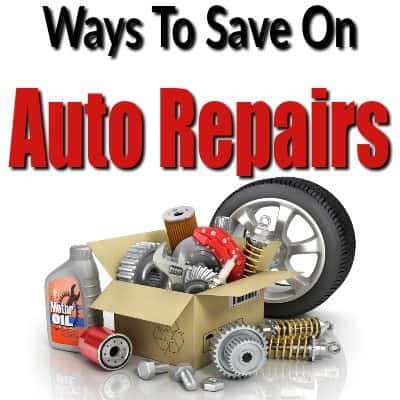 There are many ways to save on auto repairs even if you aren't a mechanic!  Let me start by saying I am married to MacGuyver. He was a mechanic (cars, boats, helicopters) for many years and can fix anything.  He has saved us tens of thousands on repairs. I used to balk at him buying new tools. Not any more. There have been many occasions I have been thankful for his ability to do small repairs and simply having the right tool helped. One tool in particular is a GEM that most people don't know about!
As we prefer to spend our money on fun things instead of those dreaded repairs, I've come up with a few ways to save on auto repairs that are going to totally change the way you look at pulling into a service center.  Not only am I going to share ways, but also tools to use too!
Ways To Save On Auto Repairs
Invest in a scanner to determine issues when a light comes on.  A few years ago, we bought an ODBII Scanner. These are inexpensive, and they are awesome to have when the little check engine message pops up.  It lets you know the trouble codes associated with the light so you can easily figure out what the problem is.  While some auto part shops will do this for free, most won't and will charge quite a bit just to tell you what the code means. It's actually a lot easier to have it on hand to check for yourself.  Especially if you have an older car with issues.
Plus, you aren't paying a diagnostic fee to your mechanic over something simple like the gas cap not being screwed on correctly (Yes, this happened to me!!!). If I had taken it to the dealership it would have cost $200 to find out I didn't screw the gas cap in!
That is why these little scanners are so valuable. Buy it once and you have an in-house mechanic forever. It won't fix your car every time, but it gives you a great resource to find out what is wrong.  Use the scanner to determine the 4 digit number and go to OBI-Codes to check for what that code stands for. Doing a little Googling when you find the code can help you determine what is wrong.
The really great reason for having one is you can tell when a shop is being honest with you. Scanner says the gas cap is lose and the shop is saying you need a new engine. It might be time to shop around.
Use coupons for local auto shops.  One of the best ways to save on auto repairs is to utilize coupons put out by common chain auto shops.  Pep Boys, Midas, and Western Auto all regularly publish sales for free services or discounts on full service.  In fact, you can also sign up for loyalty programs with most locations that will give you a free oil change at least once a year.
Barter for auto repairs.  One great way to save on auto repairs is to barter with a certified mechanic.  Many times you can barter with them to create a mutually beneficial relationship that costs neither of you out of pocket.  If you know a mechanic, you can offer up babysitting, cooked meals, house cleaning or many other things in exchange for them handling your basic auto repair needs.
Buy your own parts.  While labor is the most expensive part of an auto repair, parts can easily be overpriced at an auto shop compared to an auto parts supplier.  Get an estimate before work is done, and then go price the parts yourself.  If there is a significant cost difference, talk to your auto repair shop about letting you provide parts while they put them onto your vehicle.  You pay less for parts, and they still get paid for labor.  Win-win for both of you.
Change your own oil and filters.  An at-home oil change is fairly simple to complete on most vehicles.  Your biggest struggle with this is disposing of the old oil properly.  You can contact your local waste department to see what regulations are for your area.  Remember, however, sometimes it is more economical to pay for an oil change at an auto shop.  Do your research on the flat fee at a shop compared to buying the oil, filters and time spent to do it yourself.
Disclaimer – If you have zero mechanical abilities please do not try to fix your own car. I am merely stating these tips, especially a scanner may help you find out what the problem is and, therefore it can save you a lot of money if you take it to a mechanic. Or it could tell you it is something super easy to fix like my gas cap.