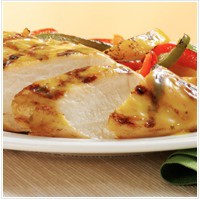 Want a quick and tasty recipe for dinner? I found this recipe on the back of a French's yellow mustard bottle and made it last night. It was very good and easy to make. It was also fairly inexpensive to make; several of the ingredients are on sale this week at Publix.
Tangy Ranch Chicken
Ingredients:
2/3 cup Ranch salad dressing (BOGO Kraft Dressing at Publix)
1/3 cup FRENCH'S Classic Yellow (BOGO at Publix)
1/4 cup dark brown sugar
4 boneless skinless chicken breasts, salt and pepper to taste
Directions:
Mix Ranch, mustard and sugar. Pour 2/3 cup mixture over chicken.
Marinate chicken in refrigerator 30 min. or up to 3 hours.
Bake chicken at 350 for 25 min. or until done.
Serve chicken with remaining mustard mixture.
* I cut the chicken breasts in half and stuffed with Stovetop stuffing mix, which I thought was great addition to the recipe.