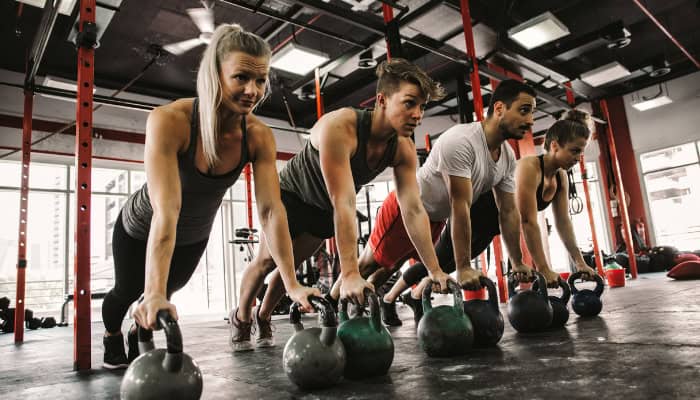 Gym Memberships can be beneficial to your health but so expensive to manage.  These ways to save on gym memberships will help you to focus on your health without breaking your budget. Of course the best way to save is to simply work out at home – that makes it free! But if you need the gym to stay motivated, here are some simple tips that can help you save a ton!
Ways To Save On Gym Memberships:
Check your health insurance:  Many health insurance plans will reimburse you for a portion (if not all) of your gym membership. Simply check with your plan to see if you are eligible. You will probably need to file a claim form, but it is definitely worth the few minutes for a few hundred dollars!
Sometimes you have to visit your doctor and have them fill out a form or get a pre-authorization for this to be paid for.  If your BMI is listed as overweight obese by your physician, you have a lot higher chance of having this paid for.  There is also a Silver Sneakers program through Medicare that covers most if not all costs at select gyms for those who are covered by Medicare.
Check daily deal sites:  Watch daily deal sites for deals on memberships. Sites like Groupon, Living Social, and more offer deals on gym memberships ALL the time. Check your local area for deals, especially around the first of the year for the New Year's resolutions deals, as well as around late Spring for those getting "beach ready".
Switch Gyms:  A great way to get a deal at the gym you want to go to, is to leave at the end of your membership. They will beg you to come back and offer deep discounts. Watch for a deal where you can try another for a month for free (or super cheap) and then express interest in returning. They will give you an awesome deal to stay!
Ask for a Yearly Discount:  Many gyms will give you a pretty substantial discount for paying for a year upfront. It is a lot to dole out at once but it can save you hundreds over the course of a year.  This can be especially nice for those paying for a couples or family membership that is a higher price monthly.
Watch for local coupons:  Local publications (coupon books) will often contain discounts for local gyms. You can also find free trials on social media, or even your local newspaper.  Some gyms will waive joining fees or even offer a free upgrade (classes included or personal trainer session) if you make a donation to a local charity.
Refer friends:  Many gyms will offer free months or a discount if you refer friends that join. This serves a double duty – you save money and get a friend to work out with!  This can be especially great if you have a large group of friends wanting to work out together.
Ask your employer:  Many businesses offer an in-house gym for their employees.  If they do not, they may offer to pay all or a good portion of your membership when done in a group.  Since most gyms offer group discounts, this is a great thing to coordinate with your human resources department.
Ask about scholarships.  The YMCA is known for offering scholarships and discounts for lower income families.  You have to fill out a form showing your income status, as well as complete a short interview.  While it may take a few months to be approved, if you are lower income this can provide your family with a great gym membership in an affordable way.