Nothing is worse than having to replace a large appliance when you aren't planning on it. These ways to save on large appliances are going to make that reality a little bit easier on your budget!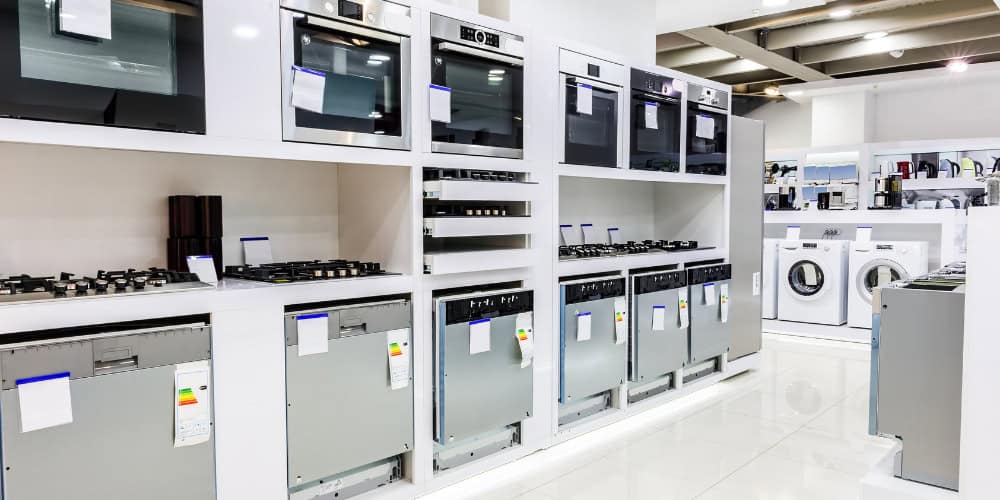 A few simple tips and ideas can save you hundreds or even thousands of dollars on upgrades throughout your home.
Ways To Save On Large Appliances
Shop Black Friday sales
The best time to buy large appliances is around Black Friday. The prices drop dramatically. If you can't wait, then try SearsOutlet if you have a Sears nearby. You can see online what clearance is available which can easily save you up to 50% off any appliance. Many times these are available for pick up the same day. It's a great way to find out what is on clearance at your store and stores nearby.
Use store coupons
If you need to get one from a Big Box Store use a 10% off Home Depot Coupon or Lowe's Coupon. Not only do these big box stores have email subscriptions and store signups that can send you a discount coupon, you may be able to ask at customer service if they have any current coupons available. Many times there are hidden coupons in weekly sales papers. You can also get a Military Discount at Lowe's that will save you 10% off everything!
A secret trick is to check your local post office for a change of address form that also have coupons inside. This one is hard to do since the post office is likely to keep those behind the counter since a lot of people try to grab them. Instead, you can ask any friends and family that might be moving if they mind giving you the coupons from inside their package.
Check the damaged and clearance section
You can also price match at a lot of stores and look for scratch and dent items. Appliances are one of the items you can haggle on and stores will often give you a discount just for asking. It never hurts to try, even if it has already been discounted!
Shop local
You will be surprised but some Mom and Pop appliance shops can actually be cheaper than Big Box stores. Also don't forget about pre-owned and refurbished. Buying used can save you a ton. Watch Craigslist and local Facebook garage sale groups.
Watch for incentives offered by your utility company
MANY will offer rebates or special promotions for buying energy star appliances. Check your local utility website or call to see. While this won't save money up front, it can be like a great rebate or extra savings each month on your utility bills. In the long run, that can be a great thing for your budget bottom line.
Shop last years model
A lot of times a new or upgraded model will come out between October and February. During these months, ask your local store about new models or if a current floor model will be discontinued soon. If you watch and ask, you may be able to purchase the display model in store for a significant discount as they sell out of the old model and bring new models into their stock rotation. In fact, this is one of the best and easiest ways to save on large appliances.