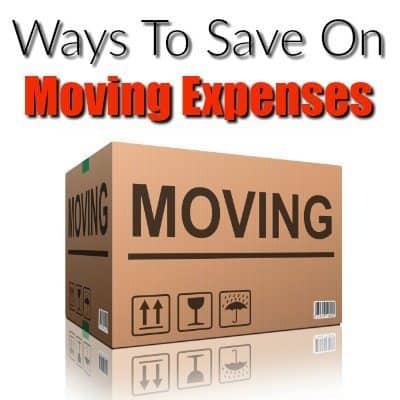 Ways To Save On Moving Expenses
Here are some amazing Ways to Save on Moving Expenses!  For some reason or another, we didn't sit still the first 12 years of our marriage, we moved about 9 times in 12 years. Two long distance. After all of these moves I have learned a lot of Ways to Save on Moving Expenses. I thought I would share a few with you in case you have a move coming up.
Boxes:
Watch Craigslist, Freecycle, or your local paper or Facebook group a month or so before you move. A lot of people will give away boxes for free after they move. I just scored 50 boxes for $0.00. If you find an offer be ready to grab them quick because these go very fast.  Also, check with friends or try local stores, a lot of times you can find boxes for free.
If you can't find free boxes, you purchase them from local moving facilities or on Amazon. We had to buy them once and purchased 60 boxes for around $75. Here's the great part, we were able to sell them after our move on Craigslist for $50. That means they only cost us $25 and these were brand new boxes!
Another option is local grocery stores and liquor stores. I LOVE liquor store boxes for packing glasses and breakables!
Moving Trucks:
If you are doing a local move you can rent trucks through places like Uhaul or Budget. Make sure to check ALL of the local options as the prices and locations of pick up will vary quite a bit.  You can also get cash back on a lot of the larger companies through sites like ShopAtHome and Ebates. PLUS if you have a credit card that offers cash back this is a great time to use it – just make sure to pay it off to avoid interest.
Plus you can sometimes use rental codes. I found a 20% off code for Budget which worked on not only the truck but the mileage. For this trip, we rented a truck from Budget and a one day rental for only $31 for a 24-foot truck and $.55 per mile. Watch where their stores are located. Budget is 5 miles away the closest Uhaul where a larger truck was $17. Considering you are paying per mile, this can add up quick!
Ask your friends and family to help out with their trucks and trailers.  If you are moving locally, you may be able to grab some of your friends, family or even neighbors and use their trucks, trailers, and man power to help you get your move completed.  Offer a gift card, a free meal, a few pizzas, and drinks or to simply return the favor and pay for their gas to help you out.  It can often get the job done faster and much cheaper.
Movers:
We are 40 so we no longer move our own furniture. It just isn't worth it anymore, hurts too bad…LOL. In our previous moves, we have used several options that have helped us manage the heavy lifting while still being an easy way to save on moving expenses.
Day Labor – (AbleBody, ManPower, etc). You can usually get two guys for 4 hours for around $120-$150 (of course this will vary by location). For our last move, this was perfect as we only needed help with our big furniture. Believe it or not, a lot of local moving companies use day labor as their moving guys so you are just cutting out the middle man. We have had a great experience doing this both times we tried it. The guys were nice and definitely gave us our money worth. Remember though, that there is no insurance on damage going this route, so if you have a lot of valuable furniture you might want to reconsider this option.
Friends and Family – Of course friends and family are the best and cheapest option. For our most recent move, we are paying a friend and one of his friends. That way I can boss them around and make sure they take care of my stuff…LOL. Just kidding, but I do feel like friends and family should be compensated.  As mentioned above, gift cards, gas, a bit of cash in their pocket or food are always good options.
Local Movers – There are always tons of local moving companies and sometimes they include trucks too. I got several quotes this time and the prices varied quite a bit. Mainly in the $90 per hour range for two guys and a truck with a 2-hour minimum. I have used local movers before but not with their own truck. I find this a more expensive route, especially on short moves, but they normally carry insurance if they damage your furniture and you don't have to deal with renting a truck. You can negotiate with these companies and make sure to check all the variables.  For example, one company started the time from when they left their store. It was 40 minutes away so that was an automatic hour and 20 minutes we would have to pay for. Other companies started the time when they arrived at our house. Create a spreadsheet and spend the time asking around for the best ways to save on moving expenses using local movers.
A few other big things to ask moving companies:
Do they have W2 employees? 1099 employees aren't covered by Worker's Comp. which means they could claim on your homeowners liability insurance.
Insured?
Bonded?
Do they prorate hours meaning do they charge every 15 minutes or every hour?
When does the time start?
Do your research if you choose a local company. Check the BBB, Angie's List, and Google to see what other people have said about the company. I found Uhaul had really great customer reviews of local companies they recommend. Plus if you rent through Uhaul you can purchase the movers at the same time. I am sure other companies offer this service as well.
Cost breakdown for our last move:
Doing it ourselves – hiring friends and renting truck
Renting truck = $70 after taxes and mileage (estimate – may be more)
Friends = $240 (estimating 16 hours at $15 per hour)
Total = $310
Hiring Local Company
$90 per hour for 2 movers and truck
Estimate at least 4 hours = $360
Plus $35 fuel surcharge
Total = $395
As you can see it isn't a lot more to rent the local company BUT that would be for only half a day and we can hire our friends for the entire day for less. Although the movers would probably work harder.
BONUS REMINDER:  Don't forget to consider the cost of moving for a new job.  Many employers cover moving expenses when you relocate to take a job.  If you are moving due to a new job, make sure to work alongside their human resources department to use the best options available in their budget.  You don't want to go over their budget and end up out of pocket money. You also want to track all out of pocket expenses that could be tax deductible moving expenses that are deductions for you on the next years taxes.
Bonuses of moving:
Downsizing – I love this part of moving, it is freeing to get rid of stuff you don't need! Garage sales are a great way to recoup the money you spent on the move too!
Change of Address Freebies – change your address online with USPS for $1 and they will offer you great coupons like 10% off Lowes and more!
Clean House – Seriously is you house ever as clean as it is right after you get done setting it up for the first time?
These are a few Ways to Save on Moving Expenses…do you have any you would like to share? If so, leave a comment!