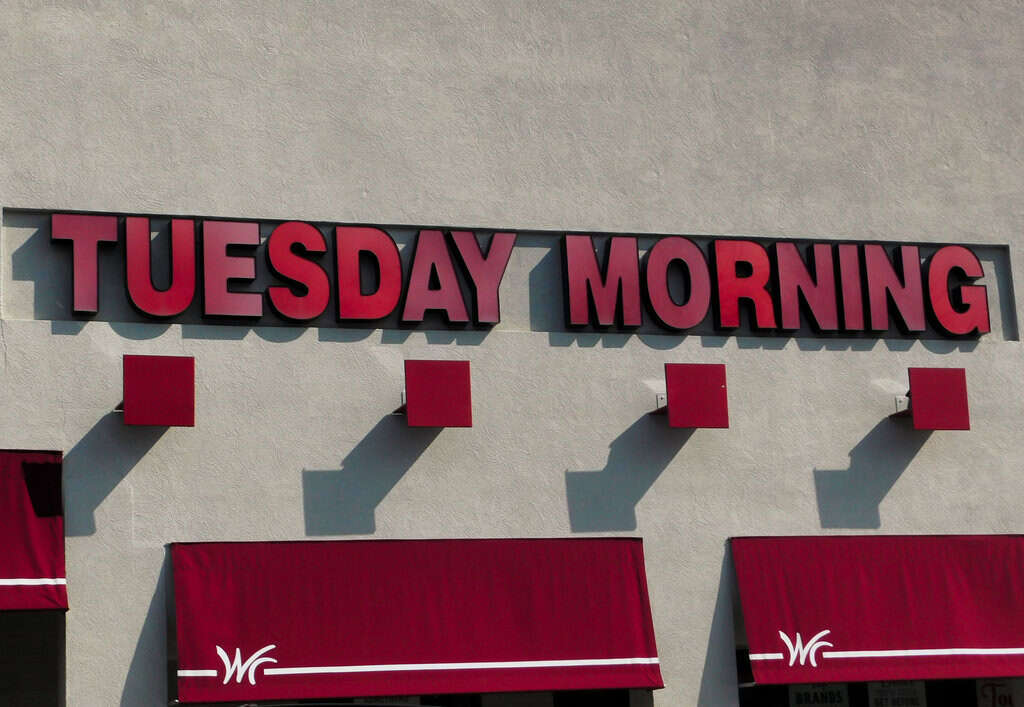 Home goods store Tuesday Morning wants to shutter 265 stores — more than half its footprint.
The Dallas-based chain is consolidating as part of its bankruptcy filing on Tuesday.
Here's the complete list of stores across the US that could close.
Tuesday Morning is planning to close more than half of its 487 stores in 40 states. This is its second wave of store closures in three years.
The chain filed for Chapter 11 bankruptcy on Tuesday. As part of the process, the retailer wants to close 265 stores across the US, or more than half of all of its stores, according to a document filed in bankruptcy court in Northern Texas.
There should be some significant discounts in the near future so keep an eye out if your store is on the list!
Tuesday Morning Stores Closing in 2023
Alabama
Birmingham: 1620 Montclair Road, Eastwood Village
Birmingham: 5223 US Highway 280, Brook Highland Plaza
Decatur: 2019 Sixth Avenue Southeast, Southland Plaza
Dothan: 3114 Ross Clark Circle, Circle West Shopping Center
Gulf Shores: 1720 Gulf Shores Parkway, Paradise Isle
Hoover: 1705 Montgomery Highway South, Riverchase Promenade
Huntsville: 6275 University Dr NW, Westside Centre
Huntsville: 7900 Bailey Cove Road SE, Bailey Cove Shopping Center
Mobile: 3051 Dauphin Street, Midtown Mart
Northport: 1695 McFarland Boulevard, Northpoint Plaza
Arkansas
Cabot: 204 South Rockwood Dr, Rockwood Plaza
Jonesboro: 2008 S Caraway Road, Highland Square
Arizona
Avondale: 10273 W McDowell Road, Gateway Village
Chandler: 2815 South Alma School Road, Las Tiendas Village
Glendale: 20165 N 67th Avenue, Arrowhead Plaza
Gulf Shores: 1720 Gulf Shores Parkway, Paradise Isle
Mesa: 6952 East Hampton Avenue, Mesa Pavilions North
Northport: 1695 McFarland Boulevard, Northpoint Plaza
Peoria: 10096 W Happy Valley Road, Lake Pleasant Towne Center
Phoenix: 245 East Bell Road, Bell Towne Plaza
Phoenix: 4643 E Cactus Road, Village Square II
Tucson: 6228 E Broadway Blvd, Wilmot Plaza
Tucson: 6884 East Sunrise Drive, Ventana Village
California
Bakersfield: 2721 Calloway Ave., Rosedale Village
Carlsbad: 1824 Marron Road, North Country Plaza
Castle Rock: 774 South Perry Street, The Centre on Plum Creek
Citrus Heights: 7255 Greenback Lane, Regency Shopping Center
Chico: 2485 Notre Dame Boulevard, Skypark Plaza
Clovis: 850 Herndon Ave, Trading Post
El Cajon: 2983 Jamacha Road, Rancho San Diego Towne Center
Folsom: 685 East Bidwell Street, Folsom Faire
Glendora: 1000 E Rte 66, Glendora East Shopping Center
Granada Hills: 18040 Chatsworth Street, Granada Hills Town Center
La Verne: 2139 Foothill Boulevard, Village La Verne
Lakewood: 5432 Woodruff Avenue, Lakewood Marketplace
Modesto: 3250 Dale Road, Vintage Faire
Novato: 191 San Marin Drive, San Marin Plaza
Orange: 8520 East Chapman Avenue, Santiago Hills Marketplace
Palm Desert: 44250 Town Center Way, Town Center Plaza
Peoria: 10096 W Happy Valley Road, Lake Pleasant Towne Center
Petaluma: 1355 North McDowell Blvd, Redwood Gateway
Redlands: 9940 Alabama Street, Redlands Town Centre
Redding: 1635 Hilltop Drive, Hilltop – Redding Plaza
Roseville: 5771 Five Star Boulevard, Fairway Commons
San Diego: 1772 Garnet Avenue, Pacific Plaza
San Diego: 3338 Governor Drive, UC Marketplace
San Diego: 4242 Camino Del Rio North, Valley Del Rio Shopping Center
San Jose: 898 Blossom Hill Road
Santa Monica: 901 Santa Monica Boulevard
Tucson: 6884 East Sunrise Drive, Ventana Village
Tucson: 6228 E Broadway Blvd, Wilmot Plaza
Venice: 4127 S Tamiami Trail, Venice Village Shoppes
Ventura: 4756 Telephone Road, Riviera Plaza
Woodland Hills: 22950 Victory Blvd, Pride Center
Colorado
Castle Rock: 774 South Perry Street, The Centre on Plum Creek
Colorado Springs: 5637 Barnes Road, Powers Pointe
Colorado Springs: 5677 North Academy Boulevard, Erindale Center
Denver: 2890 South Colorado Boulevard, University Hills South Shopping Center
Fort Collins: 4426 South College Avenue, Harmony Marketplace
Grand Junction: 2650 North Avenue, Red Cliff Pointe
Johnstown: 4909 Thompson Pkwy, Johnstown Plaza
Littleton: 7951 S Broadway, Market At Southpark
Littleton: 8055 W Bowles Ave
Longmont: 1250 South Hover, Village at the Peaks
Northglenn: 10606 Melody Drive, Northglenn Marketplace
Parker: 18721 Ponderosa Dr, Parker Marketplace II
Pueblo: 220 West 29th Street, Pueblo Shopping Center
Sheridan: 3640 River Point Parkway, Riverpoint at Sheridan
Silverthorne: 209-237 Summit Place Shopping Center
Wheat Ridge: 3354 Youngfield Street
Delaware
Hockessin: 154 Lantana Drive, Lantana Square
Rehoboth Beach: 18904 Rehoboth Mall Boulevard, Rehoboth Mall
Florida
Bradenton: 5502 Cortez Road West, Cortez Commons
Clearwater: 2561 Countryside Boulevard, Countryside Centre
Deland: 2661 South Woodland Boulevard, West Volusia Shopping Center
Destin: 4489 E Commons Drive West, Plantation Commons
Fort Myers: 13300 S Cleveland Avenue, Cypress Trace
Fort Myers: 15271 McGregor Boulevard, McGregor Pointe Shopping Center
Gainesville: 3728 SW Archer Road, Butler Plaza Central
Lady Lake: 486 US Hwy 27, Lady Lake Crossing
Melbourne: 2447 North Wickham Road, Lake Washington Square
Melbourne: 7777 N Wickham Road, Suntree Plaza
Merritt Island: 745 N Courtenay Plaza, Palm Cay Plaza
Naples: 1000 Immokalee Road, Granada Shoppes
Palm Beach Gardens: 11692 US Highway 1, Shoppes of OakBrook
Pompano Beach: 949 East McNab Road, Pompano Plaza
Ponte Vedra Beach: 840 A1A North, Corridors at Ponte Vedra
Sarasota: 4768 S Tamiami Trail, Landings Shopping Center
Seminole: 7949 113th St. N, Seminole City Center
Spring Hill: 1377 Wendy Court, Nature Coast Commons
St. Petersburg: 7895 Dr Martin Luther King Jr Street N, Gateway Market Center
Sun City Center: 1615 Sun City Center Plaza, Sun City Center Plaza
Tampa: 15702 North Dale Mabry Highway, Northdale Promenade
Titusville: 2420 S Washington Ave, Titus Landing
Venice: 4127 S Tamiami Trail, Venice Village Shoppes
Winter Park: 701 South Orlando Avenue, Hollieanna Shopping Center
Georgia
Athens: 191 Alps Road, Alps Village
Atlanta: 5920 Roswell Road North East, Parkside Shopping Center
Buford: 1999 Mall of Georgia Blvd
Dalton: 1001 Market Street, Dalton Outlet Shops
Dawsonville: 136 Marketplace Parkway, Dawson Marketplace
Marietta: 2421 Shallowford Road NE, Shallowford Crossing
Milton: 13069 GA-9, Deerfield Place
Roswell: 608 Holcomb Bridge Road, Roswell Towne Center
Snellville: 1708 Scenic Hwy S, Presidential Commons
Savannah: 10010 Abercorn Street, Picadilly Square
Tucker: 1901 Montreal Road, North Lake Business Park
Warner Robins: 4025 Watson Boulevard, Galleria Square
Idaho
Coeur d'Alene: 227 W Appleway Ave, Coeur d' Alene Center
Iowa
Coralville: 1451 Coral Ridge Ave, Coral Ridge Mall
Davenport: 902 West Kimberly Road, Village Shopping Center
West Des Moines: 2900 University Ave, Clocktower Square
Illinois
Champaign: 45 E Marketview Drive, Marketview Center
Niles: 5613 West Touhy Avenue, Village Crossing Shopping Center
Peoria: 1401 West Glen Avenue, University Square
Springfield: 2345 South MacArthur Boulevard, Town & Country Shopping Center
Western Springs: 4700 Gilbert Ave, Garden Market Shopping Center
Indiana
Evansville: 217 North Green River Road, Plaza East Shopping Center
Fort Wayne: 3962 West Jefferson Boulevard, Parkwest Shopping Center
Fort Wayne: 4710 Coldwater Road
Lafayette: 311 Sagamore Parkway N, Sagamore @26
Mishawaka: 2548 Miracle Lane, McKinley Town & Country
Kansas
Wichita: 2423 N Greenwich Road, Regency Lakes
Kentucky
Alexandria: 6927 Alexandria Pike, Alexandria Village Green
Lexington: 125 East Reynolds Road, Crossroads Shopping Center
Lexington: 1555 E New Circle Road, Woodhill Center
Louisville: 1959 S. Hurstbourne Pkwy, Town Fair Center
Owensboro: 2600 Calumet Trace, Gateway Commons
Paducah: 3250 James Sanders Boulevard, Kentucky Oaks Plaza
Louisiana
Baton Rouge: 9626 Airline Highway, Hammond Aire Plaza
Gretna: 64 Westbank Expressway, Westside South Shopping Center
Maryland
Annapolis: 121 Hillsmere Drive, Bay Ridge Plaza
Bel Air: 1447 Rock Spring Road, Rock Spring Shopping Center
Bowie: 15500 Annapolis Road, Free State Shopping Center
Ellicott City: 9150 Baltimore National Pike, St. John's Plaza
Hagerstown: 1171 Maryland Avenue, South End Shopping Center
Rockville: 1616 East Jefferson Street, Congressional Plaza
Severna Park: 139 Ritchie Hwy, Magothy Gateway
Silver Spring: 13832 Georgia Avenue, Northgate Plaza
Michigan
Grand Rapids: 3661 28th Street Southeast, Centerpointe Mall
Portage: 6140 South Westnedge Avenue, Southland Shopping Center
Troy: 905 East Big Beaver Road, Troy Commons
Minnesota
Excelsior: 2497 Highway 7, 7 & 41 Crossing Center
Roseville: 2100 Snelling Avenue North, Har Mar Mall
Saint Cloud: 2730 Division Street, Division Place
Mississippi
Southaven: 195 Goodman Road W, Southlake Center
Tupelo: 3885 N Gloster St, Big Oaks Crossing
Missouri
Creve Coeur: 780 North New Ballas Road, Creve Coeur Plaza
Kansas City: 1130 West 136th Street, Stateline Station
Kansas City: 8986 Northwest Skyview Avenue, Tiffany Springs
Olivette: 9656 Olive Boulevard, Olivette Shopping Center
Nebraska
Lincoln: 220 N 66th St, East Park
Nevada
Carson City: 3921 South Carson Street, Southgate Shopping Center
Las Vegas: 6650 North Durango Drive, Montecito Crossing
Las Vegas: 8520 Del Webb Boulevard, Rampart Plaza
Reno: 6013 S Virginia St, Del Monte Plaza
New Jersey
Midland Park: 85 Godwin Avenue, Midland Park Shopping Center
New Mexico
Albuquerque: 10420 Coors Bypass NW, Cottonwood Corners
Santa Fe: 3553 Zafarano Drive, Plaza de Santa Fe II
New York
Greenlawn: 773 Pulaski Road, Greenlawn Plaza
Hamburg: 140 Pine Street, Hamburg Village Square
Rochester: 1601 Penfield Road, Panorama Plaza
North Carolina
Apex: 1595 Beaver Creek Commons Dr, Beaver Creek Crossing South
Boone: 774 East King Street
Charlotte: 2442 Park Road, Park Square
Charlotte: 14151 Steele Creek Road, Rivergate Shopping Center
Charlotte: 3726 Battleground Avenue, Battleground Plaza
Durham: 5426 New Hope Commons Dr, New Hope Commons Shopping Center
Gastonia: 1491 East Franklin Boulevard, Akers Shopping Center
Greenville: 703 Greenville Boulevard, Greenville Square
Greensboro: 3726 Battleground Avenue, Battleground Plaza
Morehead City: 2900 Arendell Street, Morehead Plaza
Nags Head: 5050 S Croatan Hwy, Outer Banks Mall
Raleigh: 1297 Buck Jones Road, South Hills Mall
Raleigh: 13200 New Falls Of Neuse Road, Wakefield Crossing Shopping Center
Raleigh: 404 E Six Forks Road, Creekside Crossing Shopping Center
Raleigh: 8111 Creedmoor Road, Brennan Station
Matthews: 9945 E Independence Blvd, Windsor Square
Winston-Salem: 1947 North Peace Haven Road, Whitaker Square
Ohio
Centerville: 1079 South Main Street, Centerville Place
Canton: 4844 Everhard Road Nw, Belden Village Commons
Cincinnati: 454 Ohio Pike, Cherry Grove Plaza
Cincinnati: 5056 Glencrossing Way
Columbus: 885 Bethel Road, Olentangy Plaza
Hilliard: 3655 Fishinger Boulevard, Mill Run Square
Middleburg Heights: 6845 Pearl Road, Southland Shopping Center
Oklahoma
Bartlesville: 501 SE Washington Boulevard, The Shops at Turkey Creek
Oklahoma City: 6910 Northwest Expressway, Rockwell Northwest
Oregon
Bend: 61334 South Highway 97, Bend Factory Stores
Beaverton: 3485 SW Cedar Hills Blvd, Cedar Hills Crossing
Gresham: 56 Northwest Burnside Road, Gresham Square
Medford: 850 Biddle Road, Bear Creek Plaza
Milwaukie: 10890 Southeast Oak Street, Milwaukie Marketplace
Salem: 4450 Commercial Street SE, Hilfiker Square
Pennsylvania
Drexel Hill: 1043 Pontiac Road, Pilgrim Gardens Shopping Center
Erie: 2169 W 12th St, Lakewood Plaza
McMurray: 3911 Washington Road, Donaldson's Crossroads
Phoenixville: 228 Schuylkill Road, The Shoppes at Valley Forge
Pittsburgh: 6401 Penn Ave, Village of East Side
Southampton: 500 2nd Street Pike, Southampton Shopping Center
South Carolina
Aiken: 2529 Whiskey Road, Aiken Exchange
Charleston: 975 Savannah Highway, St. Andrews Shopping Center
Columbia: 264 Harbison Blvd, Harbison Court
Easley: 6101 Calhoun Memorial Highway, Town & Country Plaza
Florence: 1926 West Palmetto Street, Cashua Place Shopping Center
Mt Pleasant: 680 Long Point Road, Belle Hall Shopping Center
South Dakota
Sioux Falls: 2721 W. 41st, Plaza 41 Center
Tennessee
Bartlett: 2853 Bartlett Boulevard, Malco Plaza
Cordova: 1625 N Germantown Pkwy, The Commons at Dexter Lake
Franklin: 1010 Murfreesboro Road, Maples Shopping Center
Germantown: 2031 Exeter Road, Germantown Plaza
Hendersonville: 261 Indian Lake Blvd, Indian Lake West
Johnson City: 3122 East Oakland Avenue, Ken's Plaza
Kingsport: 1409 East Stone Drive, Kingsport Shopping Center
Memphis: 5056 Park Ave, Eastgate Plaza
Mt. Juliet: 655 S MT Juliet Road, Providence Commons
Pigeon Forge: 2727 Teaster Lane, Pigeon River Crossing
Texas
Austin: 2110 West Slaughter Lane, Tanglewood Village
Austin: 4006 South Lamar Boulevard, Brodie Oaks Shopping Center
Austin: 7301 Burnet Road, The B Spot on Burnet
Beaumont: 4150 Dowlen Road, Parkdale Place
Bedford: 609 Harwood Road, Harwood Village North
Burleson: 654 Southwest Wilshire Boulevard, Burleson Shopping Center
College Station: 1210 Harvey Road, Post Oak Square
El Paso: 6450 N Desert Blvd, West Towne Marketplace
Fort Worth: 2225 Porter Creek Drive, Presidio Towne Crossing
Fort Worth: 3501 Bernie Anderson Ave, Village at Camp Bowie
Fort Worth: 5240 South Hulen Street, Hulen Fashion Center
Fort Worth: 5517 Sierra Springs Lane, Shops at Chisholm Trail Ranch
Garland: 3046 Lavon Drive, Firewheel Commons
Granbury: 1406 E Highway 377, Granbury Lakeside Center
Houston: 12568 Westheimer Road, Westheimer Commons
Houston: 5442 Weslayan Street, Weslayan Plaza West
Houston: 7525 Westheimer, Westhill Village
Humble: 8072 Farm to Market 1960 Road E, Atascocita Market Square
Hurst: 1323 W Pipeline Road, Pipeline Village
Lewisville: 4750 State Highway 121, Lewisville Towne Crossing
Odessa: 3950 E 42nd Street, Santa Fe Square
Plano: 3304 Central Expressway, Parker Central
Victoria: 5217-A N Navarro St, Northcross Shopping Center
Wichita Falls: 4319 Kemp Blvd, Wichita Falls Shopping Center
Utah
Ogden: 4050 Riverdale Road, Riverdale Shops
Orem: 168 E University Parkway, Family Center at Orem
Salt Lake City: 1130 Brickyard Road, Brickyard Shopping Center
St George: 250 Red Cliffs Drive, Zion Factory Stores
Virginia
Ashland: 251 North Washington Highway, Ashland Hanover Shopping Center
Alexandria: 6140 Rose Hill Drive, Rose Hill Plaza
Chesterfield: 14613 Hancock Village St, Hancock Village
Manassas: 8371 Sudley Road, Manaport Plaza
Mechanicsville: 7043 Mechanicsville Turnpike, Hanover Village
Newport News: 11006 Warwick Boulevard, Warwick Village
Newport News: 12233 Jefferson Avenue, Jefferson Green Shopping Center
Norfolk: 118 West 21st Street, Norfolk
Richmond: 7101 Forest Hill Ave, The Shops at Stratford Hills
Richmond: 9125 W Broad Street, Broad Shopping Center
West Springfield: 6230 Rolling Road, West Springfield Shopping Center
Woodbridge: 2890 Prince William Pkwy, Smoketown Station
Washington
Lacey: 719 Sleater Kinney Road Southeast, South Sound Center
Puyallup: 13410 Meridian Avenue East, Meridian Town Center
Spokane Valley: 13808 E Indiana Ave, Evergreen Crossing
Vancouver: 628 Northeast 81st Street, Hazel Dell Marketplace
Wisconsin
Greenfield: 4930 South 74th Street, Greenfield Place
Waukesha: 1110 W. Sunset Drive, The Shoppes at Fox River