Watch for 50% Off Local Restaurant Discounts on Groupon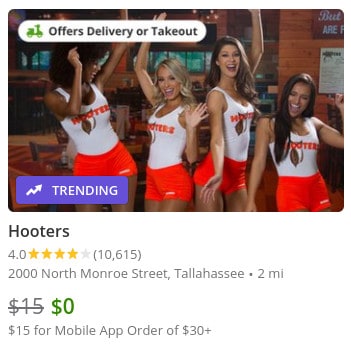 Groupon might have some unusual deals available right now – local free offers for discounts!!
It is normal for Groupon to offer restaurant deals for half price but I have never seen them offer discounts for restaurants for free!
Before you would need to spend $15 on Groupon to get $30 worth at Hooters. Groupon would keep a big chunk of that $15 giving the restaurant a small percentage. This was Groupon's "Fee" for listing it. The restaurants did it to get new customers – it was a lead in. This appears to be them offering local restaurants that are suffering a way to get customers and earn some money for FREE!!!
Kind of love that Groupon is doing this – great way to help out local restaurants!
I saw our local Hooters was offering $15 off any $30 mobile app purchase through Groupon. That is an easy way to save 50% off food and help support local businesses as well!
These offers will vary by city but it is definitely worth checking out – you could find some amazing deals…and help out!
Here are a few offers in your city…
Find more local restaurant deals here >>
More Deals You Don't Want to Miss...