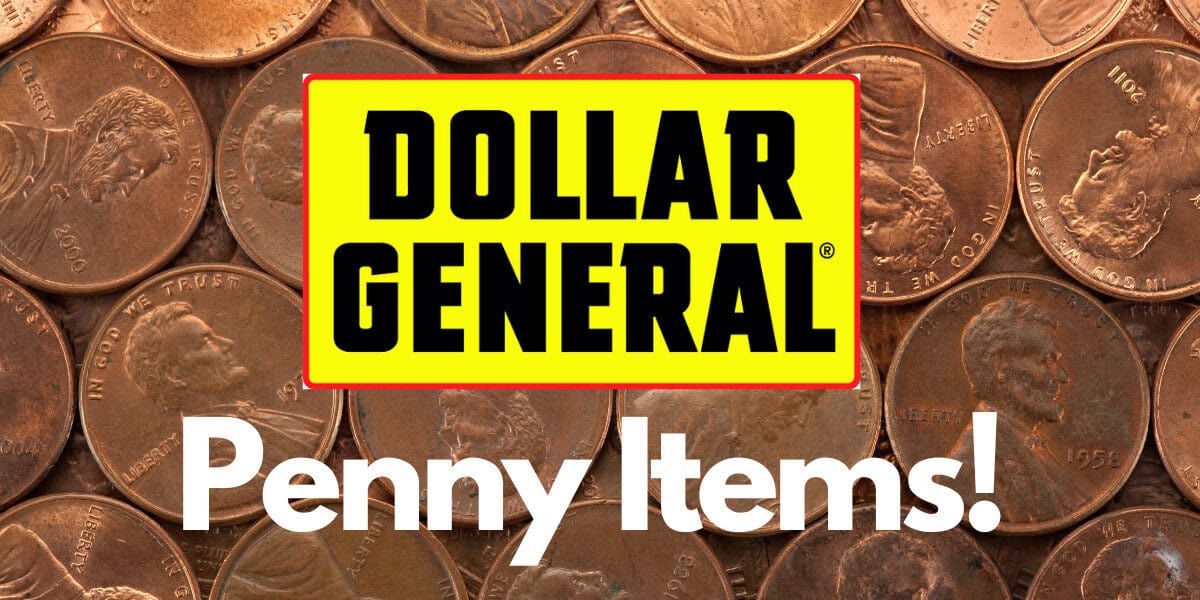 New to this? Learn how to Penny Shop at Dollar General!
RULES TO REMEMBER…
NEVER ASK ASSOCIATES ABOUT THE PENNY ITEMS!!!
NEVER call the store and ask if they have the item scanning for a penny
Never ask cashier to price check to see if it's a penny
Make sure to DOWNLOAD THE APP before heading to the store. There is a barcode scanner on the bottom. You can use it to scan for penny items!
Penny items are items that employees were supposed to pull from the shelf before they dropped to 1 penny so they are not going to help you get these. You need to scan them yourself and make sure to head to register with all of your penny items at once!
Items that are a penny GENERALLY will stay a penny but resets do happen. When starting out it is always recommended that you start with the current list to learn then work backwards (and forwards as new lists come out).
Penny List for September 20, 2022
There are new markdowns!
Fun Pops/Pop Ice – 70% Off (Was 50% Off)

Fun Pops – Freezer Bars (Assorted), 24pk-2.5oz – 71041000069
Pop Ice – Freezer Bars (Tropical), 80ct-1oz – 72392700882
Pop Ice – Freezer Bars (Original), 80ct-1oz – 72392700806

Swim Pants – 50% Off (Was 25% Off)

Gentle Steps Swim Pants Large, 10ct – 876254003087
Gentle Steps Swim Pants Medium, 11ct – 876254003070
Gentle Steps Swim Pants Small, 12ct – 876254003063
Pampers Splashers Size 3, 12ct – 37000765134
Pampers Splashers Size 4, 11ct – 37000765141
Pampers Splashers Size 5, 10ct – 37000764540
Penny List for September 13, 2022
Banana Boat – Aloe After Sun Lotion, 16oz – 79656000085
Banana Boat – Dark Tan Oil Spray SPF4, 8oz – 79656000252
Banana Boat – Kid Sun Lotion Mineral, SPF50, 6oz – 79656024517
Banana Boat – Kid Sun Stick SPF50, 0.5oz – 79656024692
Banana Boat – Kids U/Mist Mineral SPF50, 5oz – 79656133219
Banana Boat – Sun Lotion SPF50 Sport, 8oz – 79656049725
Banana Boat – Sun U/M SPF30 Sport, 6oz – 79656031782
Banana Boat – Sun U/M SPF30 Sport Bonus, 8oz – 79656031829
Banana Boat – Ultra Mist Tan Dry Oil SPF4, 6oz – 79656046632
Copper Tone – Baby Pure & Simple Sun Lotion, 6oz – 072140028718
Copper Tone – Cspray Complete SPF50, 5.5oz – 072140032036
Copper Tone – Cspray S SPF30 4N1 BNS, 5.5oz + 1.4oz = 6.9oz – 072140031541
Copper Tone – Cspray S SPF50 4N1 BNS, 5.5oz + 1.4oz = 6.9oz – 072140031558
Copper Tone – Cspray SPF50 Glow, 5oz – 072140028503
Copper Tone – Kid Cspray SPF50 P/S, 5oz – 072140035044
Copper Tone – Sun Lotion SPFSO 4N1 BNS, 7oz + 1.75oz = 8.75oz – 072140031459
Hawaiian Tropic – Dark Tanning Oil, 8oz – 75486087432
Hawaiian Tropic – Dark Tanning Oil Bonus, 10.8oz – 75486087869
Hawaiian Tropic – Sheer Lotion SPF30 8oz & Bonus – 75468087470
Hawaiian Tropic – Sun Lotion SPF30 Silk Hydration, 6oz – 75486091125
Neutrogena – B/D Sunstick SPF50, 1.5oz – 086800872757
Neutrogena – BD Sun Cspray SPF70, 6.5oz – 086800872740
Neutrogena – Sport Face SPF70+, 2.5oz – 086800870258
Neutrogena – Sun Cspray U/S SPF70, 5oz – 086800100409
Neutrogena – Sun Lotion SPF55 Sheer, 3oz – 086800687900
Neutrogena – Sun Stick SPF70, 1.5oz – 086800110101
Neutrogena – Ultra Sheer SPF100+, 3oz – 086800873105
Penny List for September 6, 2022
Aspire – Energy Drink (Mango Lemonade), 12oz – 867657000087
Aspire – Energy Drink (Raspberry Acai), 12oz – 867657000407
Black Rifle Co – Drink (Expresso Mocha), 11oz – 810019263224
Black Rifle Co – Drink (Expresso with Cream), 11oz – 810019263231
*Clover Valley – E0645-Ketchup Tomato, 38oz – 810776030695
Gatorade Zero – Drink Sticks (Glacier Cherry), 16.9oz-10ct – 52000044584
Gatorade Zero – Drink Sticks (Glacier Freeze), 16.9oz-10ct – 52000044577
George and Tom – Ice Cream Cake Cups, 12ct – 41583712126
Hint – Water (Blackberry), 16oz – 184739000309
Hint – Water (Pineapple), 16oz – 184739001276
Hint – Water (Watermelon), 16oz – 184739000316
Icee – Freezer Pouch (Blue Raspberry), 6oz – 854025008455
Icee – Freezer Pouch (Cherry Frost), 6oz – 854025008462
Icee – Freezer Pouch (Fruit Punch), 6oz – 854025008967
Icelandic Glacial – Bottled Water, 500ml – 893919001103
Jolly Rancher – Freezer Bars (Watermelon, Grape, Blue Raspberry, Green Apple), 10ct – 7239263291
Kool-Aid – Freeze Pops (Tropical Punch, Blue Raspberry, Orange, Kiwi Strawberry, Cherry, Grape), 20ct – 400002976110
*Disney Princess – Licensed Spring Water, 16.9oz – 673676013010
*Marvel Avenger – Licensed Spring Water, 16.9oz – 673676001130
Powerade – Freezer Bars (Mountain Berry Blast, Fruit Punch), 16ct – 72392613960
Propel – Drink Sticks (Berry), 16.90z-10ct – 52000010879
Propel – Drink Sticks (Kiwi Strawberry), 16.902-10ct – 52000010886
Skittles – Freezer Bars (Lemon, Orange, Strawberry, Green Apple, Grape), 20ct – 72392636921
Slush Puppie – Freezer Pouch (Blue Raspberry), 6oz – 810083570013
Slush Puppie – Freezer Pouch (Cherry), 6oz – 810083570020
Slush Puppie – Freezer Pouch (Strawberry), 6oz – 810083570006
Sonic – Freezer Bars (Ocean Water & Cherry Limeade), 10ct – 72392614912
Sunkist – Freezer Bars Smoothie (Piña Colada, Berry, Strawberry Banana, Mango), 10ct – 72392624218
Warheads – Freezer Bars (Watermelon, Blue Raspberry, Apple, Black Cherry), 10ct-1oz – 400000011127
Wyler's – Italian Ice (Berry & Cherry Flavors), 6ct-2oz – 72392947065
Wyler's – Italian Ice (Original Flavors), 6ct-2oz – 72392948062
Penny List for August 23, 2022
Fixodent – Denture Cream Free, 1.4oz – 76660300019
Fixodent – Denture Cream w/Scope, 2pk-2oz – 37000246282
Home Décor – Bush $1, 1ct – 430001447700
Home Décor – Bush $3, 1ct – 430001447717
Home Décor – Bush R/W/B, 1ct – 430001708054
Kellogg's – Cocoa Krispies, 12.6oz – 38000198595
Reese's – PB Lovers Standard Bar, Fr End ck (2L) – 34000938841
Reese's – Ultimate Lovers, 1.4oz – 34000938926
Super Poligrip – Denture Cream Cushion Care, 2.2oz – 310158056096
Fixodent – Complete Denture Adhesive Cream (Fresh Mint), 2.4oz – 076660004658
Fixodent – Denture Cream (Mint), 2.4oz – 037000400905
Fixodent – Denture Powder Adhesive X/Hld, 1.6oz – 076660725362
Hershey – Standard Bar (Milk Chocolate), 6ct – 034000290055
Kellogg's – Krave (Chocolate), 11.4oz – 038000570742
M&M – Candy King Size (Caramel), 1ct – 040000508861
M&M – Red White Blue Milk Choc, 10.7oz – 040000528548
Reese's – Cup Minis King Size, Fr End Ck (2L) – 034000470228
Reese's – Bars Standard, 6ct – 034000490059
Reese's – Pieces Candy Pouch, 10.5oz – 034000114207
Reese's – Stick Single, Fr End Ck (2L) – 034000001521
Penny List for August 16, 2022
Home Décor Bush $1, 1ct – 430001447700
Home Décor Bush $3, 1ct – 430001447717
Home Décor Bush R/W/B, 1ct – 430001708054
Penny List for August 9, 2022
Almond Joy – Snack Size (Coconut & Almond Chocolate), 11.3oz – 34000020409
Brach's – Gummy Bears, 6oz – 41420012761
Dove – Silky Smooth Promises (Dark Chocolate), 2.26oz – 40000525004
Hershey's – Kisses (Birthday Cake), 2.2oz – 34000939329
Hershey's – Kisses (Cookies 'N' Crème), 2.7oz – 34000215843
Kit Kat – Minis (White), 2.4oz – 34000236817
M&M – Sharing Size (Fudge Brownie), 9.05oz – 40000555452
Merba – Cookies (Chocolate Hazelnut), 6.17oz – 46214400021
Merba – Cookies (Lemon & White Chocolate), 5.29oz – 46214420036
Russell Stover – Sugar Free (Chocolate Candy), 2oz – 77260101778
Sweetarts – Extreme Sour Chewy, 3.5oz – 79200916930
Sweetarts – Mini Chewy, 3.75oz – 79200504588
Trolli – Sour Gummi Creations (Martian Mix), 3.8oz – 41420052279
Penny List for August 2, 2022
Donut Coffee Shop Pods Coconut Mocha, 1ct – 99555083002
Folgers Iced Coffee Mocha, 15oz – 25500006123
Folgers Iced Coffee Vanilla, 15oz – 25500006130
Clover Valley E0006 Tea Bags Family Size, 100ct – 072437920015
Clover Valley E0651-Ssb Pod French Vanilla, 24ct (YMMV) – 021600106084
Coffee Mate Italian Sweet Creme Liquid Coffee Creamer, 16 Fl Oz – 050000652860