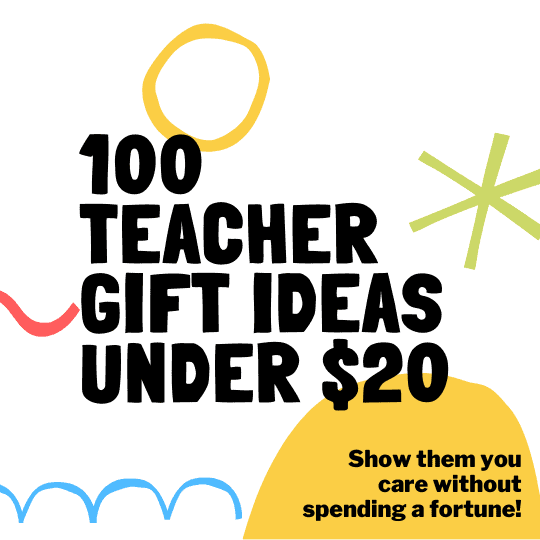 Here is a fantastic list of 100 Gift Ideas Under $20 For Teachers!
While all are under $20 most are considerably less. Grab one or two items from the list, or create a great basket of several items they will love!
100 Gift Ideas Under $20 For Teachers
Emergency Feminine Hygiene (grab a small makeup bag and add a few emergency supplies along with pain relief and chocolate)
Sharpies in various colors (because everyone loves them and uses them)
Bulletin board supplies (character cut outs, letter cut outs, boarders or colored papers)
School supplies (extra paper, Kleenex, hand sanitizer, pencils, etc.)
Homemade cookies or candies
Latest best seller (ask about their favorite authors/genres)
Thermos (for them to bring coffee, cocoa, tea or even lunch in to their classroom)
Cool adult lunch box (no cartoon characters but a pretty upscale version)
Tote bags for carrying their books (31 also carries great easy to organize totes for teachers)
Hand Sanitizer (Bath & Body Works are always popular)
Sanitizing wipes (for the desk, chairs, etc.)
Bottle of wine (if you know they drink)
Large jar of Nutella and a box of plastic spoons (because everyone needs an emergency stash in their desk)
Scrapbook for the classroom (The book, pages, embellishments and a voucher to have images printed)
Books for the classroom (ask for needs)
Custom classroom sign with their name on it
Personalized stamps and ink (ones that say things like, "great job", "awesome work", "Passing grade", etc.)
Volunteer to clean or organize their room or supplies
Soft drinks (find out their favorite and stock them up)
Bottled water
Flavor packets for water
Movie night kit (popcorn bucket, microwave popcorn, theater candy)
Specialty bath soap, bubble bath, shower gel or body scrubs
School team themed gifts (bleacher seat cushion, t-shirt, sweatshirt, hat, coffee mug, etc.)
Charms or Pendants
Seasonal classroom decorations (holiday themed wreaths, candles or door signs)
Emergency makeup kit (makeup bag with mascara, lipgloss, face wash and a gift card to a local drug store)
Cookbooks (if you know they like to cook)
Gourmet Coffee (if they like coffee try a sample pack of popular flavors)
Air fresheners for the classroom (plug in outlet type, sprays or specialty oil diffusers)
Batteries in various sizes (just like home, classrooms always need them)
Fun candy jar (and fill it with candy to give to kids as rewards)
Gift card to dollar store (for treats and rewards for the students)
Stamps and envelopes (in case the school doesn't cover the cost of correspondence to parents)
Ice Cream Gift Card
This extensive list of 100 gift ideas under $20 for teachers is perfect to begin with ideas. Whether you make things homemade, or you buy a suggested item off of this list, your teachers will be thrilled that you thought of them this year.
Got any other ideas? Leave them in the comments!