15 Easter Books for Kindergarteners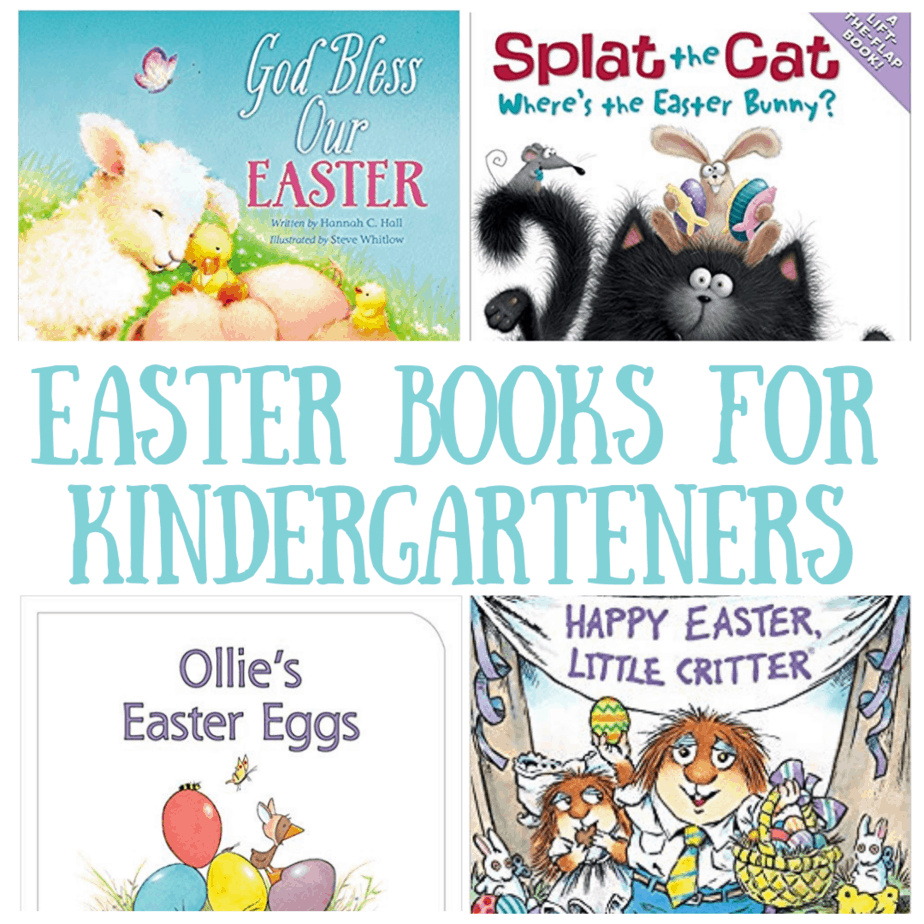 Here are 15 Easter Books for Kindergarteners available on Amazon. All of these ship for free with your Prime membership or any $35 purchase.
Not a member? Get a free 30 day trial here.
15 Easter Books for Kindergarteners
Splat the Cat Where's the Easter Bunny
This lift the flap book is so much fun! Help Splat look around town for the Easter Bunny so Splat can tell him what he really wants for Easter.
Pinkalicious Eggstraordinary Easter
On Easter morning Pinkalicious wakes up to find a note from Edgar the Easter Bunny. It sends the family on an eggstraordinary egg hunt!
Peppa's Easter Egg Hunt
Join Peppa and friends as they go an extra special egg hunt orchestrated by Grandpa Pig.
Happy Easter Little Critter
In this classic book Little Critter celebrates Easter in his own unique style; dyeing eggs, snacking on Easter treats and searching for baskets in the heartwarming way only a little critter can!
Fancy Nancy's Elegant Easter
Nancy and Bree are in charge of the decorating for Easter, so you know it is going to a elegant event. This lift the flap book is fun to explore!
The Night Before Easter Based on the popular poem, this book covers all of the fun parts of Easter for a story kids will love reading!
A Very Happy Easter Prayer Join some adorable woodland animals as they give thanks for the blessings of Easter; flowers, warmer weather and the chance to leave the nest!
God Bless Our Easter This sweet rhyming book shares some of the things we have to be grateful for this Easter.
The Berenstain Bears Easter Sunday Join the Bear family and their friends as they get dressed in their best and head out for a fun day. They go to church, have an Easter treasure hunt and learn why we celebrate Easter.
The Easter Egg Farm This amusing story is all about a hen who lays unusual eggs. They have colorful designs on them!
Here Comes T. Rex Cottontail When the Easter Bunny gets sick, there is only one person for the task of delivering the eggs; a T. Rex. This hilarious story will have the kids in stitches this Easter.
How to Catch the Easter Bunny Is this the year your kids will catch the Easter Bunny in action? This active participation book will definitely build excitement over Easter.
Ollie's Easter Eggs
Join Ollie as he navigates his emotions and organizes a fun event for Easter!
Mater and the Easter Buggy
No one is as excited about the Easter Buggy as Mater is! Join Lightning McQueen as he helps make his friends Easter dreams come true.
Betty Bunny Loves Easter Betty loves Easter, but discovers her siblings have been helping her in the annual Easter egg hunt. Join her as she gains independence in this adorable story.
More Deals You Might Like...