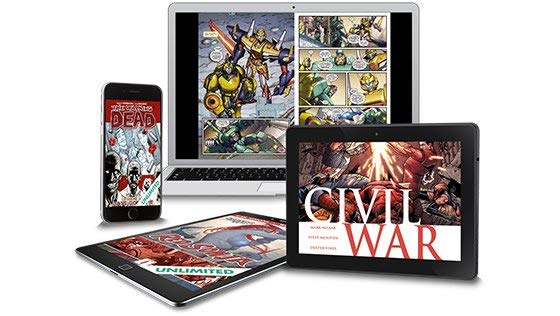 For a limited time, get a free 2 month trial of ComiXology Unlimited!
Comixology gives you access to thousands of comic books and graphic novels — including the latest releases.
What is Comixology?
ComiXology Unlimited is a new service that allows you to read freely from over 75,000 comic books, graphic novels and manga titles. Sync your collection and read instantly across the web or on your favorite mobile device, thanks to their easy-to-use cloud-based platform. You can even read offline.
Plus, ComiXology Unlimited members enjoy 10–15% off all books from DC, Marvel, Image, Dark Horse and more (even on brand new releases).
ComiXology Unlimited costs $5.99 per month, and you can cancel anytime.
Here's how to get this deal:
Head to ComiXology and click "Try ComiXology Unlimited Free."
Create a ComiXology account, or sign in using Amazon.
Start reading!
Please note: This offer is for new customers enrolling in a ComiXology Unlimited subscription. If you had a free trial within the past 12 months, you'll be charged immediately.