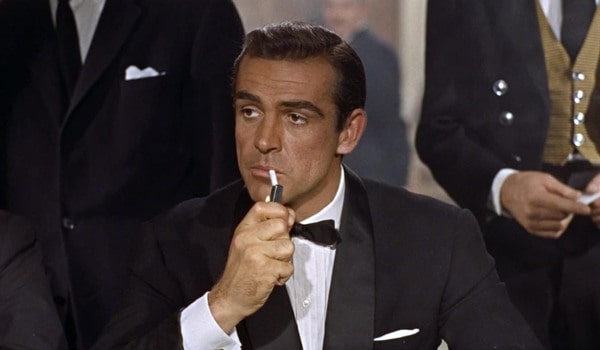 Watch James Bond Movies for FREE
If you are a James Bond fan, then Amazon Prime Video might be the best streaming service for you. There are currently 26 James Bond titles available to stream on Amazon Prime Video. Occasionally Amazon will offer these movies for free but the offers change frequently.
Currently you can get watch most of these movies for FREE with an Epix membership – get a FREE 7 day trial here. If you can't get through all of them in one week get a one month membership for only $7.99 per month!
James Bond Movies include:
What is the order of the James Bond movies?
Here they are in chronological order…
Dr. No (1962) – Sean Connery's first outing as 007 remains a classic today just based on its cool factor, but it also has a great story with plenty of intrigue and suspense that holds up all these years later too.
From Russia With Love (1963) – Among Sean Connery's best work in his initial role as James Bond, this film has a lot to it that makes it special even today. It oozes with coolness and charisma no matter how many times you've seen it before too, which should be plenty!
Goldfinger (1964) – The third in Sean Connery's fantastic run as the classic James Bond character defined by Ian Fleming's novels. Everything here is just so classic — just like you imagined it while reading Bond books growing up!
Thunderball (1965) – You really can't go wrong with any of the 60s' James Bond films — they all hold up so well even today! But "Thunderball" seems to stand out less than most with some feeling it drags on a bit too long and doesn't have enough action for its length.
On Her Majesty's Secret Service (1969) – George Lazenby only played James Bond once, and we like to think it's because he knew how good this movie is. It stands above most Bonds from the 60s in quality for sure.
Diamonds Are Forever (1971) – Sean Connery returns for his final go-round as 007 in what is most certainly one of the more interesting, if not exactly amazing Bond films out there.
Live and Let Die (1973) – There's a lot about this movie that makes it feel dated 31 years later, from its super-racist undertones to its corny special effects. But there's no denying that it has a certain coolness factor too that keeps us coming back for more.
Moonraker (1979) – There are some interesting things about this movie — like its laser fight sequence between James Bond and Jaws — but all in all it's just not one of our favorites among the franchise… or even among Roger Moore's tenure as Bond!
For Your Eyes Only (1981) – Roger Moore's last truly great outing as James Bond is one of his "serious" ones… for the most part. There are still plenty of wacky moments, but this is a return to form compared to his lackluster work in "Moonraker."
Submarine Q-114 (1968) – This is viewed as a James Bond spoof rather than an actual feature in the series due to its short length and very loose connection to The Man With the Golden Gun. It was released theatrically in certain places, but it is mainly known for being on the television show Mystery Science Theater 3000.
The Spy Who Loved Me (1977) – This is Roger Moore's best outing as James Bond in our opinion! It's got some great action, some interesting characters, and a few laugh-out-loud moments to keep things light when they need to be.
A View to a Kill (1985) – One of Roger Moore's least fun outings as 007, this film drags the whole way through and has an ending that is just bizarre if you stop to think about it. It can be fun to watch for campy reasons, but don't expect anything too rewarding.
The Living Daylights (1987) – Timothy Dalton's first outing as 007 is one that seems to get better with age rather than worse like some other movies in this period. It was very progressive at the time by not taking any crazy risks and giving us a smart, grounded action movie.
Licence to Kill (1989) – Timothy Dalton's second outing as 007 is one of his best movies overall, but it really doesn't feel like a Bond film most of the time… probably because it's too dark and violent for its own good!
The World Is Not Enough (1999) – There are many people who rank this film highly among their Bond favorites despite it being… well, not one of our personal favorites. But really there shouldn't be anything putting you off if you want to give it a shot — it's just that good.
Casino Royale (2006) – An absolute classic and among Roger Moore's best work as 007. The stunts, the plot and the action are all incomparable.
Quantum of Solace (2008) – Daniel Craig manages to save this film from being a complete disaster despite some pretty awful plot holes and an overall crappy storyline. He has really good chemistry with Olga Kurylenko in particular, which makes up for a lot!
Skyfall (2012) – Absolutely fantastic, we'd even say it's our favorite film starring Daniel Craig as 007. It also features Javier Bardem as Bond's nemesis Silva and Albert Finney as Tanner.
Spectre (2015) – The newest film puts Daniel Craig back into the tuxedo, along with Sam Mendes calling the shots once more. It all comes together to be a very good Bond film, but not the best like some people like to think.
Are James Bond movies on Netflix?
No. Netflix does not offer any "official" Jame's Bonds streaming online for free right now.