2018 Kids Summer Movie Program List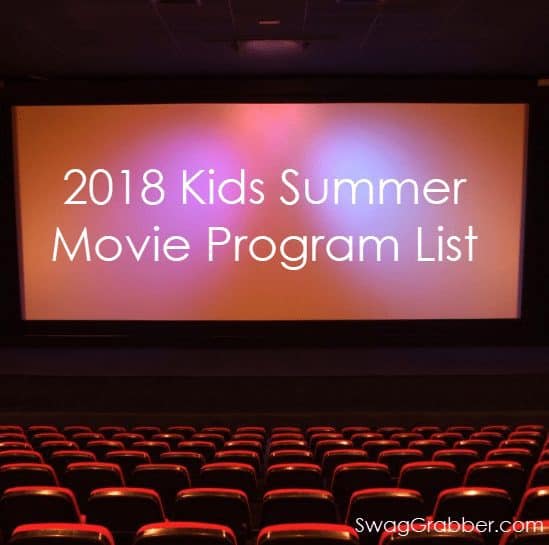 It might be 100 degrees outside this Summer, but for as little as $1 you can enjoy a kid friendly movie in a nice air conditioned theater for a few hours!
Here is the 2018 Kids Summer Movie Program List. We will be adding more as we find them!
AMC Summer Movie Camp
Get admission to a kid-friendly movie and a KidsPack for just $4+tax, every Wednesday at 10 am all summer long! Tickets available soon at box office only. See what moview will be playing at your local AMC here.
Regal Cinemas
Admission to the Summer Movie Express is only $1. Tickets available for purchase at the box office and all movies start at 10:00 am at most locations. A portion of the proceeds goes to the Will Rogers Institute. Check here to see what date your local Regal theater is starting their Summer Movie Express.
All movies start at 10 AM on Tuesdays and Wednesdays, and are rated PG
Georgia Theatre Company
2018 Summer Kid Show Series this June and July!  The series will run from Tuesday, June 5th to Wednesday, Aug 1st.  One feature will play each week on Tuesday and Wednesday mornings.  Features start promptly at 10:00am and doors open at 9:15am.
Admission: $1.50
Drinks: $1.50
Popcorn: $1.50
Participating GTC Locations:
– Gateway Cinemas
– Valdosta Cinemas
– Galleria Mall Cinemas
– Houston Lakes Cinemas
– Mall Cinemas
– Heart of Georgia
– Commerce Cinemas
– Pooler Cinemas
– Habersham Hills Cinemas
– Sumter Cinemas
– Danville Cinemas
– Brooksville Cinemas
– Park 12 Cinemas
– University Cinemas
– Glynn Place Cinemas
– Island Cinemas
– Evans Cinemas
– Liberty Cinemas
– Moultrie Cinemas
– Kings Bay Cinemas
Harkins Theatres
Kids can enjoy a movie a week for 10 weeks, for less than $1 per film. Make Harkins Summer Movie Fun for kids an annual tradition for your family.  All adults must be accompanied by children.
Megaplex Theatres
Megaplex Theatres is offering our favorite young fans and their families a fun summer filled wth their favorite films. Kids Summer Movie Passes are On Sale Now! Passes may be purchased online or at any participating Megaplex Theatres Box Office. Showtimes at each location are at 10:00am, with Sensory Friendly showtimes at 10:30am. Kids Summer Movies begin the last week of May or the first week in June. Check out the schedule here to plan your visits.
Metropolitan Theatres
Summer Kids Movies Program:  All seats are just $2.  Tickets on sale now at the box office and online  Every Tuesday & Wednesday at 10am: June 12 – August 15: MetroLux Theatres & Paseo Nuevo Cinemas Every Tuesday at 10am: June 12 – August 14: Redstone Cinemas & Wildhorse Stadium Cinemas
Participating Theatres:
MetroLux Theatres – Loveland, CO
Paseo Nuevo Cinemas – Santa Barbara, CA
Redstone Cinemas – Park City, UT
Wildhorse Stadium Cinemas – Steamboat Springs, CO
Check out more info on our website:
Paragon Theaters
Thanks This Mommy Saves Money!
More Deals You Don't Want to Miss...