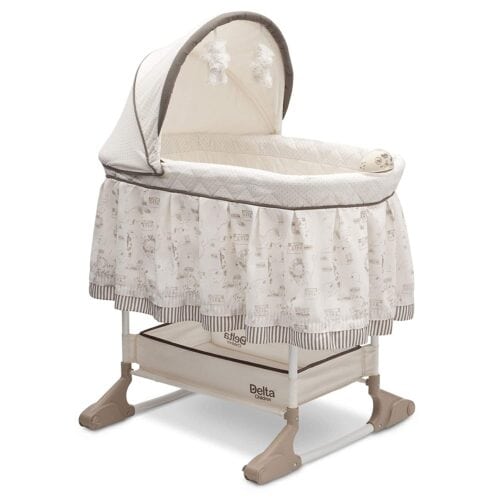 Great deal on a Rocking Bedside Bassinet!
Amazon has the Delta Children Rocking Bedside Bassinet – Portable Crib marked down from $104.99 to $56.09 with free shipping.
The adorable Playtime Jungle rocking bassinet is perfect for keeping your little one close to you during the early months. Features a lovable jungle inspired design theme with soft neutral colors and several features that make this a must have item for anyone with a new baby. The bassinet features retractable/locking swivel castors making it easy to move from room to room.
What Are the Pros and Cons of Using a bassinet?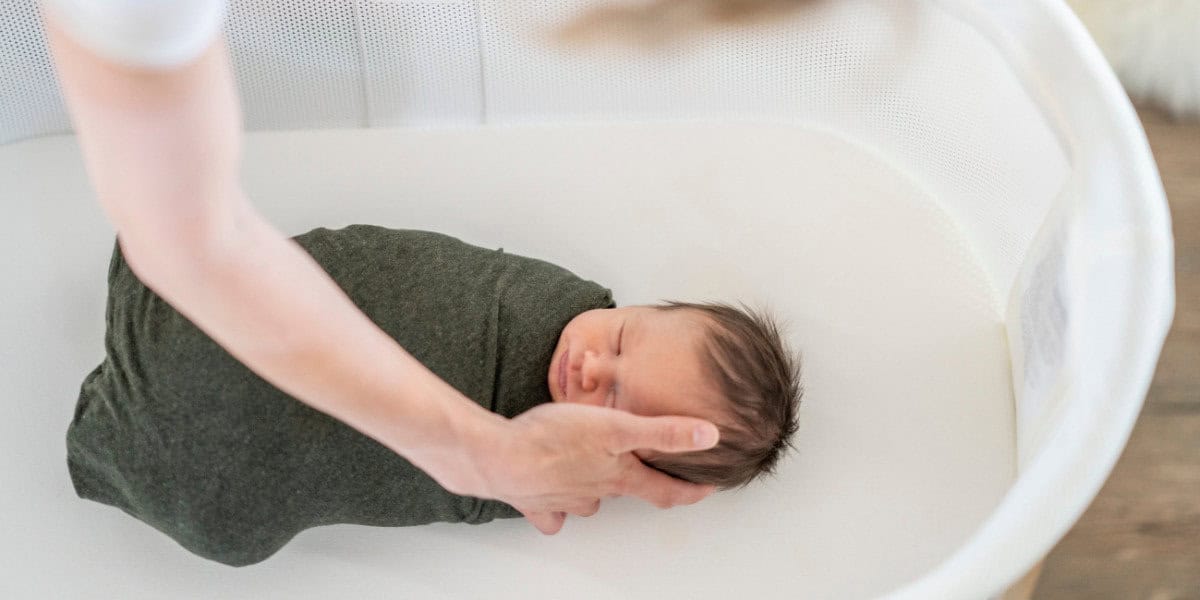 Bassinets are commonly on baby registries. They can be quite useful in certain situations. Weighing the pros and cons can help you make the best decision for your specific situation.
Here are some pros and cons of using a bedside bassinet…
Pros:
-A bassinet can be a great way to keep your newborn close by during the night. This can be especially helpful for new parents who are worried about leaving their baby alone in a crib.
-Bassinets are often smaller and more lightweight than cribs, making them easier to move around the house. This can be handy if you have pets that like to sleep in your child's room or if you want to be able to keep an eye on baby while you're doing other things around the house.
-Many bassinets come with built-in features like storage baskets, music players, and vibration settings that can help soothe baby to sleep.
Cons:
-Bassinets can be expensive (unless you can find a deal like the one above!!), and they may only be used for a few months before baby outgrows them.
-Some bassinets are difficult to assemble, and they may not fit well in all homes.
-If you have a small home, a bassinet may take up too much space.
-Bassinets also need to be placed on a firm, level surface, which can be challenging in some homes.
Ultimately, the decision of whether or not to use a bassinet is up to you and your family. There is no right or wrong answer – it's simply a matter of what will work best for you. Consider your needs and preferences, and make the decision that's best for your situation.
Are Bassinets Safe?
According to the Consumer Product Safety Commission (CSPC), bassinets can be safe if you:
Prevent suffocation by limited thick blankets or pillows in the bassinet.
Keep tight spaces and gaps between the mattresses and inside of the enclosure so a baby cannot get stuck.
Follow all assembly instructions as accurately as possible, and routinely check the sturdiness of the sleeping area.
Discard bassinets that are older than 10 years.
Keep the bassinet away from any window or curtains with loose strings or cords.
We aren't professionals or doctors so we have always relied on the experts when deciding what to do with our own kids. You should do your own research and make your own decisions. We are just showing you great deals!