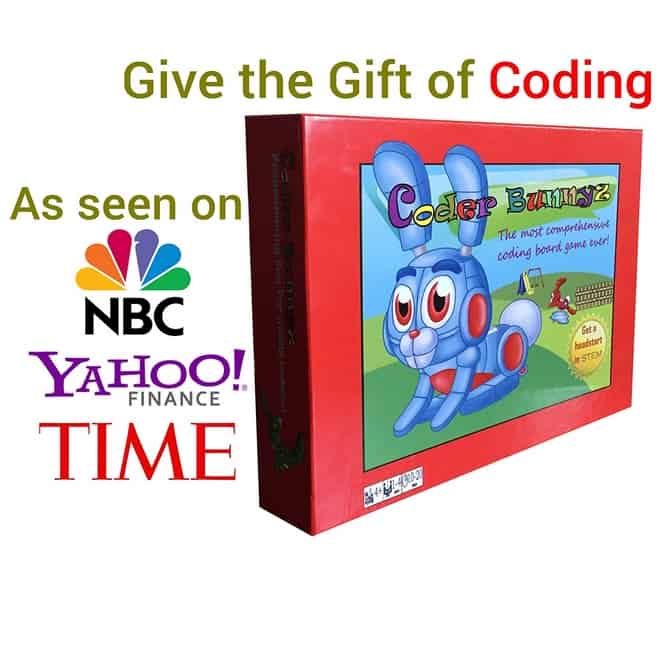 Amazon has the
Coder Bunnyz – The Most Comprehensive STEM Coding Board Game Ever! Learn All The Concepts You Ever Need in Computer Programming in a Fun Adventure. Featured at TIME, NBC, Sony, Google, Maker Faires!
marked down from $44.98 to $34.85 with free shipping!
HIGH QUALITY – STEM Education Toy and Gift for Girls and Boys ages 4 – 104! Program the Bunnyz with the Code Cards to traverse through the maze, eat the carrot and reach a playful destination.
EASY PLAY – Use it at home, in school, coding clubs, montessori, STEM clubs, boys girls scout, summer clubs, tutoring, after school, day care, maker space, hackathons and for Girls who code! Within less than an year of launch, CoderBunnyz is already being used as a STEM coding tool at over 300 schools and over 240 libraries in the US!
YOUNG INVENTOR – Created by a Samaira, a 9 year old girl and covered by over 100 Media and News, including TIME, NBC-TODAY, Business Insider, Yahoo finance, NBC Bay Area, Sony, Mercury News and many more in more than 100 countries( scroll down for her Hulu Video)
PLAYED AT GOOGLE – Played by over 3000 kids at 100 workshops, including 50 at Google Headquarters. Teaches simple concepts like loops, branches, functions, conditionals and advance concepts like Inheritance, Parallelism, List, Stack, Queue and Algorithm writing.
AWARD WINNER – Recognized by Board of Education, Maker Faires, Science Fairs, several libraries, schools and tech events. Winner of Infy Maker Award 2016. The only board game that you would need to learn concepts of all programming language. No Prior Coding Experience Required. Learn and Play with Computer Programming Today. The ultimate coding board game.
Amazon pricing changes frequently, so this deal may expire at any time.