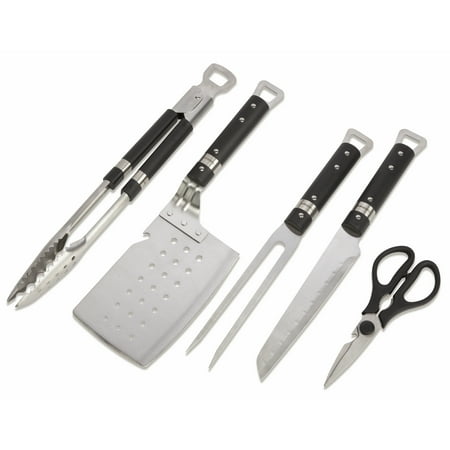 Walmart has the
Cuisinart® Chef's Classic™ 5 Piece Grill Set – Includes TriTip Spatula, TriTip Tongs, Carving Fork, Butcher Knife, and Multi-Purpose Shears
marked down from $57.88 to only $14.99 and you can pick this up at your local store for FREE. Great Father's Day gift!!
Locking Tongs has a precision grip point, perforations, and scalloped/firm toothed edge
Spatula has an oversized surface, a bottle opener, and a completed cleaver cutting edge
Carving Fork has long blades keeping your hands at a safe distance. The fork is perfect for carving and serving your meals
Butcher Knife blade has grooves to keep food from adhering to the blade, also allowing for thin, even cuts without tearing the meat
Multi-Purpose Shears has built-in features include food cutting, fish scale scraper, nut and seafood cracker, and bottle opener
You can save $10 off any $50 Walmart Grocery Pick Up Purchase too!