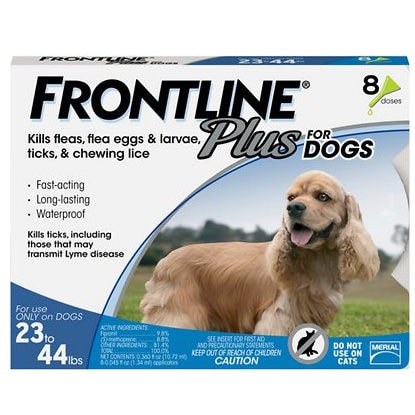 Chewy.com has the Frontline Plus Flea & Tick Medium Breed Dog Treatment, 23 – 44 lbs marked down from $89.99 to as low as $44 with free shipping when you check out using Auto-Ship!
Help prevent fleas and ticks from pestering your pal with Frontline Plus Flea and Tick Medium Breed Dog Treatment! This treatment is fast-acting, long-lasting and waterproof, and helps control these pesky pests on medium-breed dogs and puppies eight weeks of age and older. The two tough pest control ingredients in this formula—fipronil and (S)-methoprene—work on killing adult fleas, eggs and larvae, helping to prevent against further infestations. Stored in the oil glands of your pal's skin, it provides flea and tick prevention for a full 30 days. No more bugs bugging your pup!
Key Benefits:
This fast-acting, lost-lasting and waterproof formula provides flea and tick treatment and control for medium-breed dogs and puppies 8 weeks of age and older.
Made with 2 tough pest control ingredients—this treatment breaks the flea life cycle by killing existing infestations of adult fleas as well as the eggs and larvae, preventing further infestations from bugging your pal!
Not only does this treatment kill fleas, flea eggs and larvae, it also kills lice and ticks—including those that may transmit Lyme disease.
Stored in your pup's oil glands, this formula provides long-lasting flea and tick control, working non-stop for 30 days after application.
This product is approved for the use on medium-breed dogs weighing 23-44 pounds.
Find more great deals like this one here >>