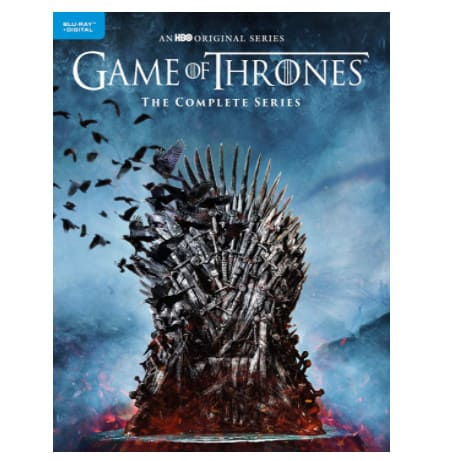 Game of Thrones: Complete Series on Sale
Amazon has the Game of Thrones: Complete Series on DVD marked down from $169.99 to $59.99 with free shipping. The next best price I see is $90 for this set!
The epic HBO drama series is based on the bestselling book series 'A Song of Ice and Fire' by George R.R. Martin. This epic HBO drama series is set in a fantastic realm where noble families engage in a deadly fight for control. This show is DEFINITELY not for kids!! It's got sex, violence, and lots of bad language but it is a pretty amazing set of books and shows.
Trouble is brewing in the Seven Kingdoms of Westeros. For the driven inhabitants of this visionary world, control of Westeros' Iron Throne holds the lure of great power. But in a land where the seasons can last a lifetime, winter is coming…and beyond the Great Wall that protects them, an ancient evil has returned.
Want to Watch Games of Thrones for Free?

Don't feel like buying the entire series? You may be wondering how you can watch it for free.
You can use a combination of free trials to watch Game of Thrones for free if you can watch them quick. If you can't watch the entire series in a week (that would be hard!!) you can get one month for $17.99 to these streaming services which will give you more time!
FREE Trial of HBOMAX
HBOMAX is a streaming service from HBO that gives you access to all of their programming, including Game of Thrones. It's free with your HBO subscription, and you can sign up for a 7-day trial if you're not already a subscriber. If you decide to keep it, it will cost you $9.99 per month. Start the trial of HBOMAX.
FREE Trial of HBO through HULU
HULU is a streaming service that offers a variety of channels, including HBO. You can sign up for a 7-day free trial, and then it's $14.99/month after that. Start the trial of HULU.
Watch through Amazon with Prime Membership
If you have an Amazon Prime Membership some of the seasons are free to watch. Currently it looks like you can stream season 1 and 2 at no charge. The rest will cost you. You could start watching them here for FREE!
You will need a Prime Membership to get this deal, if you don't have one sign up for a FREE 30 day trial now!
Want to Watch Games of Thrones House of Dragons?

The House of the Dragon series is a prequel to the hit HBO show, Game of Thrones. It will focus on the history of House Targaryen and take place 200 years before the events of Game of Thrones. The series will consist of 10 episodes and is set to air in 2022.
Currently the only way to watch this show is with HBOMAX. You can get a free 7 day trial of HBOMAX. I would wait though if this is the only show you want to watch. They are releasing shows weekly. As of 8/22/22 there is only one episode available. Wait until they are all out and get your free trial then to binge watch them all!