Guest Post – Work at Home Mafia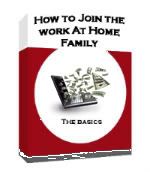 This is a guest post from Kim at Work at Home Mafia. They help you find a job that you can do from home…legitimately!
I'd like to thank Sheri for the opportunity to share insight into working from home with her readers.
Nowadays, everyone is looking for ways to make extra money by working from home. But what is confusing is trying to decide what is legitimate, what is a scam and which companies pay reliably. That is how the Work At Home Mafia came about.
If you have never had a job or are looking for a career change then this is just for you. Working from home is slightly different then the outside (brick and mortar) job market. It is more about motivation, time management and making time for your families.
It can be quite overwhelming sifting through the different types of positions so I'd like to simplify the process by breaking out the three main job types and explain a little about each.
1. Customer Service/Tech Support – If you have a pleasant speaking voice, a quiet work environment and high speed internet access then this could be the type of position that you could excel in. Companies that employ individuals to work from home include Embarq, American Express, GE, Home Shopping Network and QVC, just to name a few.
2. Non Phone Positions – These are the most highly sought after positions around, especially if you have small children. No worries about background noises and the normal chatter of your household. They vary from work that includes accounting, data entry, research, expert answers to graphics design.
3. Writing/Editing – Do love to tell stories? Can you communicate well via writing? Then writing may the ticket for you. Companies are eager to find individuals who want to write content, sales messaging and even greeting cards. If you are smart and know your worth, you can really make it as a writer if you have great skills.
Does this look like something you would like to do but you still don't know where to start? Or have you been searching with no success? I have compiled a very easy to follow (free) e-book that walks you through the process from deciding your job skills to mastering the interview. It's my passion and I love being able to help others be at home with their children while still earning an income.
More Deals You Don't Want to Miss...