Great time to stock your pantry or emergency kit because Amazon has quite a few
Augason Farm cans
marked down up to 60% off right now. All of these ship for free with your
Prime Membership
or any $25 purchase.
Augason Farms Butter Powder 2 lbs 4 oz No. 10 Can
Was $42.99 – Now $17.07
Check out this helpful review…
This is the milk starches with the oil removed. It is best reconstituted with light vegetable oil, then chilled, to make a firm spread, like butter. Mix with water and a little vinegar, then chill, to make a sour cream substitute. Adding vinegar, water and spices produces a passable mayonnaise. The powder can be mixed straight into dough, noodles or mashed potatoes. For a treat, use it straight in tea or coffee; it's tasty and comforting. It doesn't do well sprinkled straight on popcorn. I would mix some of the oil/butter mix straight into the hot popcorn. Nice product, good price. Especially if you have no refrigeration, and would like a creamy dairy-like sauce base. No, it's not butter. But it's tasty and useful.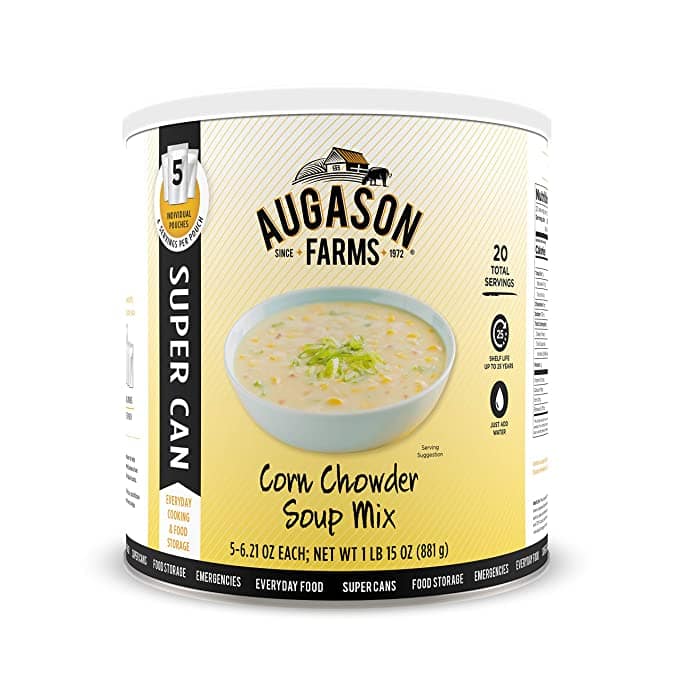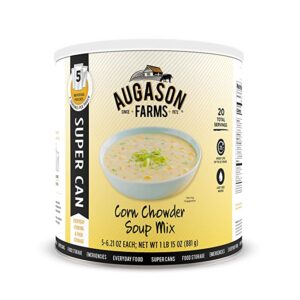 Augason Farms Corn Chowder Soup Mix 1 lb 15 oz No. 10 Super Can
Was $37.99- Now $15.31
Augason Farm's Corn Chowder is indispensable for making satisfying, healthy soup for an everyday meal or winter comfort food. Thick and creamy, corn chowder is ideal energy food, a perfect solution in an emergency or when enjoyed as everyday meals. This delicious dehydrated soup is easy to prepare and nutritious and, with an extended shelf life, offers your family a convenient solution for easy-to-prepare meals.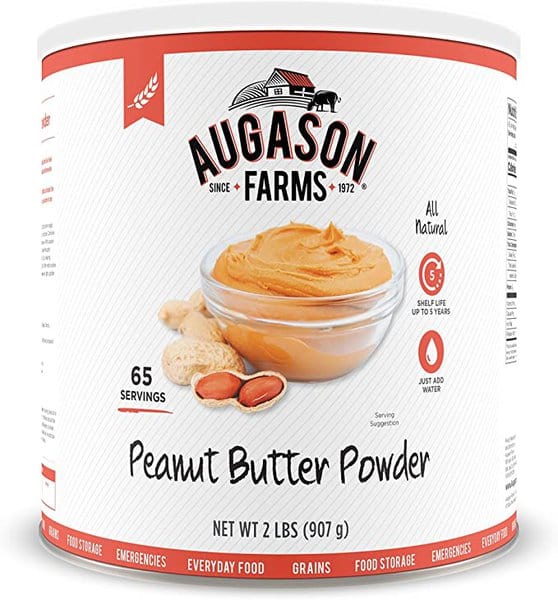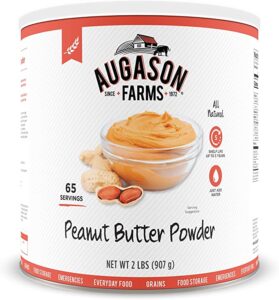 Augason Farms Peanut Butter Powder 2 lbs No. 10 Can
Was $29.99 – Now $15.28

Peanut butter is a staple in many households and Augason Farms Peanut Butter Powder makes it easy to use at home, on the road, and in emergencies. Try it on sandwiches, smeared on celery, mixed into cookie dough, or blended into a smoothie and you'll discover that the versatility of this dehydrated peanut butter is undeniable. Peanut butter has zero grams of fat and a fraction of the total fat found in regular peanut butter. Shelf life up to 5 years.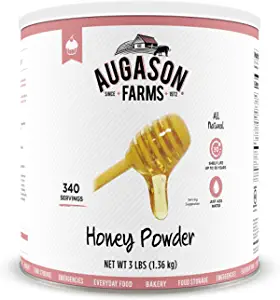 Augason Farms Honey Powder,3 LBS
Was $24.99 – Now $13.28
Whether used in powder form or in the prepared liquid form, this product sweetens just about anything. Use for dry rubs, cereals, to sweeten hot and cold drinks, and on nuts and seeds before roasting. In powder form it tastes great sprinkled over buttered toast or mixed into butter. Prepared honey (which also mixes well with butter) is delicious drizzled on breads, rolls, or muffins. Unopened shelf life up to 20 years, recipes on can label.
There are a LOT of these marked down up to 60% off right now….