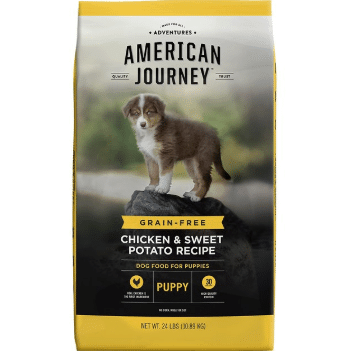 Chewy is offering American Journey Dog Food Buy One Get One Free right now for new customers. This includes the big 24 pound bags which means you can get 48 pounds for only $39.99 – use the Autoship at checkout (you can cancel anytime) and get 48 pounds for only $35.99 – $0.77 per pound. This is the only food my picky dogs will eat now so it is definitely time to stock up!
Go here and select the dog food you want
Add two to your cart
Head to checkout
Select the auto-ship option to get another discount
Cancel the auto-ship after your order ships if you don't want to any additional orders.
Key Benefits of American Journey Dog Food:
Grain-free dog food that's also free of corn, wheat and soy to help food sensitive pets avoid fillers that might upset their stomach.
Nutritious fruits and vegetables like blueberries, carrots and dried kelp provide vitamins, minerals, antioxidants for immune system support, and phytonutrients.
High-protein dog food with real, deboned salmon is not only delicious for your pup but full of amino acids that help maintain lean muscle mass.
Salmon oil and flaxseed provide omega-3 and 6 fatty acids, including long-chain DHA, which helps support your dog's skin and coat health and brain and eye development.
Includes fiber-rich chickpeas and sweet potatoes for energy that lasts throughout every adventure.
This sale includes dog food, treats, wet food and more. If you have pets you should check it out. NOTE – not all items are included so watch for the BOGO tags on the items. You will see the discount at checkout!