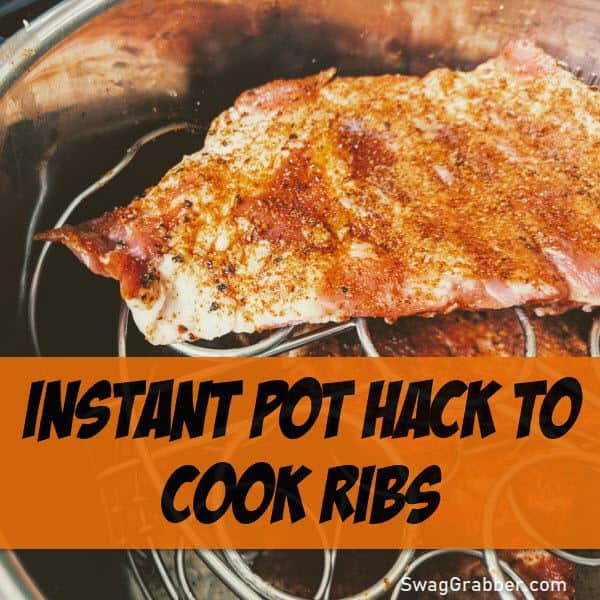 It's raining – so of course I felt like smoking something. Had ribs – don't have indoor smoker. Remembered Instant Pot and thought I would give it a shot. Won't be smoked, but still will be ribs 🙂
Quick Google said – don't lay them on top of each other. Mine were kind of small so they wouldn't stand up. Then I remembered a purchase I had a made – the Instant Pot Egg Cooker Rack. Grabbed it and it works great as an Instant Pot Hack to Cook Ribs!
Check it out – three racks of ribs all on top of each other without touching!
Here's my home made…a.k.a think I will do it this way Instant Pot Ribs recipe.
INGREDIENTS:
One rack of ribs
Handful of Ruby's Rub – because it rocks!!!
1 cup of water – juice – beer
Smoke flavoring – if desired

INSTRUCTIONS:
Prep the ribs by removing the weird white tendon on back and dry with towel
Dry rub with Ruby's – or your favorite
Cut into sections that will lay flat on the Instant Pot Egg Rack
Put one rack on each level – I rotated sides
Use Meat setting for 19 minutes and quick release
Baste and bake a few minutes at 4:00 to set the flavor
Overall I was impressed! These turned out really great. Overcooked mine a little (like I said – REALLY small rack) so I would reduce the time to cook if yours are small too. Maybe start with 10. Still fell off the bone with tons of flavor!
NOTE – the egg cooker isn't quite as low but still only $5.50 with the coupon. Great addition to your Instant Pot!
Price below does not include coupon!