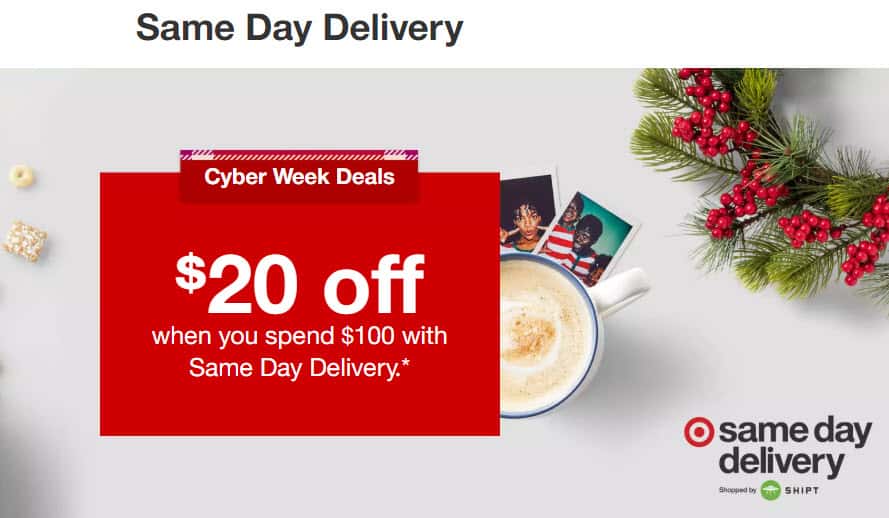 STILL AVAILBLE!!!
There are a TON of overlapping promotions right now that make it a really great day to shop at Target for groceries. I just got $114 worth for only $67.95 delivered to my home and I didn't clip a single coupon!
If you have a Shipt account you can even have the groceries delivered in as little as an hour (mine will be here by Noon lol). If you don't have a Shipt account you can get a year for only $49 through tonight. They only offer this price a few times a year so now is the time if you have been wanting to try it out. Personally I LOVE IT!!!
First off, you can get Target circle discounts when you do a Shipt order THROUGH the Target website. You can't get them if you check out using Shipt.com. You just need to make sure you used the same email on both accounts and they should link.
The offers aren't just for junk either – 5% off carrots, 5% off butter, 25% off flour, and more!

Second, they are offering 20% off any $100 grocery same-day delivery order (Shipt) AND you can use the 20% off coupon from the other day (if you got one). Yes, these are stacking!!!
AND you can get 5% off with your REDCard too! They are offering a coupon for $40 off your next purchase coupon right now when you sign up. Yes, ANOTHER $40 in groceries for FREE!
Here is how my order looked…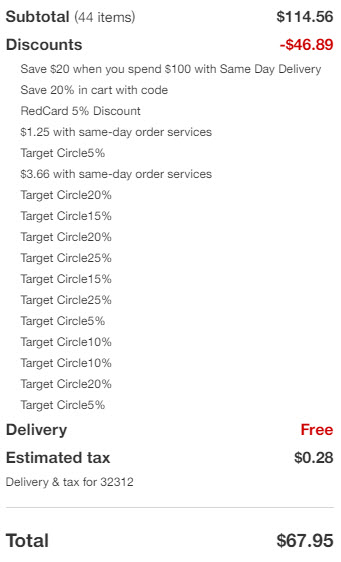 To get this deal:
GO HERE and sign up for Shipt or login to your account – you need to link to Target
If you don't have a REDCard, GO HERE and sign up. This will help you get the $40 off to use later!
Next head to Target.com and log in.  Click on 'Same Day Delivery' at the top – this will send you to the Shipt section if that link doesn't
Then click on 'Deals' – 'Target Circle Offers' and clip the ones you think you will use.
Then go shopping as usual. If you spend over $100 you will get $20 off for same-day delivery.
If you got a 20% off code from the other day – enter it at checkout
Check out using your REDCard to get another 5% off
Have fun and let me know what kind of awesome deals you score!