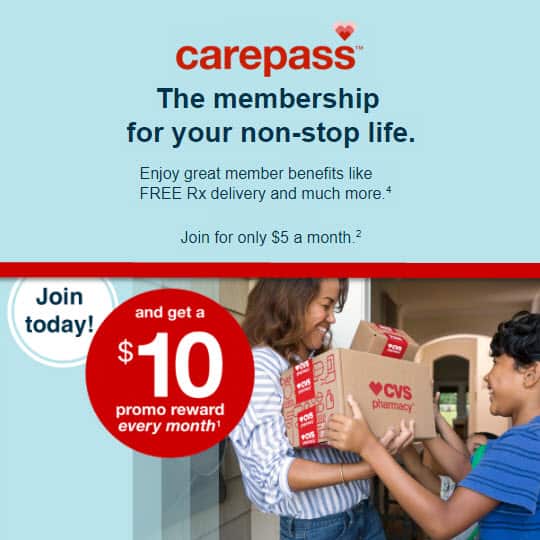 For a limited time, you can get a $10 CVS promo reward EVERY month you are a member of the CarePass program at CVS!
CarePass is a paid membership program that helps make it easier to take care of yourself and your family. CarePass members get free 1–2 day delivery† for eligible purchases on CVS.com® and qualifying prescription drug orders†† through USPS, a 20% discount§§ on eligible CVS Health® brand products in store and online, and access to a 24/7 pharmacist helpline§ to save you time and money while getting the care you need.
In addition to the above paid-for benefits, each month you'll receive a $10 CarePass reward that can be used on many items in store and online at CVS.com.* It's our way of saying thanks for being a member. Membership is limited or unavailable in some states. Exclusions apply. See additional FAQs and full Terms and Conditions for details.
How much does CarePass membership cost?
CarePass membership is just $5 a month with a monthly membership or $4 a month with an annual membership ($48 a year, savings of $12 over monthly membership).